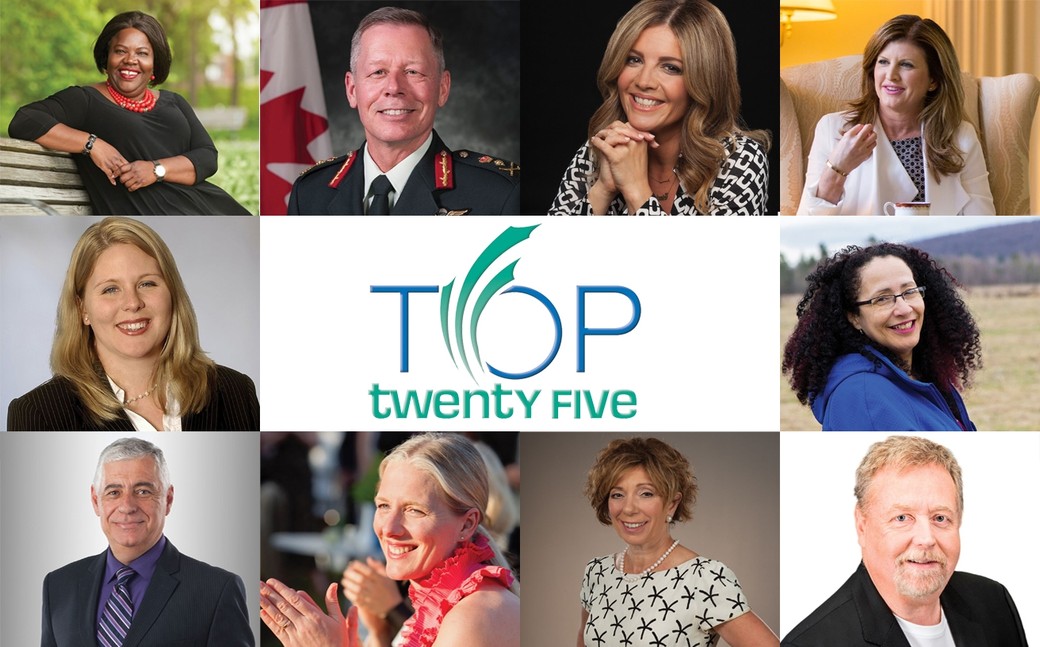 Meet the 16th Annual Top 25 People in the Capital
Whether they're still building their legacy, or it's already cemented, this year's Top 25 People in the Capital are making waves throughout Ottawa and across the country. From parliament hill to secluded laboratories, many of these men and women are creating change that will affect Canadians for generations to come. Others are most comfortable behind a guitar or a hot skillet, and every day they use their art to weave a new pattern onto Ottawa's cultural fabric. This year, we shine a light on these community builders. If you don't know them already, now is your chance.
---
Mauril Bélanger
An Ottawa Icon
In Memorium (1955-2016)
Mauril Bélanger was a positive force in the Canadian government and in the city of Ottawa, for three decades. So widely respected was Bélanger, that, were it not for his amyotrophic lateral sclerosis (ALS) diagnosis last fall, it was assumed that Bélanger would be made Speaker for the House of Commons. He was unfortunately forced to abandon his candidacy after the loss of his voice, which ended in a diagnosis of ALS. Also called Lou Gehrig's Disease, it is a rapidly progressing neurodegenerative disease which gradually corrupts a person's muscle control. ALS has no cure, as of yet. Days after his diagnosis, Bélanger was honoured with a standing ovation from fellow MPs, when they gathered to elect a speaker. When Bélanger had to withdraw his candidacy for the post of Speaker, the current Speaker, the Honourable Geoff Regan, made a grand gesture for Bélanger, appointing him Honorary Speaker on March 9th, earlier this year. Despite his health obstacles and the incurring limitations associated with them, Bélanger stayed as MP for the Ottawa-Vanier district. The conviction, energy, and valour with which this decision was made, and which Bélanger continued to display in his work, made it clear that he deserves both our city's awe and respect. The Liberal MP was most known for his recent bid for a wording change in the Canadian national anthem that would replace the line "In all thy sons command" with "In all of us command". This push for a more inclusive national song was met with controversy by those who rebuffed the notion of changing elements of Canada's heritage, even in favour of a more equitable alternative. Mauril Bélanger was a member of the House of Commons since 1995. His popularity was proven through his continuous re-election ever since. By 2003, Bélanger was elected to Cabinet where he became Deputy House Leader and Chief Government Whip. He co-founded, and was the co-chair of, the Canada-Africa Parliamentary Association. Anyone permitted the privilege of knowing him can attest to his passionate advocacy for achieving a just and ethical society for all Canadians.
---
Josephine Etowa
An Award-Worthy Citizen
Twenty-five years ago, Josephine Etowa arrived in Canada. This year, she has been honoured at the 8th Annual Top 25 Canadian Immigrant Awards. Etowa is originally from Nigeria, but moved to Canada where she has been improving the country's health-care system, ever since. She returned to school for her bachelor's, master's and PhD in nursing, and is now a professor at the University of Ottawa, in the faculty of Health Sciences. As well, she is chair for the Marie Des Anges Loyer-DaSilva initiative, in public health nursing. Etowa is also doing her own academic research, well-grounded in over 23 years of clinical experience, which focuses on inequities in health and health care. Although she is now celebrated for her success, being a newcomer to Canada was a difficult transition. Etowa will always remember the struggle of being a new immigrant and single mother with very little family support. She persevered, raising two hard-of-hearing children while pursuing a demanding career. The Top 25 Canadian Immigrant Awards receive hundreds of deserving nominations, all of which are judged by a diverse panel that includes past recipients. This year, has been the most popularly voted year in the award's history, with over 50,000 online votes cast
---
The Honourable Catherine McKenna
Paddles Her Own Canoe
Last year, Catherine McKenna was elected as the Member of Parliament for Ottawa Centre. Soon after, she became Canada's Minister of the Environment and Climate Change and has taken to the new position in stride. Says McKenna, "We have a Prime Minister who's absolutely committed to climate change. He believes like I do, that this is the biggest challenge of our generation, and that we have an obligation to take action." Action does seem to be a hallmark of McKenna's attitude. Above her desk in her office, hangs a startlingly large and authentic canoe, embodying McKenna's commitment to Canada's natural heritage, and the responsibility of preserving its integrity. McKenna has Prime Minister Trudeau's full support as she implements a sustainability agenda that includes putting a price on carbon pollution, developing a Canadian energy strategy that delivers security and energy conservation, investing millions in new clean tech, revamping and strengthening the environmental review process, increasing the amount of protected marine and coastal areas to five percent by 2017 and 10 percent by 2020 and generally doing things that allow for economic development in harmony with the environment. Originally from Hamilton, McKenna now lives in the Glebe with her husband and three children. She has a long history of charitable involvement, co-founding Level, a charity that brings together Canadian law students with an interest in equality and human rights issues to elevate important causes and effect substantive positive change. McKenna is equally known for the Dare to Dream mentoring program, which reaches out to Aboriginal students through justice education. McKenna has been tested several times since being elevated to cabinet. However, her big test is yet to come, as Canada makes important decisions in 2017 on the energy east pipeline project, liquid natural gas projects out west, and the process and formula to put a price on carbon pollution. McKenna has developed a reputation on the Hill for being exceptionally smart and on top of her files. She is also eminently likeable. She's going to need all of that to navigate Canada through some rough waters. The good news is that Mckenna paddles her own canoe and is not afraid to portage, when required.
---
Isabel Metcalfe
Most Connected, Respected Lobbyist in the Capital
Isabel Metcalfe has played an invaluable role in the city of Ottawa and with the Canadian government for over forty years. A respected and skilled advocate and businesswoman, Metcalfe has a distinguished record of community involvement and is known for her friendly demeanour, great sense of humour and penchant for getting things done. She has worked in influential roles for the federal, provincial, and municipal levels of government. Over the years, she has participated on hospital boards, and volunteered for numerous charities and causes, all while raising a family. Her firm, Isabel Metcalfe Public Affairs Counsel is one of the most successful and influential government affairs agencies in Canada. Her long career began as a tour guide on Parliament Hill and grew into politics soon after. She spent the next four decades working hard to be adaptable, to be current and fresh, mentoring and inspiring as she goes. "I've worked for every leader of the Liberal Party beginning with Pierre Elliott Trudeau, so it's gone in a full circle. I'm one of those people who never wavers in their support," Metcalfe tells us with pride. She uses her pragmatic attitude and determined work ethic to deliver quick and efficient results for the needs of her clients. What she loves most about her job, she tells us, is the joy of making change happen, of being a part of something relevant. Her proudest achievement is the placement of the Famous Five monument on Parliament Hill, which is now among Ottawa's major icons. Recognizing women as nation-builders, says Metcalfe, was an achievement for which she will always be proud. Her extensive experience working with NGOs and not-for-profit organizations has become one of her firm's specialties, along with national associations, Indigenous clients, the Canadian film and television industry, unions, and work on gender equity. Isabel Metcalfe owes a great deal of her dynamism, passion, and vitality to the city she calls home. Of Ottawa, Metcalfe says, "I love the energy. I like the fact that the city is the government town of a G-8 nation. I like the fact that public policy is very important in our community. I like the debate, I like the change, I like the environment, I like the canal. But mostly, I like the energy of public policy." It is innovative, passionate and change-seeking people like Isabel Metcalfe who make this country great to live in, and to whom we all owe our thanks.
---
Stephen Partridge
A Man with an Olympic Mind
Stephen Partridge is an Ottawa-based tech entrepreneur. He is the co-creator of California-based Events.com, a website that helps people plan events without the hassle. He has expanded small websites from the ground up, retooled their business model and eventually resold them for profit. Partridge, who used to be a competitive swimmer, says that it was his swimming career and his degrees in Human Kinetics and IT Management that gave him a unique mixture of knowledge to succeed in business. Back in 1991, while training for the Olympics he dislocated his shoulder. Doctors said that he wouldn't be able to compete but he worked hard and made it to the Olympic trials that year. Although he didn't qualify, Partridge made it to the national championships six times, and the Olympic trials twice; a testament to his strength and determination. Swimming taught him perseverance, gave him a need to find intrinsic value in his work, and taught him the value of delayed gratification. These things, coupled with his education, made him an ideal behind-the-scenes man in the tech business world. His transition from a swimming career to that of a successful tech businessman was self-orchestrated, and he isn't in it for the glory either. He wants to find solutions and make things work, and he uses both technology and teamwork to make that happen. He is currently on the board of directors of Start Up Canada, does start-up and small business coaching, and divides his time between Ottawa and California. Partridge recognized that the opportunities in Silicon Valley are bountiful, but that Ottawa's tech industry also has something great to offer. He believes that entrepreneurs only do well when they are part of a community; when ideas can be tested and are able to grow into something great by learning from other's mistakes. This is why Partridge has made himself an integral part of the entrepreneurial community in Ottawa; he wants to foster it. He is on the planning committee of FreshFounder.com, an organization of entrepreneurs in Ottawa originally started by the Ottawa-based Shopify, FluidReview and Tripadvisor founders. He is also the co-founder of B2Kite.com, a group for entrepreneurs who like to kite-surf. Obviously, he has not lost his athletic spirit, which is good news for his business and Ottawa alike.
---
Faylene Lunn
A Fusion of Many Talents
Since 2010, Dr. Faylene Lunn has been practicing intellectual property law, with a focus on patent litigation, at Osler, Hoskin & Harcout LLP. Remarkably, Dr. Lunn is also a trained scientist. Dr. Lunn has a J.D. with a specialization in health law and a Ph.D. in biochemistry and molecular biology, both attained from Dalhousie University. Dr. Lunn boasts a long list of academic achievements, including countless scholarships, fellowships, awards and a multitude of activities and academic committee memberships. Dr. Lunn has had her scientific work concerning enzymology, organic chemistry, and molecular biology published in multiple peer-reviewed journals, and has presented at national and international chemistry conferences. Before Osler, Dr. Lunn worked for the Department of Natural Resources in Nova Scotia as a radio operator for forest fires, and since joining the firm, has also presented for Women in Law Day at Queen's University and IBM's Teaching Respect initiative. It's safe to say that Dr. Lunn's unique background and extensive scientific knowledge have been a driving force behind her success as a lawyer. At Osler, Dr. Lunn assists clients on protecting and enforcing their patent portfolios, and also regularly prepares infringement, validity and freedom-to-operate opinions, particularly for pharmaceutical patents. Dr. Lunn has been involved in many notable legal matters, including being a key member of the legal representing of a health and wellness company in a patent infringement action, along with assisting in representing a major international pharmaceutical companies in applications under the Patented Medicines (Notice of Compliance) Regulation. Out of the office, Dr. Lunn is involved with an impressive variety of committees in Ottawa, including the National Intellectual Property Section of the Canadian Bar Association (CBA), as well as the Intellectual Property Institute of Canada's Life Science and Young Practitioners Committee. Dr. Lunn also acts as moderator for the CBA's Intellectual Property Day debates and has enhanced the Osler Ottawa Student Committee for Intellectual Property recruitments by taking a leading role in Intellectual Property recruitment and student programming. You can find more information about Dr. Lunn by visiting osler.com.
---
Perry Bellegarde
Uniting to Make Real Change

Perry Bellegarde is the National Chief of the Assembly of First Nations. First elected in December of 2014, he previously served as Chief of the Federation of Saskatchewan Indian Nations and as Saskatchewan Regional Chief for the Assembly of First Nations. Originally from the Little Black Bear First Nation, in Treaty 4 Territory, Chief Bellegarde is driven by his passion for implementing measurable change. His approach,style, and ability to frame the Aboriginal narrative in Canada has had a significant impact on all Canadians, and most importantly with the Trudeau government. It is very clear to anyone in Ottawa that First Nations issues with measurable objectives are a top priority of the Trudeau government. Bellegarde is known among the community as a results-driven force that unites citizens, elders, leaders, and chiefs to work towards making real change. His list of accomplishments began long before he became National Chief. Within eight months of being elected, Chief Bellegarde managed to move the Little Black Bear First Nation out of third party management. He worked to create a national multi-billion dollar compensation package for First Nations Veterans and their spouses. He has been one of the loudest voices in the call to the Canadian government to launch an inquiry and to develop an action plan for Canada's missing and murdered Indigenous women and girls. The inquiry was finally launched in August 2016. Upon being elected National Chief, Bellegarde promised to establish a new relationship with the government of Canada that eliminates the long-standing two-percent cap on federal funding. Although most of his work has taken place on a national and regional scale, his valuable attention is not only directed at Canada.
---
Cheryl Jensen
An Innovative Force
A change in her own life, from steel-plant chemist to college professor, was the first step on the road that would make Cheryl Jensen a transformational force at Algonquin College. Since taking the helm two years ago as the college's eighth president, Jensen has elevated the institution's profile by getting out and getting active in the community. A lover of innovation and excellence, Jensen has reached out to governments and other post-secondary institutions in the city, and has developed partnerships with businesses small and large. In a recent example, the college entered a partnership with Siemens to build a cogeneration natural gas plant to help power the Ottawa campus that is a showcase for sustainability. Its potential to offer students experiential learning and an opportunity for new applied research is just the kind of added benefit Jensen is looking for, and the thing that keeps her fascinated, driven, and engaged. "I think what excites me still to this day after decades in the system, is the fact that we do transform lives, and transform the hope and dreams of our students," she said. Jensen began teaching at Mohawk College in her hometown of Hamilton, Ontario, after being laid-off from the steel plant. She spent 31 years there as professor, dean and vice-president before making the move to Ottawa. She credits the warmth of the people of this city with making her transition easy. "Everything about the city to me is extremely appealing. But the fact that I was made to feel at home so quickly has just been an absolutely wonderful experience," she said. Jensen deserves our recognition just as much as Algonquin College deserves someone as passionate and focused as her at its helm. "I look at myself as being here to serve the community. I just want to express my gratitude to the entire city of Ottawa for helping me to do that." As Algonquin College flourishes in the Ottawa community in Jensen's expert hands, she has no plans to slow down. "Just keep watching us," she advises. "We've got some great things to come."
---
Andrew Pelling
Ottawa's Resident Genius and Humanitarian
Andrew Pelling can make ears out of apples. The award-winning scientist, professor, entrepreneur, TED Fellow and TED speaker runs a lab in the University of Ottawa that focuses on the most astounding and unique ideas you've ever heard. The lab is a place for learning, challenging, and innovating where artists and scientists build on each other's curiosity. "We value curiosity and exploration above all else." says Pelling, "We aren't focused on any particular problem, and we're not trying to solve any particular disease." All great innovation comes from asking great questions. The true inspiration came when Pelling asked if he could treat biology like he did hardware — take something apart and put it back together differently, better. The result is more than fascinating. Taking a slice of apple, Pelling's lab removed the apple cells and replaced them with human ones. Using the "cellulose scaffold" left over by the apple's molecular structure, the newly implanted human cells fill up and take over where the apple cells used to be. Having essentially hijacked our bodies natural processes, Pelling discovered that living human tissue and this plant-scaffolding are actually compatible. What's more, the ability to produce this new kind of living prosthetic costs pennies. As if we needed any more proof of this man and his lab's humanitarianism, once they realized the dimensions and the potential that they had tapped into, they released the instructions for how-to-grow-your-own-ears online as open-source. "My lab is not in the ear manufacturing business. People have been working on this for decades; here's the problem: commercial scaffolds can be really expensive and problematic, sourced from proprietary products, animals, or cadavers. We used an apple, and it cost pennies." Pelling has since developed a mission-driven company that makes kits to simplify this process for anyone to make them at home. "What I'm actually really curious about," says Pelling, "is if one day it'll be possible to repair, rebuild, and augment our own bodies with stuff we make in the kitchen." Branching out from apples, Pelling and his lab are now examining the possibility of using the structures of asparagus to form new connections between damaged and severed nerves. "We are not the only ones working on this," assures Pelling, "but we are the only ones using an asparagus." Above all, Pelling's passion and excitement for innovation and creativity is what makes his ideas so infectious. "Play is a key part of my scientific practice," he tells us. If his work is any indicator, play might be what leads our world into a better future, starting with apples and landing in do-it-yourself augmentation of the human body. This summer, Pelling launched a new independent lab called "pHacktory", expanding everything his lab currently does out onto the streets of the ByWard Market. "This will be the world's first independent, street-level research lab that will curate research projects directly from the community." For more information on the lab and on Pelling's work, visit www.phacktory.com.
---
Yasir Naqvi
The Hero of New Regulation
Yasir Naqvi is Ontario's Attorney General, and the Liberal MPP representing Ottawa Centre. Elected in 2007, Naqvi showed remarkable courage and dedication in ridding the province of the controversial policy that allows police to card civilians arbitrarily. In order to do so, Naqvi stared down a lot of misguided individuals in the police and the legal establishment in Ontario. Thanks to Naqvi, Ontario is now free of a policy which many considered racist and unconstitutional. Says Naqvi, "I was proud to announce Canada's first regulation to ban arbitrary street checks to collect and store personal information. I believe that communities are safest when there is a true partnership between police and the people they serve." The change in regulation, he says, "ensures that people's individual rights are protected while providing a rights-based framework that allows police officers to interact with their community to build positive relationships, as well as prevent, investigate and solve crimes to keep our communities safe." Born in Karachi, Pakistan, Naqvi immigrated to Canada at the age of 15 after his father was arrested for leading a pro-democracy march. He has since left his mark upon the Ontario government through his leadership and dedication. "Working as an MPP in Ottawa is unlike anything I could have imagined when I first put my name on the ballot. I get to meet and support the vibrant, generous, and inclusive people who make our community so great. They make me proud to go to work every day and give back to a community that has given me so much." Ottawa is indeed lucky to have Yasir Naqvi on our side and many of our city's landmarks are, in part, due to his hard work and support. Naqvi secured $6.5 million for the cleanup of the Ottawa River, helped get funding for over 350 new affordable housing units in the city, and expanded the Centretown Community Health Centre. He also collaborated with all levels of government to get funding to build the Chinatown Gateway, funding for two new education buildings for Carleton University and funds of $14.2 million to rebuild Broadview Public School. From his courage in facing down and changing a racist police policy to his work for numerous community causes, Ottawa has done well by their local MPP.
---
Bill Carroll has been known by his voice for most of his career. A radio personality, Carroll has hosted shows in both Canada and the U.S. and is now the voice many wake up to in our nation's Capital. Earlier this year, Carroll was welcomed as the host of CFRA's new morning show called The Morning Rush. Carroll says the new direction that CFRA is taking with its morning show is to, "try to talk about, not just what we think you should know, and we do do that, but also about things that people are just naturally talking about anyway. We're trying to be a little more in- sync with what you're gonna be talking about when you get to the office." Carroll began his career by learning on the job by day, and self-studying broadcast journalism by night. He has since worked on shows in Toronto, Peterborough, and Los Angeles. Carroll understands that being a bit of an outsider can be an asset to a broadcast journalist. His morning banter is often full of praise for Ottawa which he likes for its natural beauty and quality of life. Carroll understands the lines between public and private, and he speaks of the differences between his radio personality and his real life. "I'm not as critical and angry and negative as people think I am; I'm also not always as funny as some people think I am." He continues, "If I'm doing my job well, I forget that I'm on the air." The Morning Rush has been a welcome and scintillating addition to Ottawa's radio waves and Carroll has a lot of people listening.
---
Eugene Melnyk is a businessman, philanthropist and the popular owner of the Ottawa Senators. That title will soon be expanding, after The National Capital Commission announced in April, that his RendezVous LeBreton proposal had won the rights to redevelop LeBreton Flats. The project is the largest in downtown Ottawa in a century and will redefine the look and feel of the Capital. The site will include a new home for the Ottawa Senators. Melnyk's list of charitable involvement is a long one and includes: the Ottawa Senator's Foundation, Roger's House, Help Us Help the Children (HUHC), the Eugene Melnyk Skate for Kids event, donating skates, hockey equipment, and Senators' jerseys to hundreds of underprivileged kids, and, has similarly donated hockey equipment to Canadian and US troops working with NATO in Kandahar. With the RendezVous LeBreton redevelopment project in front of him and a beloved hockey team behind him, Melnyk has cemented his place as one of Ottawa's all-time giant figures. We will watch with eager interest as our Capital city takes a new shape in Melnyk's promising hands. Go Sens!
---
General Jonathan H. (Jon) Vance is the Chief of the Defense Staff (CDS) for the Canadian Armed Forces. Vance grew up in a military family and has been in an army uniform since the age of 13 when he became an Army Cadet. General Vance was the Commander of the Canadian Joint Operations Command, where he oversaw the deployments against ISIS, as well as being involved in Canada's contributions to NATO. Early in his career, Vance commanded the Combat Support Company and the Duke's Company and has served as a Major and Lieutenant-Colonel on the VCDS Strategic Planning staff. He then commanded Second Battalion, the Royal Canadian Regiment in New-Brunswick. In both 2009 and 2010, Vance was made Commander of Joint Task Force Afghanistan and Task Force Kandahar. Since then, Vance has been serving in Army headquarters, as Chief of Staff Land Strategy, and, as Director of the Strategic Joint Staff. His contributions have not gone unrecognized; the General received the Vimy Award, the Order of Military Merit in the rank of Commander, as well as the Meritorious Service Cross with bar. Before he began his dazzling military career, Vance earned a Bachelor of Arts in Military and Strategic Studies from Royal Roads Military College, and a Master of Arts Degree in War Studies from RMC. General Jon Vance has been and continues to be, an asset to Canadian defense and security. Since becoming CDS he has worked tirelessly to root out what a former Supreme Court Justice Marie Deschamps called found last year was an "underlying sexualized culture" within the military. Vance says progress is coming but has warned that the military still has a great deal of work to do. Vance is also working to fix the military procurement system which has been described as inept. His big challenge for 2017 will be to convince the government to purchase a new series of jets. The controversial F-35, a favourite of the military brass, seems doomed to fail in Canada because of poor strategy by Lockheed Martin to present it to the Canadian public.
---
Joseph Cull is beloved within the Ottawa community. Having spent over a decade so far volunteering as a Senior Fitness Instructor at the YM/YWCA, Cull is also an invaluable part of several charity events. He was co-chair of several "Just Dance" fundraisers for the YM/YWCA's Strong Kids Campaign, and has continued over the years to generously lend his time to the Hospice at Maycourt's "Homes for the Holidays" annual fundraiser. He has also emceed the fashion show at the Cornerstone Housing for Women's annual Garden Party for several years and co-chaired the Deck the Halls fundraisers for The New Edinburgh Community & Arts Centre (NECTAR) featuring the Ottawa Police Chorus. In the past he has led the New Edinburgh cheering station for Ottawa Race Weekend to the winner's circle as best cheering station for nine years. He currently co-hosts NECTAR's Food Talks monthly foodie discussions and will be appearing at the upcoming SALUS fundraiser in September at the French embassy as none other than Marie Antoinette. In 2013, Cull unsurprisingly and very deservedly won the Mayor's City Builder Award. The award is a civic honour intended to recognize extraordinary commitment and effort to make Canada's capital a better place, through volunteerism, outstanding acts of kindness, and inspiring charitable work. In addition he was the Recipient of the 2015 United Way Community Builder Award. To get a taste of Joseph Cull's genuine enthusiasm and sense of humour, you need look no further than his performance at the fundraiser for the Magnetic North Theatre Festival this past March at the NAC. The event, cleverly called Don't Quit Your Day Job, was a collection of amateur performances by sporting members of the Ottawa community, representing fields of law, journalism, business, politics, and everything in between. The evening raised nearly $15,000 in both ticket sales and a silent auction, and was attended by a sold out crowd. Because of his popular and show-stopping stage presence, Cull was chosen to be the show's closing act, dressing up as Queen Elizabeth to perform a rendition of a musical rap which he wrote himself. Cull's stage presence, humour, and ambition for helping others makes him an invaluable and irreplaceable part of the fabric of the Capital.
---
Ottawa's Blues Lady, Maria Hawkins, was born a performer. Music is her life, her motivation, and she has endured many personal hardships in pursuit of her dreams. A teenage single mother, Hawkins overcame physical and verbal abuse, struggling to start her career in music while raising her children. At an early age she was performing in her first band at places like the Rainbow and the Downstairs Club. If there was a place to sing the Blues, she'd be there. Her contemporaries described her as positive, fearless and her performances as powerful. Hawkins has devoted her life to helping those in need through music. She has worked with 54 local charities over the years, most of them focusing on children, while developing her own programs like the Tooth Fairy Project that provided dental care for musicians, and Blues4Kids, an initiative that brought her into the fold of Bluesfest where she helped found the Blues in the Schools program. At her peak she worked 40 schools a year. Her efforts won her the W.C. Handy Award, as well as the Queen Elizabeth II Diamond Jubilee Medal for 25 years of service to Canadian youth. However, Hawkins foot the bills for many of her charity projects; a practice that found her deeply in debt. Her recent years have been plagued by sickness and near blindness. She pushes forward, continuing to raise money for those who need it and, of course, still singing her heart out.
---
Mauro Bertoli, an Italian-Canadian classical pianist living in Ottawa, is the 2016 recipient of the CAB Foundation's Arturo Benedetti Michelangeli Prize for young interpreters. This new category is assigned to a young musician who has established themselves on the international stage, and Bertoli is certainly well-suited to receive the honour. The young achiever has studied piano at the Conservatory of Milan, under the tutelage of Sergio Marengoni, as well as with world-renowned pianists across Europe. Several years ago he moved to Ottawa, where today he is Piano Accompany Professor at the Conservatoire de Musique de Gatineau. His excellent technique allows him to present an extended and difficult repertoire that goes from Scarlatti to the Rhapsody in Blue by Gerhswin, which Bertoli interprets brilliantly. The prize for young interpreters is awarded by the CAB Foundation in collaboration with the International Piano Festival of Brescia and Bergamo to help young musician to develop a career in the music field. With his talent, determination and sensitivity Mauro represent a positive example for the new generations of musicians, on both the human and professional level. www.maurobertoli.com
---
Stefania Capovilla, a hairstylist in Ottawa for 13 years, has recently opened Society Salon and Blow Dry Bar. "The Blow Dry Bar is an express service that I felt was missing from the Sparks Street area", Capovilla tells us. Along with teaching part-time at Algonquin College, the entrepreneurial hair genius is actually behind the 'dos of many leading figures on the Hill including former Prime Minister Stephen Harper and current Prime Minister Justin Trudeau who told the National Post, "You get the impression she's very good with secrets. She's part of the Ottawa circle. She fits in very well and she's very smart about it." Capovilla's job sometimes includes making unorthodox appointments. Once, in order to accommodate scheduling restraints, Capovilla was called to cut Jim Flaherty's hair at the Finance department. In 2012, she was asked to cut nine inches off Senator Patrick Brazeau's famous ponytail in the House of Commons foyer when he lost a boxing match to then MP Justin Trudeau. "In the political context of Parliament Hill it is the mark of a good stylist to be able to be trusted behind the chair by so many." Friends and rivals occupy her chair and believe in her talent, each trusting her to cut but never tell. www.societysalonottawa.com
---
"Culture is destiny; but culture can change." So says Christian Arab author Elie Mikhael Nasrallah. This intriguing line is but one fragment of the mosaic of ideas churning in the mind of this author who has published book after book on the topics of religion, culture, history, sex, and gender. Some of his work includes such titles as, My Arab Spring, My Canada, None of the Above, and Hostage to History: The Cultural Collapse of the 21st Century Arab World, which is now featured on the publisher's Bestseller list. Originally from Lebanon, Mr. Nasrallah is now a passionate advocate for Arab reformation and reforms in all fields and has lived and worked in Ottawa since 1980. Nasrallah works as an immigration consultant and is a member of the Immigration Consultants of Canada Regulatory Council (ICCRC). Fascinated by the coexistence of past and present, Nasrallah examines how the Arabic world was, a millennium ago, a world leader in science and literature, but today is hobbled by ancient ideologies. His attitude towards culture is one that balances idealism with pragmatism, wishing to preserve heritage while fostering equality and fairness from within. Nasrallah's work as an immigration consultant is widely respected in Ottawa. He is a frequent public speaker and often appears on radio, television, and in print internationally, delivering his views on the difficult and complex issues that today's society must face.
---
Jennie Carignan is the world's first female combat general. In June of this year, Carignan was promoted to the rank of brigadier-general, and gained the title of Chief of Staff of Army Operations. Carignan is the first female to be promoted to general from the combat arms trade, rather than from intelligence, medicine, combat support, or administration. Men outnumber women in the army generally. Women make up approximately 15 percent, but in the regular force combat arms trades, they make up only 2.4 percent. Carignan is working to change these statistics by increasing recruitment of women to combat roles, and so far her efforts appear to be working. Between 2013 and 2015 (the two years in which Carrignan met with girls and their mothers at open houses and appeared in the Quebec media), recruitment of women to the RMC in Saint-Jean-Sur-Richelieu rose from 10 percent to 25. Fitting into a mould was never in the cards for Carignan. The idea of gender-specific roles has always been foreign and outdated concept to Carignan, and her personality, career, and ideals have long been reflecting that. Carignan has served in Afghanistan, Bosnia-Herzegovina, and in the Golan Heights (located between Syria and Israel). Her time deployed in Kandahar was peppered daily with suicide bombers, rocket-propelled grenade attacks, and landmines. Through a long and impressive career, Carignan's dedication and inspiring leadership has earned her the respect she deserves.
---
Blind since childhood, Diane Bergeron has been defying stereotypes all her life. Now the executive director, strategic relations and engagement for the Canadian National Institute for the Blind (CNIB), Bergeron's career has been dedicated to advocating for the rights of people with sight loss in Canada. Bergeron caught the challenge bug while tandem skydiving for the first time. She moved on to stock-car racing, and once even repelled down the side of a 29-story building in a superhero costume as part of a fundraiser. When the opportunity arose to compete in a triathlon, Bergeron jumped at the challenge. Diagnosed with retinitis pigmentosa as a young child, Bergeron was declared legally blind at the age of ten, later losing all her sight before turning 30. Her attitude towards blindness is terrifically inspiring. "I think the message that I would try to give them (people who are losing their sight) is that there is life after blindness and they are limited only by their own attitudes and their own barriers. Life can be whatever it is that they want it to be." Much of Bergeron's recent work at the CNIB has involved ensuring equal voting rights for the visually-impaired; as Canadians we all have the right to mark one's own ballot. Bergeron has been a leader in advocating for the creation of alternative, electronic voting means for Canadian voters with vision loss. Diane Bergeron is an inspiration.
---
Leaving your day job to become an entrepreneur takes the kind of courage that Jennifer Stewart has in spades. Stewart is president and founder of Syntax Strategic, an Ottawa-based strategic communications firm, that specializes in public relations, social media, and public affairs. Stewart was one of the finalists for Ottawa's Female Entrepreneur of the Year. Her position means dealing with a diversity of clients in a variety of different sectors and requires her work to be flexible, adaptable, and original, as she deals with everything from petroleum to Aboriginal affairs. Stewart is also very active within the Ottawa community. She currently sits on the board of the Ottawa International Writers Festival, TEDx Kanata, is a committee member of Project North, and an advisor to the Kanata Food Cupboard. She is also the former vice president of the International Association of Business Communications (IABC) Ottawa, and co-chair of Women in Communication and Technology, National Capital Region. When asked what her advice is for others thinking of taking the plunge into entrepreneurship, her answer is inspiring: "take smart risks. Become acclimatized to risk. For me, the first big jump into the world of entrepreneurship was scary, but now I don't bat an eye. Once you come to the realization that risk is okay and essential to growth, everything else will fall into place." Stewart's philosophy is that life is too short to not be in a job you love. Stewart's hard work and courage is paying off.
---
Katherine Cooligan has an unusually impressive bio. She works full-time as both the regional managing partner for the Ottawa office of her firm, Border Ladner Gervais, while also running a practice in family law litigation. A specialist in family law, Cooligan is the regional leader of the Estates and Family Law Group, and Chair of the Regional Management Committee — all the while raising three children single-handedly. The impressiveness of her career is mirrored in intensity by moral centre. Cooligan tells us that she chose family law because of the impact it has on her clients. Her drive and her dedication have led to her becoming a senior manager in Canada's largest national law firm. She is unique in this role, as both a woman and as a family law lawyer, as she is the only woman currently holding this management role. This is the pillar in her career of which she feels the most pride. Cooligan's positive impact stretches far beyond her firm to include a great deal of community involvement. It's no accident however, that what she has been most involved with outside of the law also has to do with families and children. She was a member of the CHEO Foundation Board from 1997-1999 and was asked to rejoin last year for another term. Cooligan's outlook is just as admirable as her work ethic: "My professional successes have surpassed my expectations." She says, "My goals for the future are to mentor, motivate and support young professionals in the development of their careers, and to encourage women in leadership by sharing my experiences."
---
Marc Lepine is the head genius behind Ottawa's culinary Pantheon, a restaurant called Atelier just west of downtown. The Ottawa restaurant is inspired by molecular gastronomy and is a place of creativity and experimentation. The restaurant's tasting menu reaches 12 courses, and dining reservations are known for being hard to come by. Lepine, whom the Globe and Mail has called "one of the country's most original chefs", bedecks his concoctions with edible flowers and hosts of complex sauces. After spending three years in culinary school, Marc Lepine worked in France, Italy, and Toronto refining his skills and gaining experience which he took with him to his first executive chef position in Algonquin Park. After moving to Ottawa and receiving his Sommelier certification from Algonquin College, he spent six years as executive chef for the well-known Courtyard restaurant. The Canadian Culinary Foundation voted him Ottawa Chef of the Year twice. Since opening Atelier in 2008, Lepine has twice won gold in the Canadian Culinary Championships in Kelowna, B.C. His second win in 2015 made history, making him the first two-time gold winner of the prestigious competition. Lepine and his team beat 10 other chefs with their creativity, and even used a hole punch to complete one of their recipes. The accolades continue to roll in for Lepine, his team, and the Atelier restaurant which have become a sensational ornament of Ottawa culture.
---
When the 2015 federal election placed the Conservative Party in the Opposition, a worthy candidate was chosen as interim leader until a permanent replacement could be found for former Prime Minister Stephen Harper. Rona Ambrose was the clear and admirable choice for the position, and has been the Leader of the Opposition since her election. She is the third female leader of the Conservative Party. Before taking on this position, Ambrose had served as Canada's Minister of Health, but her diverse resume doesn't stop there. At previous and different points in her impressive career, Ambrose has served as everything from Minister of the Environment to the President of the Queen's Privy Council of Canada, Minister of Labour, and Minister for Status of Women. Having earned her Bachelor of Arts at the University of Victoria in Women's and Gender Studies (before completing her masters in Political Science at the University of Alberta), Ambrose is a declared feminist. Before her work in the Canadian Government, Ambrose worked diligently with such organizations as the Edmonton Women's Shelter, the Status of Women Action Group, and the Victoria Sexual Assault and Sexual Abuse Crisis Centre, all working to end violence against women. Many in the Conservative Party as well as others in the Ottawa press have suggested that Ambrose be allowed to stay on as leader and successor to Stephen Harper. Regardless of that outcome, Ambrose is sure to be an asset to the Canadian Federal Government regardless of position.
---
Stylish, smart, and sophisticated, Katrina Turnbull is the founder and editor-in-chief of the popular blog OuiCestChic.com. She created the blog as a haven of lifestyle and fashion advice for busy mothers and has quickly became Ottawa's top mommy fashion blogger. Turnbull is also a frequent face on CTV Morning Live, bringing her helpful advice to Ottawa screens. She will be hosting and producing the upcoming Bell Fibre, TV1 series called Capital Style Files, that will explore Ottawa's most stylish citizens. Before her blogging career took shape she spent a decade working in editing and bilingual communications. Turnbull is a Nordstrom Influencer and Huffington Post contributor. She has worked on digital and social media campaigns for major brands like Nordstrom, L'Oréal and the Hudson's Bay Company. Katrina Turnbull is a tech expert and knows the secret to digital success lies in analytics and tracking metrics. Breaking outdated stereotypes of traditional femininity, Turnbull balances her fun content with the keen and determined business savvy that has brought her and her blog success. Turnbull holds her connection with her audience dearly, knowing that good relationship is at the core of her career.
Top 25 Photo Credits: Paul Couvrette, Fred Cattroll, Andre Ringuette, Anthony Laviolette, Garth Gullekson, Andre Gagne, Wenfei Ye, Melanie Girard, Valerie Keeler, MIVPHOTOGRAPHY
---
---