New CBC Soccer Drama Scores!
I love soccer! I am not alone after all it is the world's most popular sport. During this years Stanley Cup Playoffs a new show called '21 Thunder' was previewed on CBC and I have had the opportunity of seeing the first two episodes.
What I can share with you is this show, which centers on a soccer team based in Montreal, is extremely entertaining and well acted. The show takes the audience through the behind the scenes of a soccer organization including getting to know the players and coaches and living through the excitement and sometimes agony of the games.
The show is Canadian and I was very impressed by how authentic it comes across.
We recently spoke to two of the stars of the show. Stephanie Bennett who plays 'Christy Cook' one of the coaches of the team and Conrad Pla who plays the teams manager 'Albert Rocas'
Ottawa Life: What attracted you to the role?
Bennett: There is something about 'Christy' that just resonated with me right away. She's a very driven, ambitious, powerful young woman who has to work very hard to get to where she is and she's also got this vulnerability to her because she is taking on this new role and it's new territory. When I first read the audition the scenes were amazing and the scenes were really great and I loved the characters vibe and her interactions. There was so much that intrigued me and I could relate to the character.
Pla: I actually am a coach in real life. I used to be a professional kick boxer and I opened Tri-Star gym in 1998 with some partners. It's a different sport but similar in that you are dealing with high level athletes. It was interesting for me to have a role that was similar to what I do when I'm not shooting.
Stephanie, I saw an interview where you said that before this show you hadn't played soccer before. Since this show has your interest in the sport elevated?
Bennett: Definitely. It was always a sport that I wanted to pursue so I was very lucky in that it ended up being the sport the show was about. When I got the role I requested a private coach because I wanted to do the character justice. Of course I'm not a professional soccer player so we had to have a stunt double for some of it but I am very athletic and have been running and dancing my whole life. The running came easy It was more so the tricks. I was lucky to get with some professionals for tricks.
Conrad, were there any aspects of this role you found challenging?
Pla: I am Spanish, (born in Spain). The actress playing my wife is Mexican and we are playing Argentinian's and the accent is very different.
Stephanie, one of the interesting aspects is looking at a female coach in a male dominated league but that is something we are starting to see in professional sports. Did you feel a responsibility to keep the character as authentic as possible?
Bennett: Absolutely. I hope this can help inspire more women in leadership roles in sports. It's becoming more normalized to have female coaches. I definitely watched the Canadian Women's soccer team and interviews with various female coaches to see how they operate and talk to their players and interact and carry themselves and I want to be an authentic representation of that.
Conrad, were there any actually soccer managers that you inspired you?
Pla: Not really but I though of Zidane who now coaches Real Madrid from a look perspective.. As far as coaching style I just went with the scripts as opposed to emulate anyone. I just let myself get into the game and respond accordingly.
Stephanie, have you been in touch with Christine Sinclair for her perspective?
Bennett: No but I would love to.
What would you say to someone to entice them to watch the show?
Pla: I think you get to know the players and coaches on a personal level. You get a behind the scenes view of what makes them tick and when they play you have a vested interest in them. I think the writers have done a great job of blending the lives of these people and their love of soccer and how the game affects their lives and their lives affect the game.
Ok, it's time for a little thing I call 'Rapid Fire' Let's start with the first question I always ask, what's your favourite movie of all time?
Bennett: Forest Gump
Pla: The Sixth Sense
Favourite Canadian TV show other than one you have starred in
Bennett: Schitt's Creek is definitely up there.
Pla: I was a huge fan of Kids in the Hall
What's your favourite English Premier League team?
Benett: I don't have one
Pla: Chelsea
Stephanie, I think you'd look great in light blue so feel free to say Manchester City (My favourite team)
Bennett: (Laughs) OK
Do you go to Montreal Impact games and heckle and say things like 'That's not how you do it!'?
Bennett: (Laughing) Oh my gosh no. I feel like I'm trying to learn from the pros. I am trying to learn from the pros as much as possible.
Pla: (Laughing) I should. Maybe yell at (Didier) Drogba a little. I've gone but haven't heckled.
Stephanie, has anyone ever mistaken you for Jessica Collins who was on The Young and The Restless?
Bennett: I haven't gotten that but I have gotten Rachel McAdams a lot
On the show 'Christy Cook', are you ever concerned if you go to BC they will mistake you for Christie Clark? (former Premier)
Bennett: Yes! The names are so close! Hopefully I can bring the attention to Christy Cook
If you had the opportunity of writing in a love interest for your character what actor/actress would you want to play it?
Bennett: I would want it to be one of my talented guy friends who is an actor here in Vancouver.
Pla: That's a question an experienced man knows not to answer so I'm going to plead the fifth on that one.
Good call Conrad. Who would win in a game between the Ottawa FC team or the team from 21 Thunder.
Pla: I think it would be a close game but Ottawa would take us!
Thanks for your time and all the best.
Pla: Thank you,
Bennett: Thanks Keith
21 Thunder airs every Monday night on CBC at 9pm.
Recommended Articles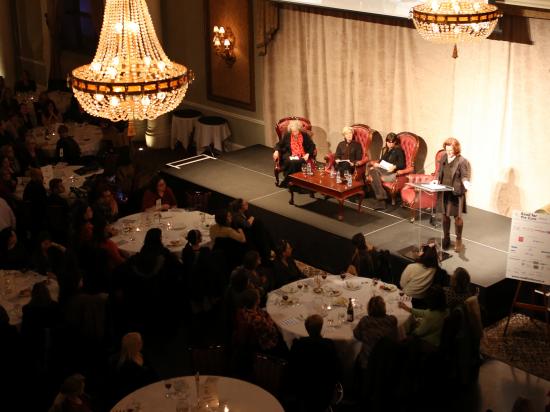 Presented by Penguin Random House Canada, Read for the cure is an inspiring annual literary event where book lovers and bestselling authors come together to benefit the cancer research.
Read full story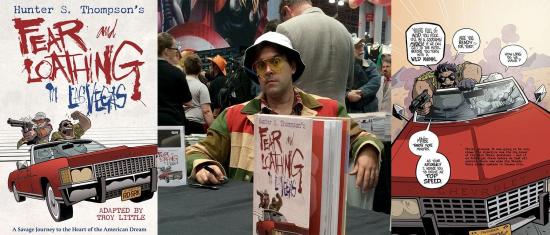 How did a self-published comic book artist land a gig rebooting a beloved 90s cartoon? How did said cartoon about three girls named Blossom, Bubbles and Buttercup lead to a Canadian being tasked with trying to put Thompson's wild, drug fueled romp through the American Dream into comic form? And just what was in his suitcase when an artist from P.E.I. and a red convertible hit the Las Vegas strip?
Read full story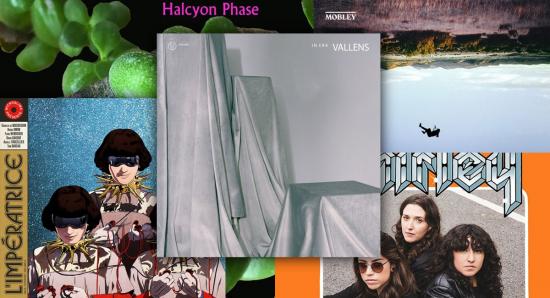 Frank Smith and Phillip Victor Bova's latest release, plus four more!
Read full story
Comments (0)
*Please take note that upon submitting your comment the team at OLM will need to verify it before it shows up below.