Travel
Nova Scotia's Lobster Crawl
Nova Scotia's Lobster Crawl
Photo: Tourism Nova Scotia / Dean Casavechia
---
by Pam Wamback @ladyloveslobster
I can remember the first time I heard someone say they cooked a turkey for their Christmas dinner and I thought "now that's different". In our family, Christmas dinners consisted of one main ingredient – lobster. Steamed lobster, lobster chowder, lobster sandwiches, lobster alfredo, creamed lobster (my favourite) … it didn't matter how it was presented as long as the star of the show was lobster. And you don't have to travel very far along Nova Scotia's shorelines to understand why.
I grew up in a small and picturesque town in Southwest Nova Scotia where the majority of the population was connected in some way, shape, or form to the lobster fishery. The lobster grounds off of this part of the province are amongst the richest in the world and the lobster fishery has been the economic backbone for this and many communities in Nova Scotia for decades. While lobster is available fresh in Nova Scotia 365 days a year, the lobster season where I grew up runs from the last week in November to the last week in May annually. Lobsters caught in this area (known locally as Districts 33 & 34) account for approximately 40% of all lobster caught in Canada each year. I grew up on this stuff – we played with the lobsters, teased our cats with the lobsters, even hypnotized the lobsters. I can safely say that I've thoroughly enjoyed more of these succulent, sweet creatures of the sea than should be legally allowed.
That's why one of my favourite times of year is February. Yes, I said February. In Nova Scotia. Not in what you call winter season but what we South Shore residents call lobster season. Why? Because the entire month now plays host to a fantastically tasty event called the Nova Scotia Lobster Crawl Festival. From Barrington (the Lobster Capital of Canada) to Peggy's Cove – and every port in between – you can expect all kinds of tasty events in salute to this ever-so-yummy crustacean. A month-long celebration of everything lobster. If you can think of it, you can probably find it – from lobster snow sculptures to lobster beer, cooking classes to kitchen parties, wine pairings to art shows, lobster pound tours to knitting with "lobster" wool. Even a lobster weather prognosticator! Here are just a few of my favourite things to take in during the festival:
Lucy the Lobster: The Barrington Passage-based crustacean might not be as famous as her other friends on Groundhog Day, but her prediction on how long winter will last is just as accurate. You can join the festivities to see Lucy emerge from her salt-water habitat and then join in the community breakfast afterwards to celebrate her prediction – shadow or no shadow, Lucy is a favoured lob-star!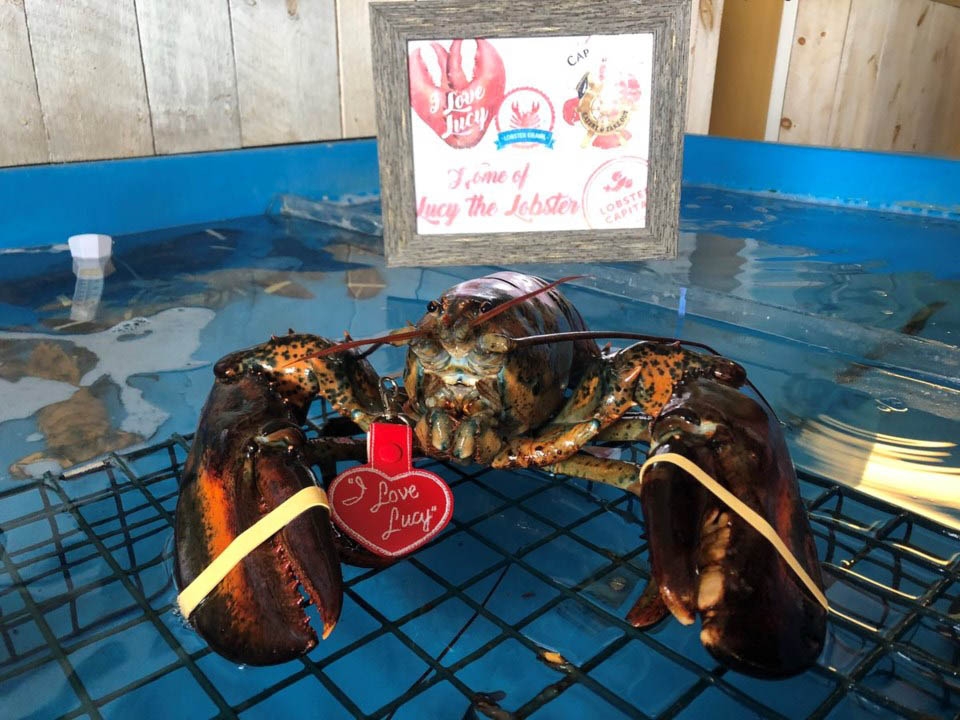 ABOVE: Lucy the Lob-Star spends the other 364 days of the year at her spa at Capt Kat's Lobster Shack in Barrington. (Photo: Municipality of Barrington)
Lobster Roll-off: With all the interesting, unique events happening during Nova Scotia Lobster Crawl Festival, you are bound to work up an appetite. Each year, dozens of local establishments participate in the Annual Lobster Crawl Roll-Off to determine whose lobster roll will reign supreme over the festival. But don't just take the judge's word for it – stop into a few of the many wonderful restaurants, cafes, and bistros serving Lobster Rolls and decide for yourself who has the best on the South Shore.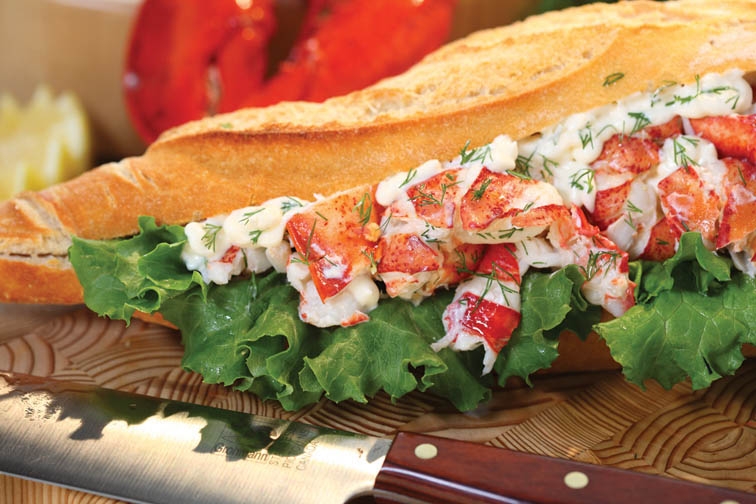 ABOVE: One of dozens of lobster rolls found across the province. (Photo: Tourism Nova Scotia / Taste of Nova Scotia)
For the Love of Lobster: Everyone is invited for an afternoon of fun, food and so much more as the Municipality of Chester gathers to celebrate For the Love of Lobster! The afternoon consists of a craft market with local vendors, penny auction, kids zone and the penultimate event – the Lobster Chowder Chowdown & Showdown. You get to be the judge on this one as you taste the various lobster chowders stationed around the room and vote for your favourite.
Tour a Lobster Pound: Fisher Direct in Shag Harbour is a modern processing facility, equipped with state-of-the-art technology, that allows them to hold efficiently, sort, grade, and export live lobster to anywhere in the world. During the festival, you can tour this working lobster pound and learn first-hand how lobsters make their way from the bottom of the ocean floor to your plate.
Lobster Crawl Craft Beer Festival: A great chance to check out Nova Scotia's growing craft beer scene and no better time to do so than in February. A highlight is getting to sample 'Crustacean Elation' from Salt Box Brewery, Mahone Bay – yes, it's a lobster beer! The brewing process is a double-infusion method, using fire-roasted shells and whole lobsters to impart the taste and aroma of lobster. It results in a lightly colored and hopped beer with a hint of citrus, a slightly sweet taste and a briny finish that is the essence of lobster and the sea. Drink it with anything lobster to enhance that lobster flavor.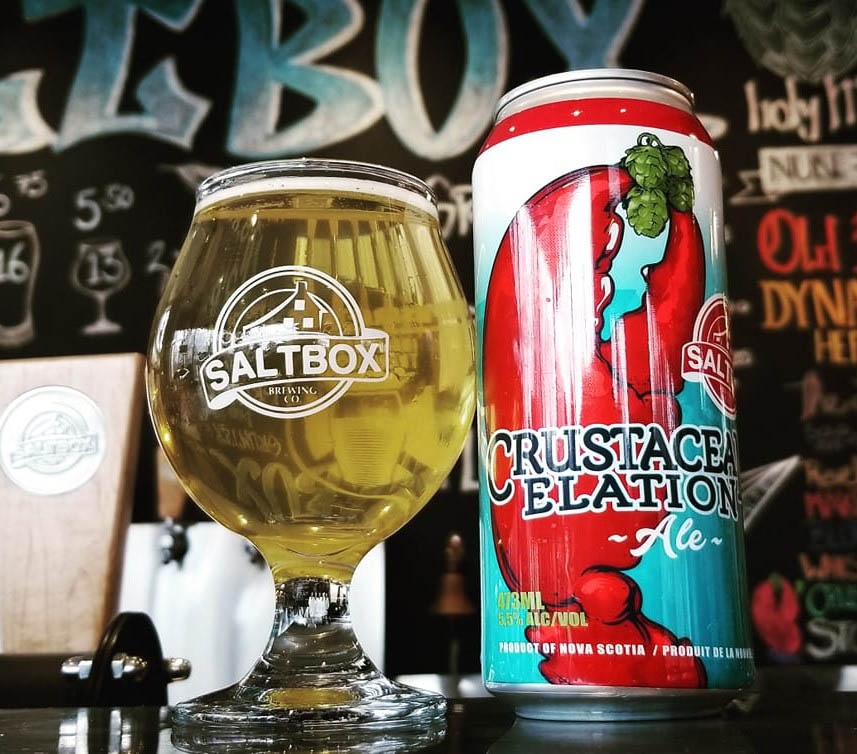 ABOVE: Saltbox Brewing Company's lobster inspired ale, Crustacean Elation. (Photo: Alain Bosse)
FUN FACTS ABOUT LOBSTERS:
Lobsters are both great tasting and nutritious and are a high source Omega-3 fatty acid.
Lobsters take 6-8 years to reach market weight (~ 1 lb) and are capable of living up to 100 years.
Lobsters must molt (shed its shell) in order to grow. During its first year, a lobster can molt as many as 10 times.
Lobsters aren't naturally red. They turn red when they are cooked. Normally they are brown to olive green in color but have been known to be yellow or even blue!
A lobster's teeth are located in their stomach and they taste with their legs.
A lobster has two claws – a crusher claw and a pincher claw.
---
For more information to plan your getaway to the Lobster Capital of Canada, visit www.novascotia.com
Recommended Articles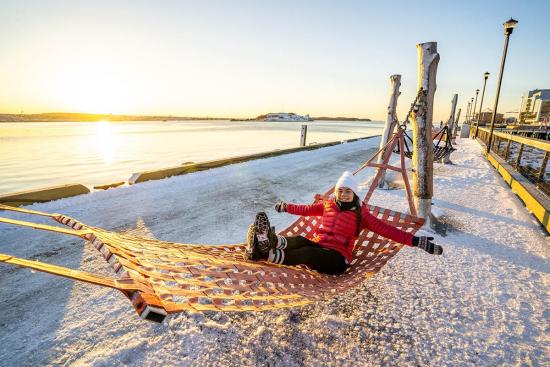 Instead of fleeing Canada's snowy season, let's embrace it. Let's get creative and plan a bold itinerary packed with surprising rewards.
Read full story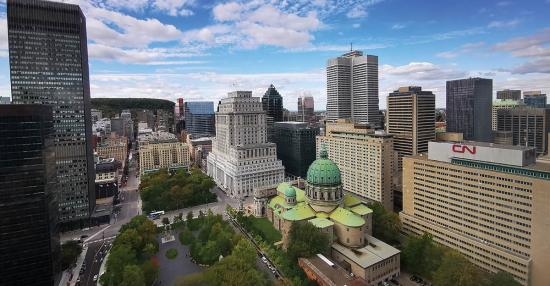 The hotel opened to host the world as part of Expo67. Back then, at 38 stories, it was the tallest hotel in Canada!
Read full story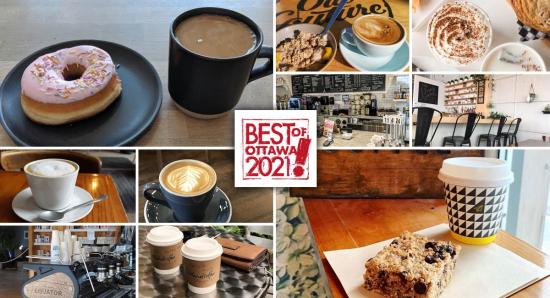 After over 20-years of writing about life in Ottawa, we think we have a pretty good idea of the best of what this city has to offer. Check, share and discuss #OLMBest every week!
Read full story
Comments (0)
*Please take note that upon submitting your comment the team at OLM will need to verify it before it shows up below.