Food & Wine
Organic & Biodynamic Wines – "Better Vines for Better Wines"
Organic & Biodynamic Wines – "Better Vines for Better Wines"
ABOVE: Ducks in the vineyards help with pest control at award-winning Angove Family Winemakers in Australia. (Photo: Courtesy Angove Winery)
---
Organic wines are a fast-growing sector in today's wine industry. Reflecting this interest, the LCBO has added an organic wines section in many of its stores. We've just marked Earth Hour, and April will bring Earth Day, so it's timely to look at these wines.
To learn more, I interviewed Ann Sperling, Chief Winemaker at Southbrook Vineyards in Niagara-on-the-Lake, Ontario, which was Canada's first certified Organic and Biodynamic Winery. Southbrook's winemaking philosophy is based on biodynamic, organic farming practices; every aspect of their operations reflects their commitment to these principles.
Organic or Biodynamic — what are they, and what is the difference?
Ann explained that Biodynamics is a form of organic agriculture.Organic agricultural practices are guided by rules prohibiting the use of herbicides, insecticides, chemical fertilizers, synthetic pesticides, and GMOs. Biodynamics takes things further by providing solutions — a complex set of composts to stimulate and balance soil microbial life, along with a farming and harvesting calendar that considers moon and planetary phases to optimize plant health and fruit quality.
She described the biodynamic practices used at Southbrook. They work under a philosophy of a "whole farm," so in addition to grapes, they include cover crops, such as alfalfa and clover, to fix nitrogen levels and provide nectar for pollinators. They raise sheep that provide soil fertility with their manure. They also have other forms of naturally occurring flora and fauna, such as butterflies and beneficial insects, and wild birds ranging from doves to hawks, rabbits, and wild turkeys, who all feed off the plants and bring diversity and fertility to the farm environment. They are certified under the Canadian organic federal standard by ProCert and Demeter International for Biodynamics.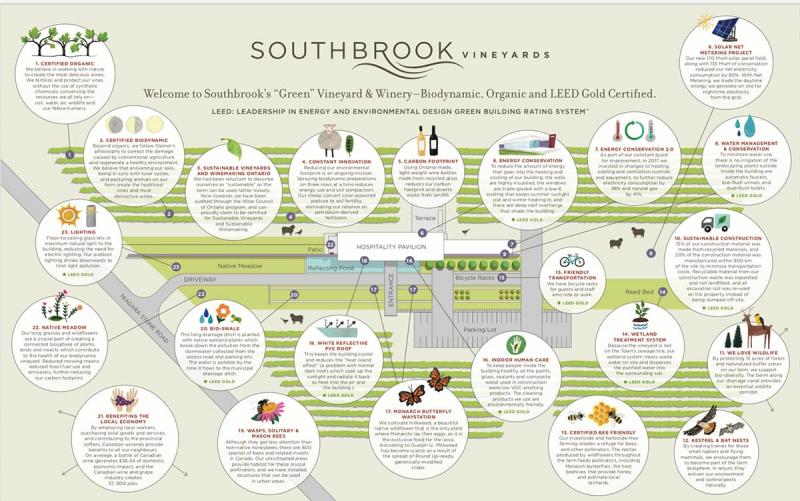 ABOVE: Every aspect of Southbrook's operations reflects its commitment to biodynamics and organic farming principles.
Southbrook's LEED® (Leadership in Energy and Environmental Design) Gold-certified hospitality building celebrates the vines that surround it. Southbrook's restaurant serves organic meals based largely on food grown onsite, including the lamb raised in its fields. The chef also works with organic farmers in the area. Health-conscious visitors can enjoy Southbrook's organic wines with their meals at the restaurant.
As winemakers, their goals are to make better wine and use methods that work in the healthiest way for the land and all those who work and visit their vineyard. These goals are complementary. Southbrook's Director of Marketing, Paul DeCampo, added his point of view. He proposes that organic agriculture is a social justice issue because the farm workers are most exposed to the synthetic chemicals. Southbrook also values the enhanced wildlife habitat within and around its organic farm. Their motto is "Better vines, better wines, better world."
This points to the health advantage that organic wine has in terms of how it is produced. For wine lovers who wish to avoid ingesting artificial insecticides, herbicides, and colouring agents, organic and biodynamic wines give the consumer more options. Also, by choosing organic wines, one supports the biodynamic farming industry. Consumers are increasingly aware that sustainability is better for all of us, both for our individual health and for society as a whole.
Lastly, what about sulphites? Sulphites are commonly used in wine and many other foods as a preservative. Labelling regulations, which vary from one country and province to another, stipulate that the use of sulphites must be indicated on the wine label when used above a minimum level. Sulfites in wine act as a preservative, limiting oxidization and retaining freshness. Organic wines in Ontario are permitted to add 30 mg/L, whereas conventional wines can exceed ten times that. It is harder to find completely sulphite-free wines, so if this is your priority, it's best to visit a branch of the LCBO with a Sommelier on staff and ask if they carry some of these wines. Typically they are found in the Vintages section. Alternately, visit the websites of a few organic wineries, and find out which wines are sulphite-free. Southbrook offers free delivery in Ontario for orders over $120.
Niagara-on-the-Lake has many wineries to explore, and it's definitely worthwhile to include an organic winery when you're touring the area. If you're a socially-conscious wine-lover, visiting an organic winery such as Southbrook is a great experience that combines pleasure and education.
Organic wines that you'll want to try

SOUTHBROOK Canadian Framboise
Niagara-on-the-Lake, Ontario, V.Q.A.
This rich dessert wine is bursting with vibrant, summery flavours of raspberries, with just a slight tartness, too. It's deliciously perfect paired with a chocolate dessert or wonderful on its own. It's also lovely added to sparkling wine to make a "Kir" style aperitif.
Sweet • $22.85 winery direct • Suitable for vegans and vegetarians
---
SOUTHBROOK WINERY Triomphe Chardonnay

Niagara-on-the-Lake, Ontario, V.Q.A.
A very appetizing full-bodied Chardonnay that shows tropical fruit, butterscotch, brioche, and lemon. It has excellent acidity that balances the rich flavours too. Pair it with grilled scallops, roast chicken, or salmon, and you'll be in your happy place.
Dry • LCBO#172338 • $24.95 • Vegan-friendly
---

ANGOVE ORGANIC Cabernet Sauvignon 2020
South Australia
Cabernet Sauvignon is the go-to red wine for many wine lovers. This handcrafted gem ticks all the boxes for aromas, flavour, and versatility with food. It opens with fragrant ripe blackcurrant, plum, mocha, and toast, then echoes these notes on a ripe, smooth palate that adds herbal hints of mint. It has soft tannins and excellent acidity, with a lingering finish too. A terrific match for steak, burgers, lamb chops, or a charcuterie platter. Keep this one in mind as barbeque season approaches.
Established in 1886, Angove Family Winemakers has a long-standing commitment to sustainable wine production. This wine was a Gold Medal Winner at the 2022 International Organic Wine Awards.
Dry • LCBO#464743 • $16.05 • Vegan-friendly
---
PIEDRA NEGRA PINOT GRIGIO

Mendoza, Argentina
A refreshing and delightful winethat presents aromas and flavours notes of ripe pear, lime, quince, melon, and green tea. This will pair well with a shrimp salad or chicken sandwich and would be an excellent patio sipper on a hot day.
Fun fact: the grapes for this wine are harvested at night to preserve freshness and optimize the aromas.
Dry • LCBO#556746 • $15.70
---
For more wine and food discovery from Jane Staples, visit www.bellovinoj.com
Recommended Articles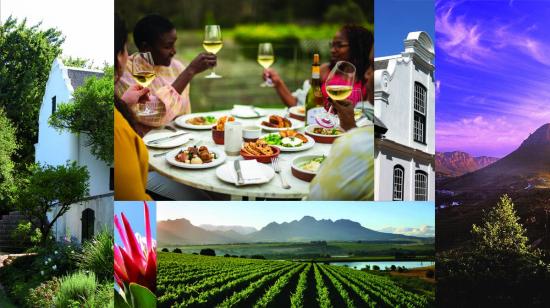 South African wines are crafted with a commitment to social and environmental sustainability. They offer wonderful variety, quality, and value.
Read full story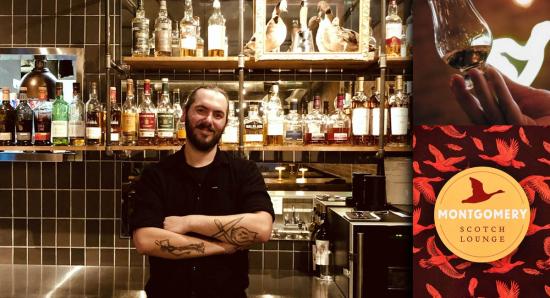 Picture yourself sitting back with a glass of single malt Scotch chosen from the nearly 80 varieties available on the menu, as you enjoy gourmet food
Read full story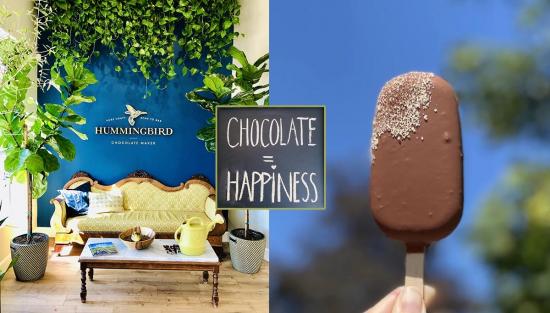 They say that money can't buy happiness. However, it can definitely buy chocolate, which will put a smile on your face!
Read full story
Comments (0)
*Please take note that upon submitting your comment the team at OLM will need to verify it before it shows up below.