Arts & Events
Ottawa Honours Community Builders at Annual United Way Gala
Ottawa Honours Community Builders at Annual United Way Gala
Photos by Andre Gagne
---
They say it takes a village but once you have that you're going to need a community. It's the lifeblood that runs through that village and, often unseen, greatly impacts so many lives on a day to day basis. Here in Ottawa, The United Way Community Builder of the Year Awards shines a well-deserved spotlight on some of those who leave such an important mark on this city.
At last night's Gala ceremony inside the Shaw Centre, seven new recipients were honoured for continuously taking strides to build a stronger, healthier and safer Ottawa. Some of them are teaching young women empowerment through music, others provide a place for newcomers to Canada to commune with others and learn new skills, while some are shooting hoops with kids in need of somebody to look up. All of them are needed.
"There have always been and will always be very strong forces that seek to divide us. It's easy to fall prey to those divisions, but this event is an opportunity for us to celebrate the people and organizations who unite us – which, we hope will continue to move us forward as a stronger city," says Michael Allen, President and CEO of United Way Ottawa.
Now in its 18thyear, organizers of the event ask the public for nominations each January on who they feel are doing amazing things in the city that need to be recognized. Once nominations are received, a committee helps select the year's recipients in each category. Allen says he feels this year's Gala in particular was a special one as many of the organizations and individuals being acknowledged were those that address some complex issues in today's society.
"In the face of what seems like an elevated level of violence in some neighbourhoods, we have organizations like the Ottawa Coalition of Community Houses that is working across the city to positively change the trajectory of vulnerable neighbourhoods, and Big Brothers Big Sisters who are changing the course of young lives for the better," says Allen.
The Ottawa Coalition of Community Houses, presented with the Community Builder of the Year Award by Mayor Jim Watson, has create barrier-free programs within 15 social housing neighborhoods in the city in support of individuals and families – especially those who experience more vulnerability due to poverty, crime and unequal access to resources.
'The Coalition is a somewhat unknown treasure in our community. But what these places really are is a beacon — a hub — for so many people in our city," explains Allen. "They are a key partner for United Way and we have worked together for many years to help provide support for those most in need in our city. These Community Houses look to address the strength of these residents with things like homework clubs and recreation programs, employment and food support, community engagement programming and much more."
Equally as influential, Big Brothers Big Sisters of Ottawa, -- which netted the All That Kids Can Be Award-- has been providing Ottawa youth mentors and lifelong friendships for nearly 50 years. In one of the Gala's more humorous moments, a comedic exchange from from one such pairing, Jamie and Isaiah, shared stories of bonding over basketball, movies and a whole lot of spaghetti.
One heartwarming moment of many this nights saw over a dozen young girls from Girls+ Rock Ottawa take to the stage to guide those gathered in the song "You Are Home". This year's GenNext Award winners is a volunteer-run organization which uses music to foster empowerment and inclusivity while also teaching young women how to play instruments and other much technical know-how. Board members and local musicians themselves, Tiffanie Tri and Amanda Lowe, ensured the room filled with song by playfully nudging the initially quiet crowd.
"You're not getting out of here until we hear everyone," smirked Tri. The crowd obliged by joining in to create a moving chorus.
Ottawa supporter, donor, advocate and volunteer Robert Morin was named Ambassador and CMA Companies received the Community Impact Award. Also honored with the From Poverty to Possibility Award during the Gala was EcoEquitable, a small, dynamic charity and social enterprise supporting isolated newcomer women looking to develop connections with their community and increase financial stability through sewing training. Sunny Marriner and the Ottawa Rape Crisis Centre were given the Healthy People, Strong Communities Award for their many years supporting survivors of sexual violence. They also received another surprise. During the evening, United Way Spark helped raise additional funds for the Centre by asking those in attendance to match a $3,000 donation. The end result was over $10,000, something Marriner admitted would have taken the Centre many months to raise itself.
Allen, who ended the evening with a rousing speech touching upon themes of kindness, giving and generosity, beamed: "It's truly humbling to have all these people and organizations in one room, united for a common goal of making our city a better place for everyone."
Recommended Articles
Looking for something fun to do this weekend that works for the whole family? Up for supporting local children and helping students get the education they need to succeed? Broadview Avenue Public School's School Council is hosting a Family Dance Fundraiser this Thursday, May 31st.
Read full story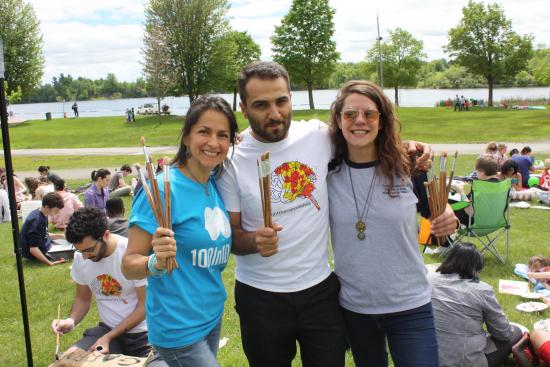 Global grassroots festival, 100in1Day, is coming to Ottawa on Saturday, June 2nd. Powered by local non-profit, Synapcity, and Future Cities Canada, this city-wide event aims to innovate Ottawa through 100 citizen-led events, all happening on the same day.
Read full story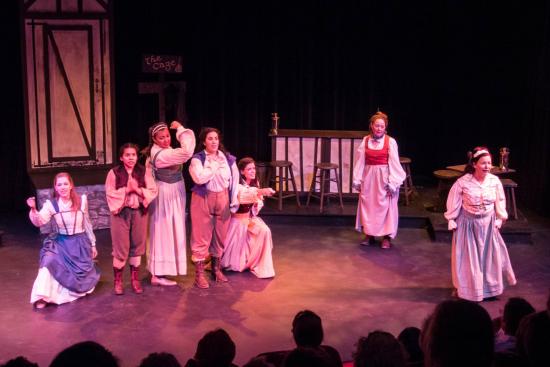 Miss Shakespeare is an interesting take on Elizabethan theatre and fun exploration. The play follows the ambitions of one Judith Shakespeare, aspiring playwright, attempting to mount a play. Both were against all the rules. Women didn't act, women didn't write plays and women didn't perform.
Read full story
Comments (0)
*Please take note that upon submitting your comment the team at OLM will need to verify it before it shows up below.