Ottawa Life's 2019 Election Outlook: Glengarry-Prescott-Russell — Bellwether Riding
---
Glengarry-Prescott-Russell has elected a Member of Parliament on the government side in every election since 1953, with the brief exception of the 9 month Joe Clark minority government in 1979. The most successful MP for this riding was the popular Chretien cabinet Minister Don Boudria who served from 1984 until he retired from politics in 2004. Then, sensing change, the people in the riding voted for Conservative Pierre Lemieux who served in the Harper government for almost a decade until he lost to Liberal Francis Drouin in 2015 with the Trudeau wave. Lemieux is back for a rematch with Drouin.
This mostly working and middle class rural riding is majority francophone and its agricultural voters are generally blue liberals and red tories. Because of this, Glengarry-Prescott-Russell is very much in play in 2019 and will be a bellwether riding for the nation.
If the Conservatives can win the riding back, it signals that they may be on their way to forming the next government. Since 2015, area residents have been adversely impacted by higher food costs, federal tax increases on fuel and small businesses and the ripple effect of the Trudeau Liberals carbon tax on just. about everything. Analysts say the carbon tax could increase the price of a litre of gasoline by 50-75 cents over the next three years. Rounded out the carbon tax will cost average families a minimum of between $1,100 and $1,400 per year. The government has not disclosed what they will do with the money generated by the tax other than to say they will return most of it to taxpayers. The Trudeau government record on agricultural issues is being questioned as Glengarry-Prescott-Russell farmers deal with the negative impacts of the United States-Mexico-Canada Agreement (USMCA), which replaces NAFTA, the Canada-Europe Trade Agreement (CETA), and the Trans-Pacific Partnership (TPP). The Conservatives accuse the Liberal government of caving into American demands that opened protected Canadian markets to more goods from the United States, including dairy products.
The government's mishandling of the China-Canada relationship with the controversial arrest of Huawei executive Meng Wanzhou has had severe financial implications for farmers. Chinese retaliation over the matter has led to a price decrease for soybeans in this riding and across Canada. Liberal MP Francois Drouin has been ineffectual on Chinese and American trade issues. He says that he is committed to getting the temporary foreign worker programs to be more responsive for agriculture in the riding. Pierre Lemieux is running against Drouin's record and says the riding needs an MP who is committed to "making sure our farmers succeed." He says a Conservative government would scrap the Liberal carbon tax and rescind the premiums the Liberals increased on Canada Pension Plan and Employment Insurance which he says are too high for farmers and have only increased their labour costs. He wants to revoke the slew of new small business taxes by the Trudeau government and is especially critical of the USMCA which allows 3.6 percent of the milk entering the Canadian market to be imported from the US.
Jean-Jacques Desgranges is running for the People's Party (PPC), Marthe Lépine for the Greens and the NDP candidate is Konstantine Malakos. The PPC could hurt Lemieux's chances by pulling votes away from the Tories which would help Drouin. NDP candidate Malakos supports supply management and the need to defend it in all future trade negotiations. He says that no foreign milk, eggs, or poultry should be entering the Canadian market, adding that "our farmers are more than capable of supplying what we need."
The race will come down to whoever has a better local ground game in the next month and the performances of both Trudeau and Scheer nationally. This one is too close to call.
In part 9 of our election outlook, we profile Glengarry-Prescott-Russell candidates Pierre Lemieux, Francis Drouin, Jean-Jacques Desgranges, Konstantine Malakos and Marthe Lépine below.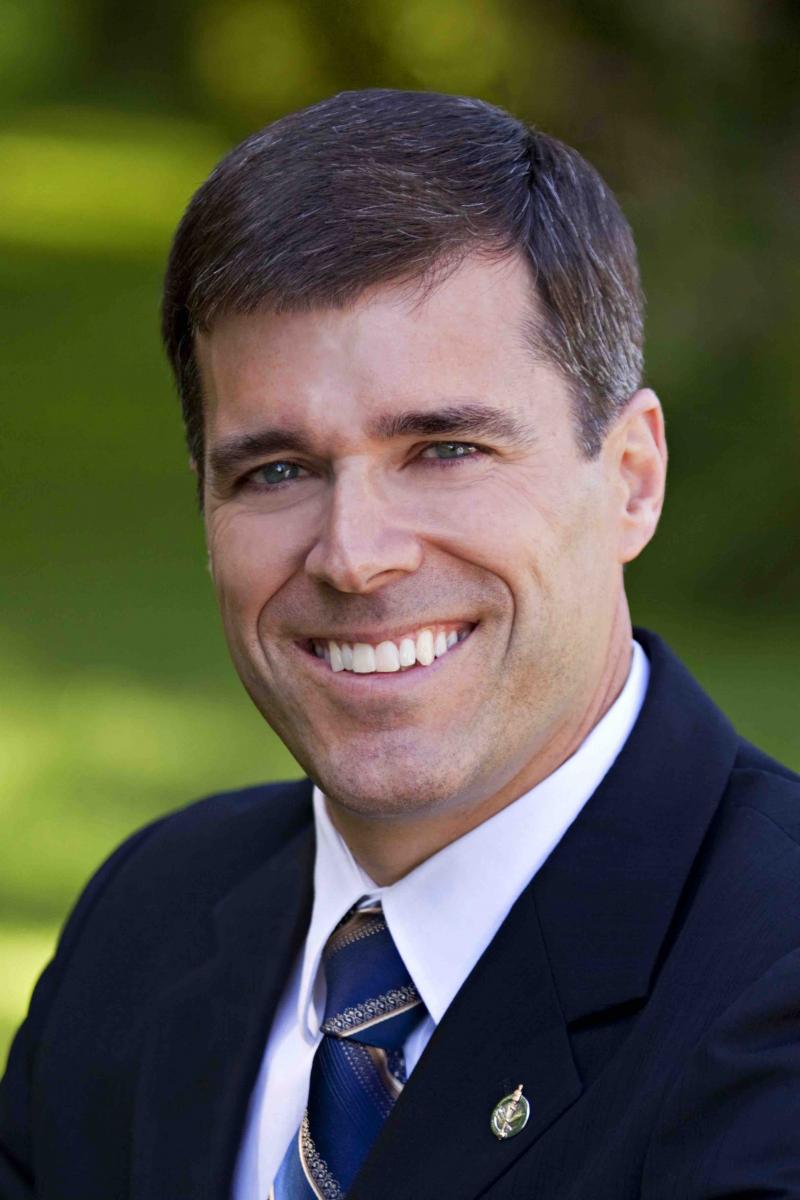 Pierre lemieux - Conservative Party
Pierre began his career as an officer in the Canadian Armed Forces, serving for 20 years and retiring at the senior rank of Lieutenant-Colonel. He also worked in the high-tech sector, and is a small business owner.
Pierre ran for the leadership of the Conservative Party in 2017, and was the Member of Parliament for Glengarry – Prescott – Russell for almost 10 years. He is a strong advocate for farmers, small business owners, families, seniors, and our rural way of life. Married for 30 years to his wife Audrey, and blessed with five children, and two grandchildren, Pierre has always stayed true to his Conservative values.
Committed to the people he serves, Pierre is highly respected for his local engagement, having attended over 2,000 community events. Committed to Canada's principles of freedom of speech and healthy democracy, Pierre believes in the sanctity of life from conception to natural death.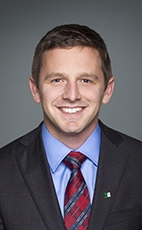 Francis Drouin - Liberal Party
Francis Drouin was first elected to the House of Commons in October 2015. He now serves as member on The Standing Committees on Government Operations and Estimates as well as Agriculture and Agri-Food. Francis is also active on a variety of parliamentary associations such as the Assemblée parlementaire de la Francophonie and the Canada United States Inter Parliamentary Group.Francis holds a college diploma in business administration-finance from Collège La Cité and an Honours Bachelor of Commerce degree from the University of Ottawa.
In terms of his professional experience, Francis worked as a special assistant in the Office of the Ontario Premier and then went on to work in the private sector as government relations consultant. As a volunteer, Francis has been a member of the Board of Directors of Collège La Cité and worked as the government relations manager for Startup Canada. When Francis is not in Ottawa, you can find him in the community working with constituents to make Glengarry-Prescott-Russell a better place to live.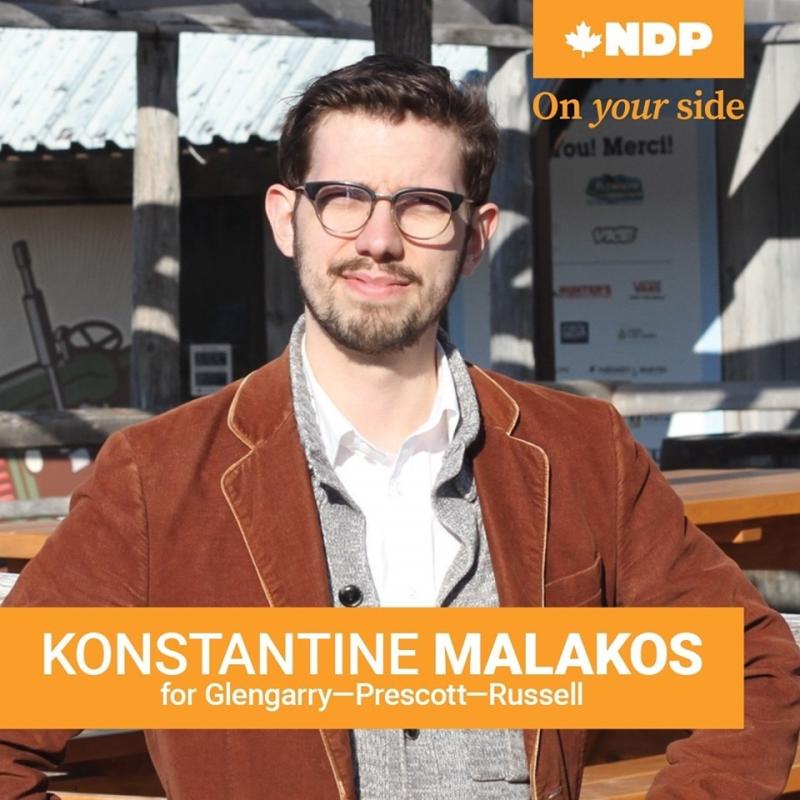 Konstantine Malakos - NDP Party
Konstantine grew up in Peterborough, the child of first generation Greek immigrants. As a young man, he worked in his family's restaurant and developed a passion for workers' rights after seeing the impact of factory closures on his community.
While living in the United States, Konstantine joined the marriage equality movement, and he and his husband, Robert, became one of the first gay couples to marry in New York.
Drawn to rural life, Konstantine and Robert now live in Glengarry on a farm where they raise poultry. Alongside Jagmeet and the NDP, Konstantine is ready to stand up to the super-rich and fight for everyday people. He will be a tireless advocate for affordable housing, pharmacare that covers everyone, and strong protections for our environment.
Green Party - Marthe Lépine
To learn more about Lépine, click here.
Jean-Jacques Desgranges - PPC
To learn more about Desgranges, click here.
Recommended Articles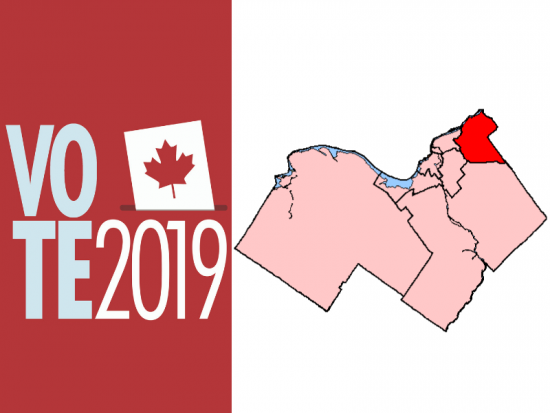 In Part 6 of Ottawa Life's election outlook series, we profile Orléans candidates
Read full story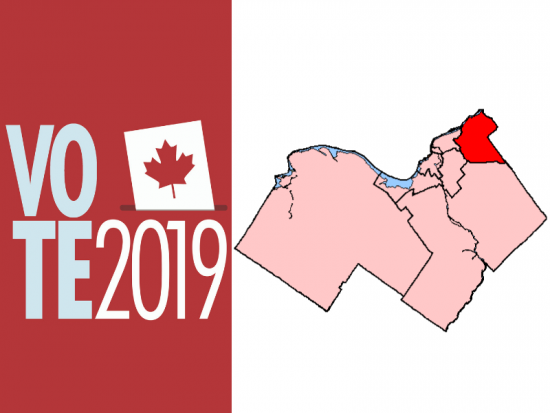 In Part 6 of Ottawa Life's election outlook series, we profile Orléans candidates
Read full story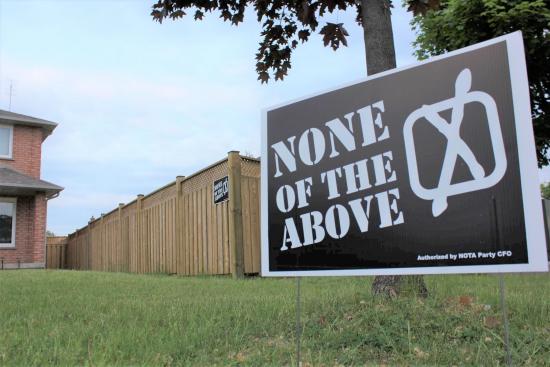 Their candidates are accountable to their constituents and elected MPs have no central party policies or controls beyond the binding Direct Democracy principles.
Read full story
Comments (1)
*Please take note that upon submitting your comment the team at OLM will need to verify it before it shows up below.