Sports
Ottawa was Ready for WWE
Ottawa was Ready for WWE
F-A-B-U-L-O-U-S.
If you're a WWE fan and you hear those letters over the loudspeaker you know that WWE Smackdown Champion Carmella is about to make an entrance. Recently OLM had the chance to speak to her but more on that in a moment.
WWE Smackdown Live descended upon the Canadian Tire Centre on Monday where superstars such as The Usos, Naomi, Becky Lynch and many more made the crowd come to their feet with excitement.
WWE is sports entertainment and it combines breathtaking athleticism with well thought out storylines to engage the crowd. Friendships are made and destroyed within the squared circle. Whether you are a fan or not you have to appreciate the reach of WWE. For example, Wrestlemania 34, which took place several weeks ago in New Orleans, was seen by over 78,000 people in the Mercedes-Benz Superdome and millions around the world. Vince McMahon isn't just a pay per view genius but a marketing one as well. He understands how to promote and add value. Whether it is through his WWE Network, where fans get 24/7 programming or the vast assortment of items through merchandising.
Through the years one thing I really respect about WWE is how it is constantly evolving. Years ago if you were to see women on the card it would be in some sort of titillating capacity but not now. The female superstars are extremely talented and are as interesting, if not more so, than their male counterparts.
Regarding the event on Monday night, it was a Live Show, which meant it wasn't broadcast on television. On the one hand, audiences always like being present for a RAW or Smackdown show (WWE's primary shows) but a live show is entertaining as well and allows more flexibility from a timing perspective.
For example, at a Live Show you will see more interaction with performers and fans. WWE Superstars Asuka, Charlotte, Jeff hardy and several others made time to shake hands and take pictures with the Ottawa crowd while this rarely, if ever seen at a TV taping. And even thought the cameras weren't rolling the superstars still put on a very entertaining show.
Earlier, I mentioned Carmela. She is the current Smackdown Womens Champion (each show has it's own champions) and she is part of WWE's 'Women's Revolution'. There have been many firsts for women in the WWE over the past 12 months and Carmela has been a big part of that. She was the first Women's 'Money in the Bank' winner, a match that guarantees the winner a title match, anytime, anywhere. We have also recently seen a women's only 'Hell in the Cell Match', a women's only 'Royal Rumble' just to name a few milestones. It is at the point now where we as fans are no longer 'shocked' when these things happen because it's expected.
Carmela sat down for a few moments from her hectic schedule to talk with us. She was a former dancer and cheerleader in the NFL and NBA. She tried out for NXT and now she's the WWE Smackdown
OLM: Hi Carmela, how are you?
Carmela: I'm doing Fabulous, thank you
There are so many amazing things going in the WWE right now from a women's perspective. How amazing is it to be female superstar in WWE right now?
There is not a better time to be a women's wrestler and I feel so lucky. Last night the women main evented RAW and it wasn't a big deal. It wasn't being blown out of proportion because it's acceptable now. The women are killing it and we are going above and beyond anyone's expectations. I feel lucky that my name gets to go down in history. The future is bright and I can't wait to see where it goes.
What makes any character great is their work on the mic and you are fantastic on the mic. How long did it take you to get comfortable with promos?
I appreciate that. When I first started in NXT (WWE's developmental promotion) I was with superstars such as Charlotte Flair, Becky Lynch, Sasha Banks and Bailey and Paige and Emma were still there. They all had experience and I had never wrestled before. I thought if I can't wrestle as well as them I wanted to be able to talk and have a great character and that's something I worked on from day one. I feel comfortable performing in a crowd. I am shy in my every day life but if you put me in front of a crowd I am in my element.
What was your time in NXT like for you?
I was in NXT when we were getting of the ground. I had a great time and I learned so much down there to prepare me for where I am at today.
What are you enjoying most about WWE right now for yourself?
I am enjoying proving all of the haters wrong. I've made history and I am not the champion. I love playing this character.
(Author's Note: The Money in the Bank winner gets a briefcase and in the briefcase is a contract for a title match anywhere, anytime. Carmela held onto that briefcase for 296 day before cashing in her opportunity for a title match)
They say patience was a virtue. Was it difficult hanging onto that briefcase as long as you did before you cashed it in?
I would hate to ever complain about it because it was an honour being the first Women's Money in the Bank winner. The only time I would ever say it was a nuisance was going through the airport because I had to go everywhere with that briefcase. I had to take it to the rental car place, through the hotel, etc. When you are trying to be incognito it's hard when you have tis big briefcase that says 'Money on the Bank' on it.
What can people expect from live shows?
It's more intimate.
Do you think we are going to see women in the Main Event of Wrestlemania within the next 3 years because I hope so?
I absolutely think so.
Carmela, are you ready for Rapid Fire?
I'm ready.
What is your favourite movie of all time?
The Shawshank Redemption
Who was your favourite wrestler growing up?
I grew up watching with my Dad and I loved Miss Elizabeth. She was fabulous so I loved her.
One thing that happened this past year was the Mixed-Match Challenge and you had Big-E as your partner. If WWE was to do that again would you want him as your partner or someone else?
Big E of course! I would never pick someone else! We had so much fun!
What is the best part of your job?
Being a role model for young girls. Showing them if they work had they can do it.
What would people be surprised to know about you?
Maybe that I'm shy. I'm also a really good mime and I can do tricks with my mouth and cross my eyes really weird. I can do crazy weird things.
I wish you all the best and continued success
Thank you so much!
---
WWE Smackdown Live Results
Asuka, Becky, Naomi def. Absolution and Lana
Big Cass def. Tye Dillinger
The Bludgeon Brothers def. The New Day, The Usos, Aiden English and Rusev
Shelton Benjamin def. Sin Cara
Miz TV with Daniel Bryan
Gallows & Anderson def. The Bar
Charlotte def. Carmela via DQ
AJ Styles and Jeff Hardy def. Shinske Nakamura and Samoa Joe
Recommended Articles
Are you a high school student in Ottawa looking for Volunteer Hours? Be part of Ottawa Life's Social Media Street Team this Summer!
Read full story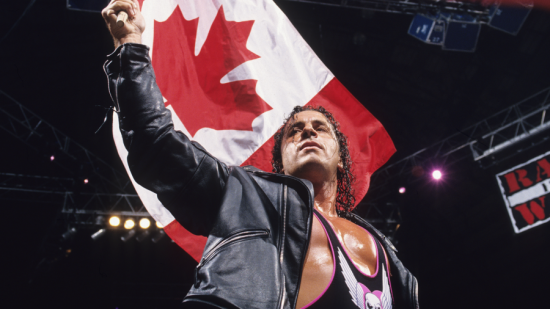 He's been called many things: The Excellence of Execution, The Hitman, The Best There Is, The Best There Was and the Best There Ever Will Be and The Pink and Black Attack. Bret Hart talks to Ottawa Life about his career and the legacy of Canadian Wrestling.
Read full story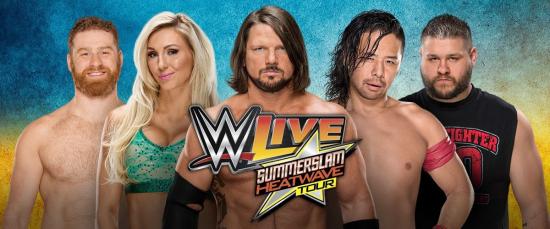 Sunday night the WWE SummerSlam Heatwave Tour stopped at the Canadian Tire Centre for an evening of sports entertainment
Read full story
Comments (0)
*Please take note that upon submitting your comment the team at OLM will need to verify it before it shows up below.