Ottawa's Neighbourhoods: Downtown Ottawa
Ottawa's Neighbourhoods: Downtown Ottawa
From the Parliament buildings south to the 417, we are looking at downtown Ottawa. This is the part of the city that makes Ottawa really feel like a major capital, from the centres of industry tucked into skyscrapers, to the most iconic historic halls of politics in the city, especially Parliament itself.
Downtown is where many Ottawa residents go to work, though the pandemic may change that. Ottawa's financial district lives here, as do many government operations, in the latter case often operating out of historic landmarks that have stood for decades or centuries. Ottawa's high-tech industry is mainly based in Kanata, but it has meaningful representation here too.

This area is home to countless historic landmarks and important government buildings. The Chateau Laurier's classic architecture makes it a striking sight, while at the same time feeling at home next to the Parliament buildings. If you're an out-of-towner and want to bond with some locals, bring up the addition being developed for the hotel and tell them you think it looks ugly. This is usually good for an "I know, right?!" and 5 minutes of chatter about what they were thinking. The National Arts Centre is where up-and-coming artists hope to have their breakout performance one day, and regularly attracts crowds with sophisticated tastes. Ottawa City Hall is here, an oddly sprawling complex for such expensive real estate, and has several historic buildings to serve people with a variety of legal needs. The Hall sits just south of Confederation Park, the largest green space in the area and one of a handful of parks. Other notables include the Supreme Court of Canada, the Canadian Museum of Nature, and the Canadian War Museum.
Much has and will be said about Parliament Hill, but it will suffice here to say that it's the most important place in the city. Ottawa was chosen for Canada's capital mainly as a typically-Canadian compromise between Toronto and Montreal, and out of fear of invasion by those dastardly Americans, more than for its small lumber trade. Today Parliament is a piece of living history that attracts not only tourists but government agencies, interested companies and the occasional university student to Ottawa. Even the tech sector is a national strategic asset, and makes sense to operate in the Capital. Though the main building, Centre Block, is under construction for about a decade, it remains the place where important government decisions for all Canadians are made—or, just as often, not made.
The area is full of little stores, restaurants and bars to cater to the tourists attracted here, as well as to the tens of thousands of postsecondary students living nearby. Personal favourites include LIVE! On Elgin and the Bronson Centre, two of the best venues for live music in the city, and Le Moulin de Province, a stylish café for when you're meeting with someone you want to impress.
Far north of the buses and some of the shops, Sparks Street is the liveliest part of the downtown core. This dedicated tourism area is for foot traffic only, with roads blocked off for vehicles, aside from the occasional road cutting north across it. The abundance of colourful foliage in garden boxes and hanging plants along the boardwalk technically qualifies the Street as a garden, and adds a lot of colour on a trip to a high-end bar or other tourist destination. Sparks features lots of colourful street performers in the summer, and is typically host to major celebrations and events, such as parts of Winterlude celebrations, Busker Fest, Poutinefest, Ribfest and a variety of other -fests.
Bank Street and Elgin are the two major north-south streets in this area, though the grid of streets downtown is mostly slanted at a slight angle westward as you head north. These are the two streets that are still full of many interesting shops south of Laurier Avenue, with Bank being a major roadway extending all the way to Ottawa South—when you're lost in the city, just find Bank and take it north to head downtown—and Elgin sitting alongside major destinations like Confederation Park and Ottawa City Hall.
This part of town contains some of the best bike lanes in the city, separated in places from car traffic by a concrete median and plastic posts. Downtown Ottawa was hard to reach via other bike lanes in previous years, but the local government builds more lanes every year, so that is changing. It's also home to many of the stops on Ottawa's new, expensive, and long-delayed Light Rail Transit (LRT) system, specifically Confederation Line. This system has lots of trouble functioning, and is another great thing to insult if you'd like to bond with locals, but hopefully it will allow more people to use public transit in the long term.

Like I mentioned in my previous article, Downtown Ottawa is sleepier than some other major-city downtowns. Sure, there are these nice bars and restaurants tucked between the tall buildings, but when you leave the party late at night, you'll often find yourself feeling cold, quiet and alone, as you wait 40 minutes for the bus that'll take you home. When I think of downtown Ottawa, I often think of long walks in Ottawa's winters, surrounded by the tall, imposing steel and glass buildings. I imagine other former university students have similar memories. Downtown Ottawa serves a role as a hub for major Canadian institutions on the one hand, and as a hangout spot for tourists and locals on the other. These roles often clash, where the feeling of warmth and hospitality you experience at the little bars all through the area ends when you reach the front door.
Still, I hope I have reason to trudge through the snow downtown again for more fun events with friends this winter. I would rather trudge here than anywhere else.
Recommended Articles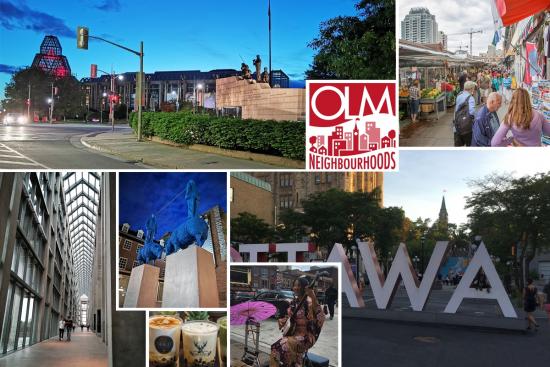 Our writers are out getting reacquainted with Ottawa's neighbourhoods. This week we look at the colourful tourist, shopping and dining destination that is the ByWard Market.
Read full story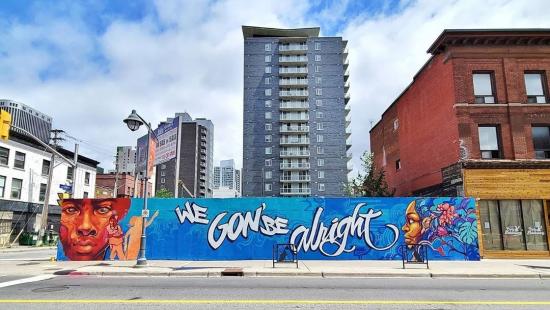 Three local artist team up to produce a mural to share some love.
Read full story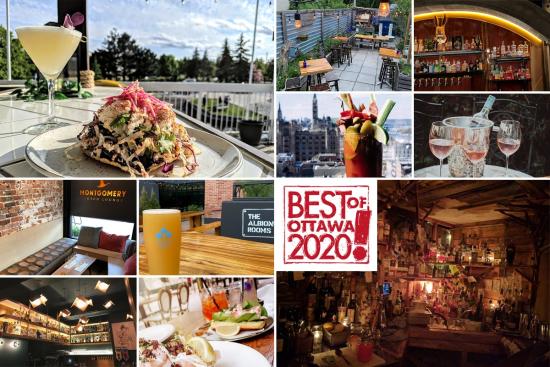 ?After over 20-years writing about life in Ottawa, we think we have a pretty good idea of the best of what this city has to offer. Check, share and discuss #OLMBest every week!
Read full story
Comments (0)
*Please take note that upon submitting your comment the team at OLM will need to verify it before it shows up below.