Ottawa's neighbourhoods: The Market
Ottawa's neighbourhoods: The Market
It's hard to know when to stop when subdividing Ottawa into smaller communities, so for this series of articles on Ottawa's different neighbourhoods, I'm writing based on how cohesive each place feels to me. Certainly the walkable area bookended by three rivers west of Vanier feels like a single place.
The ByWard Market (or just "The Market" to many locals) is a network of little shops in downtown Ottawa, with a mix of bars, restaurants, nick-nack vendors for tourists, and a busker to entertain you every few blocks. North towards the river and south beyond the University you will find considerable amounts of student housing too, including block after block of townhouses and walkups. This low-cost living for young people ensures that the streets feature people partying at all hours of the night, so be sure to invest in earplugs if you live there.
As someone born in a relatively quiet suburb of Toronto and who got to see Toronto's night life up close, much of Ottawa feels less like a city that never sleeps and more like a city that sleeps at 11 p.m., as even the downtown core south of Sparks Street gets a little empty towards morning. But this part of the city isn't like that at all — people in search of excitement can hop from one bar to the next into the early morning, and the streets are alive with people and sound.
Anyone who lives in Ottawa probably has a favourite spot here — a novel restaurant, a bar they frequent — and I probably won't mention it. There are so many little standout destinations—The Avant-Garde Bar, with its unusual Russian art, where many of my friends played their first rock shows; The Loft, where you can play the board game of your choice with friends for a few hours over a pint; Oh So Good Desserts, for enjoying a unique slice of cake with friends. The ByWard Market Building, central to the area, is filled with little eateries and tourist shops, with the famous Le Moulin de Province bakery at the north end.
Like downtown Ottawa, The Market features major local landmarks and historical institutions. Numerous embassies and government buildings dot the area, as well as cultural institutions like the National Gallery of Canada and the Ottawa Art Gallery. The Rideau Centre, the sixth-largest shopping mall in Canada, is the place you go to find a shop when nowhere else will do. Highlights include the only Apple store in the city outside of Bayshore, and the recently-renovated food court. The tall, windy Mackenzie King Bridge is frequented by every regular bus traveler (be careful that you don't have to walk from one end of the bridge to the other — it's a bit of a long walk), and is notable for letting people travel through the Mall even after closing time, so that people can reach the Market on the other side.
The University of Ottawa is another central feature to this area, so close to the city core that it's crisscrossed by major roads and interspersed with 3rd-party businesses and housing, unlike the more distant Carleton University. The University features a lovely campus with lots of green spaces, interesting architecture and of course easy access to the rest of The Market and public transit. The university is a notably bilingual institution, fitting for Canada's capital, and a great place to learn in two languages.
Like the central areas of some other cities, the Market has a problem with poverty, drug use and homelessness. The area has more than one centre for helping the poor and needy here, but in some sense we can set aside the "shelters bring crime" debate here—the centres were built where the crime is, not the other way around. Someone walking through the market at any hour of the day has a reasonable chance of having someone in rough shape stumble up to them and ask them for change, or say something incoherent to them. These common interactions lend the area a slightly chaotic feel, as seen in the infamous Rideau McDonald's, which recently increased its security. The famous chain restaurant was open 24 hours a day, and had doors on both sides that allowed easy access to George st. from the Rideau bus stops. this made it a frequent late-hours destination for almost everyone in the market, and a place that attracted strange characters and the occasional dining-room brawl.
The Market's problems with poverty are not unique to Ottawa; still, it's a shame to see the city's entertainment hub and such a notable tourist destination feel so uncomfortable. Other cities have different methods of dealing with their struggling residents; I encourage the City to continue refining its approach.
Given its connection to parties and tourism, this part of the city has been hit hardest by the global pandemic (unless you count those political and financial institutions renting somewhat-empty office space downtown). Already staples of the area have been shut down, such as Tucker's Marketplace, the large buffet establishment with quality food, and The Highlander Pub, a place that served a variety of fine alcohols just a short walk from the Rideau Centre. But the area is already recovering for the summer — businesses are reopening for Phase 3, local produce is for sale, people are getting brunch, and that weird car with all the stuff on it that every Ottawa local knows has been spotted in the area. (Nature is healing, we are the virus!)
Standard issue Canadian vehicle rolling through #Ottawa's #BywardMarket on a sunny Saturday afternoon. pic.twitter.com/MqNsYNsDUG

— Adrian Harewood (@CBCAdrianH) August 8, 2020
So the fun activities people came to The Market for will continue to return, and this part of town will bounce back. Given the need people might have for a stiff drink these days and a bit of fun, and eventually a visit from a distant relative, I hope The Market bounces back hard.
Recommended Articles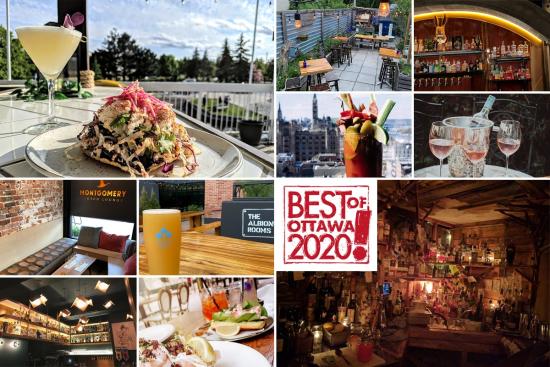 ?After over 20-years writing about life in Ottawa, we think we have a pretty good idea of the best of what this city has to offer. Check, share and discuss #OLMBest every week!
Read full story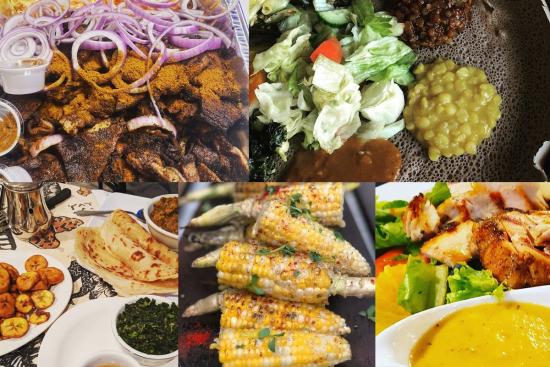 Supporting the Black Lives Matter movement has never been tastier!
Read full story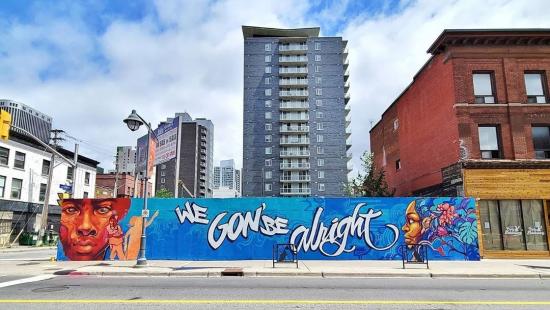 Three local artist team up to produce a mural to share some love.
Read full story
Comments (0)
*Please take note that upon submitting your comment the team at OLM will need to verify it before it shows up below.