Politics
Past the expiry date—Renewal will be good for Ottawa City Council
Past the expiry date—Renewal will be good for Ottawa City Council
Nine councillors will not be returning to Ottawa City Council chambers in the fall. Eli El-Chantiry is the latest to announce that he will not run for re-election. This comes only a few days after Carol-Anne Meehan stated her decision to withdraw from the race. In all, nine councillors and the mayor will not be seeking re-election.
In an interview on local radio, El-Chantiry stated that the last five years in office had been "hard" due to the significant events, including the 2017 floods, the 2018 tornado, the 2019 floods, and the Coronavirus. He said the lack of interaction with fellow council members and city staff "sucked the life out of this term of Council."
It is not entirely surprising that Councillor El-Chantiry is retiring. He has been on City Council for two decades and was Chair of the Ottawa Police Services Board (OPSB) for many of those years. During his tenure as Chair, El-Chantiry could never seem to get a handle on the police misogyny problems at the Ottawa Police Service or the numerous cases of OPS police misconduct (both of which have been widely reportedin local media). These problems remained as serious under the past OPSB Chair, Diane Deans, who was unceremoniously ousted from her role after the trucker debacle in the capital this past winter. Deans has also announced she is not running for re-election. The resignations of El-Chantiry and Deans bring hope that the next Council will be reinvigorated with a new group of councillors with a fresh perspective and constructive approach to issues and who can work together rather than engage in the type of toxicity and nastiness that made the 2018-2022 Council an absolute mess.
Take, for example, the Watson-business-based club of councillors that had little interest in community issues that appealed more to the left. Extreme partisanship is a large part of the problem at Ottawa City Hall; councilors work on passing motions together on city committees, and these motions are often all about ideology or personal barbs between councillors rather than substance. A good example of this dysfunction occurred when Councillor Riley Brockington tried to bring forward a superb motion to save the Red Pine Forest on Ottawa/Macdonald–Cartier International Airport property, which the airport plans to turn into a parking lot and lease to Otto's BMW. This should have been a no-brainer for a Council that declared a "climate emergency" and committed to "protecting our economy, our ecosystems, and our community from climate change." Sadly, Councillor Brockington's motion failed to pass because of the pettiness and games of other councillors.
Another significant issue is that when councillors do not sit on boards pertaining to issues relevant in their own ward, they are often left powerless to work for their constituents. Councillor and now mayoral candidate Catherine McKenney was praised for their public affairs handling of the Freedom Convoy. They went door to door, talked to residents, and made suggestions to deal with the truckers but had little power to do anything else. McKenney's only real tool in her toolbox was to warn protestors of a class action lawsuit. Then, they had to sit by in frustration as bylaw ticketed thousands of their constituents for parking violations brought on by the trucker convoy when these same bylaw officers and police were not ticketing the truckers who were blatantly breaking the law.
During May's power outages, Councillor Catherine Kitts had to placate and reassure residents in the village of Carlsbad Springs that went without power much longer than most of the city. Her constituents numbered fewer than those in suburban areas without power, but their need was greater because rural septic and water systems depend on electricity. To her credit, Kitts was visible and accessible and did as much as she could to help her constituents, but even that has its limitations.
On the business and development side, activist councillors often propose ridiculous ideas that Council must entertain. Perhaps the best example in the past session was Shawn Menard's push to remove parking on Bank Street during the early stages of the pandemic when curbside pickup was often the only shopping option. When Menard didn't get his way, he showed his frustration on Twitter, writing that residents would be forced to "walk on the street" to keep two metres apart — remember the days of social distancing? — and that it was "shameful."
Being a councillor requires being on the ground, alleviating and dealing with ward-level issues as best as possible, during the mundane and the extraordinary, while trying to represent residents of communities without the ability to effect much change. On a personal level, the job requires a big commitment and involves a lot of work, including on weekends and evenings. The compensation is fair, and the role can be rewarding if you are able to achieve things for your community.
However, the harsh reality of being in elected office is that no matter how hard you work, there will always be somebody unhappy with what you've done. Even if you do your job in a crisis, you can lose if someone further down the chain doesn't know theirs or if a partisan Council denies a motion you really need to be passed, disenfranchised constituents will still hold you responsible. Often it can be a thankless job trying to balance the needs of your community with the often opposing needs of the larger city.
In a city as diverse as Ottawa, the needs of Vanier and Kanata will rarely align, and the natural regional political differences have only exacerbated in recent years, causing more gridlock. The next Council in Ottawa will have to figure out a way to get along and achieve a broad consensus on multiple issues if the city is going to move forward on some big files.
Recommended Articles
His recent announcement made a big splash in the local news and was met with great enthusiasm by the local business community and many community groups.
Read full story
When the fiction of green energy met with the facts it led to misery for a North Stormont, Ontario family.
Read full story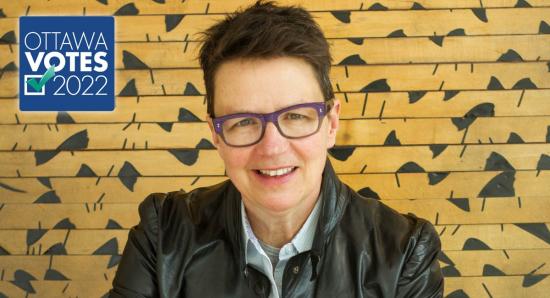 "I also think I have well-rounded knowledge of the city and what it takes to make it a better place." —
Ward 14 Councillor and mayoral candidate Catherine McKenney
Read full story
Comments (0)
*Please take note that upon submitting your comment the team at OLM will need to verify it before it shows up below.