Politics
President Tokayev rolls the dice and wins election for a 'Fair and Just Kazakhstan'
President Tokayev rolls the dice and wins election for a 'Fair and Just Kazakhstan'
ABOVE: The Central Election Commission of the Republic of Kazakhstan declared Kassym-Jomart Tokayev (inset) the President.
---
After a tumultuous year, Kazakhstan chooses to stay on the democratic road
The Central Election Commission (CEC) of the Republic of Kazakhstan confirmed Monday, November 21, 2022, that incumbent President Kassym-Jomart Tokayev won his second term with 81.31 percent of the vote in Sunday's snap election.
Six candidates participated in the election, including Tokayev. This was the seventh presidential election in Kazakhstan since the country's independence in 1991. A presidential vote was originally due in 2024, and parliamentary elections in 2025. However, in September, Tokayev called for early presidential and parliamentary elections, stating that a new mandate was required to maintain the momentum of reforms following a June referendum. According to the CEC preliminary results on November 21, candidates received votes as follows:
1. Kassym-Jomart-Tokayev (People's Coalition) – 81.31 percent WINNER
2. Zhiguli Dairabayev (Auyl Party) – 3.42 percent
3.42 percent 3. Karakat Abden (National Alliance of Professional Social Workers) – 2.60 percent
4. Meiram Kazhyken (Amanat Commonwealth of Trade Unions) – 2.53 percent
5. Nurlan Auesbayev (National Social Democratic Party) – 2.22 percent
6. Saltanat Tursynbekova (Qazaq Analary – Dasturge Zhol public association) – 2.12 percent 7. "Against all" – 5.8 percent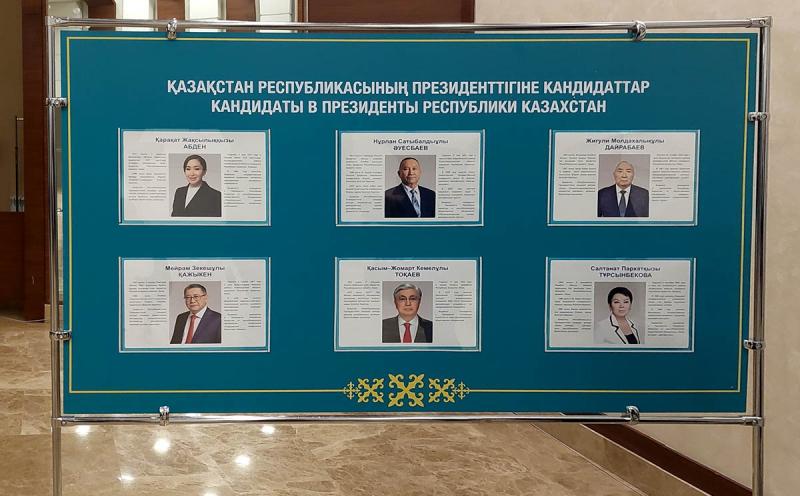 ABOVE: Six candidates ran in the election for president of the Republic of Kazakhstan. (OLM staff)
Exit polls by three other organizations (Open Society International Institute for Regional Studies, Amanat Party Public Policy Institute, and the Institute of Complex Social Research) showed comparable results.
Eight million three hundred thousand forty-six citizens cast their ballot. With 11,953,465 registered voters, the turnout was 69.44 percent. The highest voter turnout was recorded in the Zhetysu region at 81.42 percent, while the lowest turnout was recorded in Almaty at 28.72 percent. The voter turnout abroad was 88,47 percent with 11,360 people casting their vote. Voting took place at 10,101 polling stations across the country, including 68 polling stations at 53 diplomatic missions of Kazakhstan around the world.
Six hundred and forty-one observers from international organisations and foreign states were accredited by the CEC, including the OSCE Office for Democratic Institutions and Human Rights (ODIHR), the Commonwealth of Independent States (CIS), the CIS Interparliamentary Assembly, and the Shanghai Cooperation Organization (SCO).
In addition, 254 foreign journalists (including Ottawa Life Magazine) were accredited to cover the election. Observers from international organisations and foreign states noted the high organisational level of the election.
Canadian Senator Victor Oh, a member of the Senate Committees on Foreign Affairs and International Trade, and Independent Canadian Senator Jean-Guy Dagenais were in Kazakhstan as observers. Oh and Dagenais reported in a briefing attended by international journalists in Astana on election day that they had visited several polling stations and witnessed an election process that "was very well organised, calm, transparent and open."
President Tokayev's election team stressed that Tokayev is a democrat and that the election and recent amendments to the Constitution of the Republic of Kazakhstan revealed the democratic nature of his rule.
After the election results were announced, President Tokayev said that "The election was held in accordance with the law and fairly." "Candidates freely visited the regions, met with voters, and campaigned. There were no restrictions on anyone. Each voter was given freedom of choice. Therefore, this campaign was fair and open." "The authorities will improve the well-being of citizens. To realize all these goals, we need unity."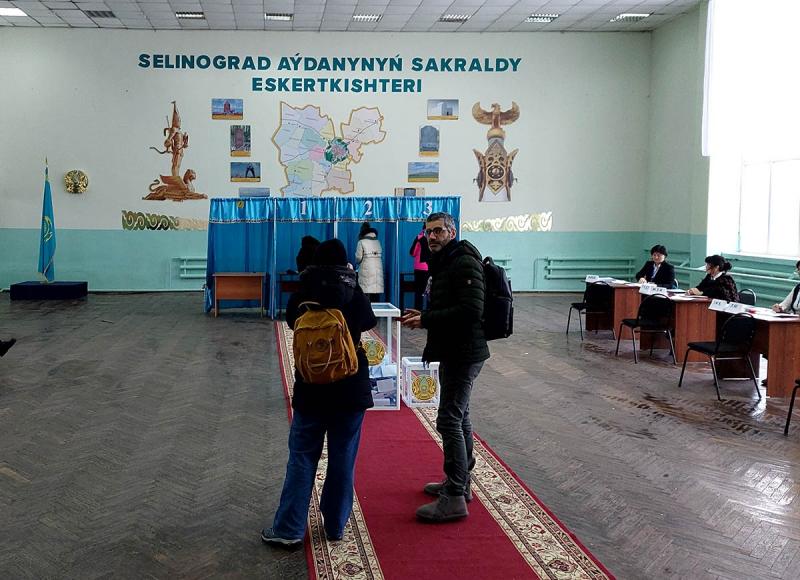 ABOVE:Voters at a polling station wait to cast their ballots for the President of the Republic of Kazakhstan. (OLM staff)
The early presidential election in Kazakhstan was of great interest to foreign states because Tokayev openly defied its major ally Russia over its invasion of Ukraine. In a meeting with Vladimir Putin last August, Tokayev told the Russian President that Kazakhstan would not recognise the pro-Russian separatist statelets in eastern Ukraine that Moscow later claimed to have annexed.
Since being elected President in 2019, Tokayev has managed to retain good relations with the U.S., the EU, China, and an increasingly belligerent Russia. His victory in the oil-rich nation provides him with a strong seven-year mandate to continue his path for developing Kazakhstan as a middle power with an independent foreign policy.
After his win, Tokayev commented on Kazakhstan's foreign policy going forward, telling journalists that "Kazakhstan must conduct a multi-vector foreign policy. I have said many times that Kazakhstan should be committed to the United Nations Charter and pursue a peaceful foreign policy."
The win comes after a tumultuous year in Kazakhstan that began with violent uprisings last January centred in Almaty, which Tokayev characterized at the time as an attempted coup led by outside agitators and terrorists. In response to the crisis, Tokayev initiated a series of reforms that he described as a new chapter for the country built on the premise of a "Just and Fair Kazakhstan" whose underpinnings would be "a strong president, an influential parliament and an influential government."
One bold reform led by Tokayev himself was that any candidate for President who wins can only govern for one seven-year term and not run again. Tokayev's reasoning behind this policy was to ensure there would be no opportunity in the future for the monopolization of power or for a super-presidential model like those that exist in Russian and other central Asian states.
After the election results were announced, Tokayev was asked whether seven years would be enough to fulfill all the promises to the people. He responded by saying, "I believe that seven years will be enough because this is a long time in the life of any person. The most important thing is that there will be no monopoly on power in our country."
Another series of reforms passed since the January troubles were new rules related to the separation of powers and the independence of the courts and the law from politics. Officials stress these are ongoing legal reforms that are being implemented to ensure the rule of law in Kazakhstan protects individual Kazakhstan citizens' rights.
Tokayev recommitted to the ongoing reforms to combat corruption in the country. Earlier this year, Tokayev's anti-corruption reforms resulted in over 1,400 corruption-related crimes being registered countrywide, with over nine hundred people being accused of corruption. Of particular concern was the return of illegally exported money by crooked businesspeople and government officials — an issue raised several times during the campaign. Upon re-election, Tokayev said, "The systematic work of the state will continue. A special commission has been created headed by the Prosecutor General. I personally supervise the work of this commission. I believe that over time we must adopt a law on the return of illegally exported capital from our country."
Tumultuous Times, Reform, an Election and A New Chapter for Kazakhstan
In 2019 the first president of the Republic of Kazakhstan, Nursultan Nazarbayev, resigned from office after three decades and transferred power to Kassym-Jomart Tokayev, an affable diplomat who had been a longstanding loyal supporter of Nazarbayev, serving as both Kazakhstan's Foreign Minister and Secretary of State for almost two decades.
Some critics of Tokayev referred to him as 'Nazarbayev's furniture' and perceived his rise to the top job as a way for Nazarbayev's family, loyalists, and friends to retain power in Kazakhstan from behind the scenes. This was a mischaracterization. Shortly after being named president, Tokayev called a snap election, seeking a mandate from the Kazakh people to govern. On election day in 2019, anti-government demonstrators were arrested in the capital Astana and in the largest city Almaty. Despite this, Tokayev won 70 percent of the vote.
Afterward, he acknowledged the protests and detentions and that there had been wrongful arrests and committed his government to improve democratic processes in Kazakhstan. He began implementing reforms that included loosening laws regarding peaceful protest and assembly.
By 2021 Tokayev had initiated a series of policies targeting corruption in Kazakhstan's political and economic networks. He ran into a wall of resistance from Nazarbayev appointees and others in business and government who had built up their own influence nodes and corruptive practices under the former president. Some of the pushback came from Nazarbayev's daughters, sons-in-law, nephews, and more distant relatives and clients. To make a point that he was serious about his agenda for a "Just and Fair Kazakhstan," Tokayev even fired his nephew, who was holding down a prominent and lucrative post at a state-owned holding company. This departure from the so-called 'clan politics' practiced in many Central Asian countries seemed to resonate with ordinary citizens in Kazakhstan.
On January 2, 2022, demonstrations began in the oil-producing city of Zhanaozen in western Kazakhstan over the doubling in the price of liquefied petroleum gas (LPG), which many Kazakh people use as car fuel. The protests quickly spread to other parts of the country, including the capital, Nursultan. They became a major political and security issue for the country and a test of the legitimacy of the Tokayev presidency. Within days, Amalty, Kazakhstan's largest city, commercial hub, and former capital, was under siege as the presidential residence, mayor's office, police stations, the offices of the ruling Nur Otan party, and other symbols of state authority were targeted by protestors.
On January 4, the protests became violent as protestors firebombed and torched some commercial establishments, stormed government buildings, and clashed with security forces nationwide. On January 5, Tokayev moved quickly to deal with the unfolding crisis by dissolving the government and restoring the price cap on LPG. He suggested the uprisings were a cover for an attempted coup orchestrated by external forces, and he decided to deal with the uprising by force. An emergency was declared, with the government claiming the uprising was a coup attempt, and forces were given orders to shoot. The country's former domestic intelligence chief Karim Massimov, a close confidant to former President Nursultan Nazarbayev, was arrested on charges of treason.
Kazakhstan invoked Article 4 of the Collective Security Treaty Organization (CSTO), which states: "If one of the Member States undergoes aggression (armed attack menacing to safety, stability, territorial integrity, and sovereignty), it will be considered by the Member States as aggression (armed attack menacing to safety, stability, territorial integrity, and sovereignty) to all the Member States of this Treaty.
It was the first time the CSTO had been called into action since its inception. In 2002, eleven years after the dissolution of the Soviet Union in December 1991, six former Soviet states, including Kazakhstan, signed the Charter of the Collective Security Treaty Organization (CSTO), which is an agreement for collective defence and the strengthening of regional security within the bloc. In October 2007, the CSTO agreed to create a 'Peacekeeping Force' that could "deploy under a United Nations (UN) mandate, or, within one of its member states without a UN mandate in the event of an aggression (armed attack menacing to safety, stability, territorial integrity, and sovereignty) to any of the Member States. All the other Member States, at the request of this Member State, shall immediately provide the latter with the necessary help, including military one, as well as provide support by the means at their disposal in accordance with the right to collective defence pursuant to article 51 of the UN Charter."
President Tokayev was able to justify this invocation by claiming that "foreign terrorists," "bandits," and "gunmen" from central Asian countries and militants from the Middle East instigated the protests and attempted to stage a coup, adding that a "sizable number of foreign nationals" had been detained during the protests.
The CSTOs response acknowledged "aggression from outside" in its response: "In connection with the appeal of the President of the Republic of Kazakhstan Kassym-Jomart Tokayev and in view of the threat to national security and sovereignty of the Republic of Kazakhstan caused, among other things, by aggression from outside, the CSTO Collective Security Council in accordance with Article 4 of the Collective Security Treaty decided to send the CSTO Collective Peacekeeping Forces to the Republic of Kazakhstan for a limited period of time in order to stabilize and normalize the situation in that country."
On January 6,2022, the first Russian soldiers began arriving in Kazakhstan as part of the CSTO 'Peacekeeping Force.' Over the course of the following days, the remaining CSTO countries deployed their forces as well. The most startling event to underscore the seriousness of the situation occurred on January 7, when President Tokayev authorized a shoot-to-kill without-warning order for the police and military. On January 9, he stated that order had been restored to the country.
On January 11, Tokayev gave a live broadcast that the CSTO forces would begin withdrawing on January 13 and would be gone within ten days. After seven days, the withdrawal was completed. By the time the crisis ended, The Human Security Centre had reported that approximately 50,000 people were believed to have joined the protests, of which 225 people were reported to have been killed, with a further 2,600 receiving medical treatment and arrested. The CSTO 'peacekeeping' mission quickly became a topic of contention. Kazakhstan's military has 77,000 personnel, with 45,000 on active duty and 32,000 paramilitaries.
Many questioned why Tokayev's government would need to call on a 2,500-strong CSTO 'Peacekeeping Force.' The answer to that question is complicated. Clearly, there was a behind-the-scenes power struggle happening, and Tokayev may have sensed he could not fully trust his key military commanders to back the democratically elected government. Many of them owed their careers and, in some cases, loyalty to the former Nazarbayev regime. Further conflating matters was that Tokayev had initiated an anti-corruption campaign that was butting heads with officials in the country who still held key positions because of their longstanding ties and connections to the former administration of President Nursultan Nazarbayev.
There were also Kazakhstan oligarchs who had benefited from the previous regime and seemed unwilling to adhere to Tokayev's reforms. Regional security experts and officials in Astana told Ottawa Life Magazine that the deployment of the CSTO's 'Peacekeeping Force' was a powerful and symbolic gesture by Tokayev to reinforce that his democratically elected government had the support of CSTO countries. The speed of the CSTO response by Russia and other member states to the Tokayev government's request for forces to assist in stabilizing the situation certainly bolstered his authority. It was a high-stakes move, and it worked. More important was the fact that Tokayev was able to ensure CSTO forces, including the Russians left within a week of the uprising ending.
As a result of the January showdown, subsequent reforms, and his re-elections, Tokayev has severely diminished the influence of former Nazarbayev apparatchiks, along with family members who were controlling many of Kazakhstan's key institutions and businesses, including Karim Masimov, who twice served as Nazarbayev's prime minister and ran his administration in the interim. When the unrest broke out, Masimov was fired from his post as the head of the NSC, accused of high treason, and arrested.
With his victory, government officials say Tokayev will now focus on a 'Fair and Just Kazakhstan' for future generations. This includes introducing fundamental changes to the economy, social sector, and the regions of Kazakhstan. Government efforts will be aimed at de-monopolizing the economy, boosting entrepreneurship, modernization of education and healthcare systems, and increasing household incomes.
Recommended Articles
In 1917, Turkiye did not exist as a country, and Newfoundland wasn't yet part of Canada. The Battle of Gallipoli forever changed both.
Read full story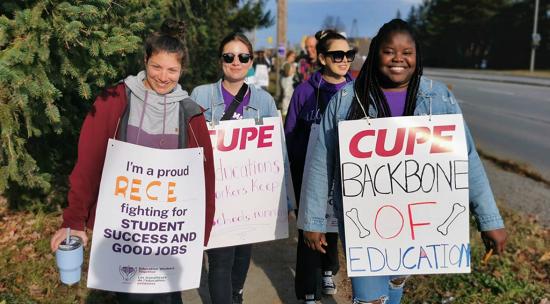 While I find falling snow, and lightly snow-covered trees beautiful at times, it's also a stark reminder that I'll mostly stay home for at least five months.
Read full story
Comments (0)
*Please take note that upon submitting your comment the team at OLM will need to verify it before it shows up below.