Rebecca Noelle's Soul-Soaring Soulstice
Feature image by Paolo Ceritano.
Standing on the edge of the end of a year, when singer-songwriter Rebecca Noelle looks back she sees behind her days full of song, frenetic choreography and various neon hairstyles that could possibly be seen from the International Space Station. And that's just her work with The PepTides!
It's been a busy 2016. In between multiple gigs with Ottawa's glitziest party band, Noelle managed to find time to not only tour her own music for some solo shows but also record a new album. Looking ahead to the year to come things don't show much sign of slowing down. She doesn't mind. For somebody who has been performing since she was 4-years-old, a life in music is exactly the one she wants to be living.
One of her earliest memories is singing "Itsy Bitsy Spider" to her grandfather while he was ill and bedridden. It made for good medicine (and a cherished memory before his passing) as she was asked to sing the song again and again. She discovered young how her voice had the power to affect people in such positive, uplifting ways.
Not content with an audience of one, however, Noelle would often invite the elderly couple next door over to perform impromptu songs she had just written. Singing made her soul soar but it was the influence of others –even those who tried to sway her away from a path in music– that eventually moved her to really finding her voice.
Noelle tells Ottawa Life that "it was a strange combination of the people who believed in me and the people who discouraged my plan" that propelled her forward.
"I truly needed both: someone to make proud, but also someone to prove wrong."
Proving the naysayers wrong wasn't going to be easy. Right out of high school Noelle's early career –one she admits was full of her own newcomer's naivety– would be off to a rocky start. It would be wrought with hardships that included a bad contract, worse business deals and a creative partnership with somebody who didn't have her best interests in mind.
"I should have listened to my gut, but my logic convinced me that I wasn't educated enough on the music industry to be calling someone far more experienced than I out on their malpractice. Always go with your gut, no matter how inexperienced you feel," she says now reflecting on these early experiences.
Not discouraged and with some hard lessons learned, Noelle set out to achieve her goals she pretty well set out when she was a kid. She wanted to be a solo musician. However, now armed with a bit of road wisdom, she realized that she needed to put in the work with other bands, collaborate and network before taking that plunge into solo gigs. She would tour with David Gogo and along with the Juno-nominated blues musician she'd open for ZZ Top, Bonnie Raitt and B.B. King traveling extensively in Europe and the United States. It was the best kind of school and eventually, her efforts paid off when she was able to create her own backing band of people she already felt comfortable working with.
Noelle fell back on her early influences for her solo work. She was raised on Ella Fitzgerald and those lively jazz crooners. Her maternal grandfather had a jazz band and her mother loved to play Ella's scat jazz styles in the car. The child was mystified and as an adult would use such fabulously frenetic vocals in crafting her own style while peppering in some more modern divas like Tina Turner or Mariah Carey. Discovering K.D. Lang provided the wrapping around her voice to complete the package.
Now she just needed to record it!
Her bad business dealings, however, stalled her efforts to put out an album. Fate shows up at the strangest of times. After one of her club shows a fan walked up and asked if he could purchase some of her music. When Noelle reluctantly explained her legal dilemma, the fan revealed himself to be a lawyer. Jackpot! Her new friend in law would help her out of legal bindings leaving her free now to record her first album, A Night at Maggies.
"It was pretty magical," Noelle says of her first time recording in a studio, one suggested by her jazzer grandpa.
"He had done many of his previous albums there, and since my first album was a collaboration between he and I, it only made sense. It was a standard jazz album, so the material was made up of old classics that we had massaged into our own versions by gigging together over the 10 years leading up to the record."
Her gorgeous three octave vocal range makes for a thrilling and uplifting release as Noelle puts her touches on some standards as well as some fantastic covers of Shirley Bassey's "(Where Do I Begin) Love Story" and Van Morrison's "Moondance". The way was paved perfectly for Noelle to become a lovely weaver of soulful jazz, a lounge singer that would have you forgetting to order your next cocktail being so transfixed by the music, but then things took a mighty left turn full of flash and fire.
"I think when I first joined The PepTides, I was intimidated by not only the sheer brilliance of the writing, but also the work ethic of everyone involved! How was I to stay afloat?" recalls Noelle of her shift into an almost alternative persona for a band that mixes everything from Broadway style showmanship to elaborate dance pieces and perfectly timed harmonizing into their act.
The woman who always wanted to be a solo singer was suddenly surrounded!
Though worried about possible burnout, Noelle is still standing four years after the current incarnation of the The PepTides that included her first took to the stage at the 2012 Ottawa Jazz Festival.
She may not have thought she would last but now says it's all very addicting work that allows her to showcase different sides of her personality, vocals and, of course, from a partnership that has brought much success.
The band continues to receive praise and collect a strong, loyal following wherever they go! Their fanbase is rabid and their 2012 release Revenge of the Vinyl Café provided all of them with much exposure when they were asked to play the 20th Anniversary of the popular Stuart McLean CBC radio show. Their live show often leaves both those on and off the stage exhausted.
"Here I am four years later, happily treading water after having stayed afloat through all of our great floods of work, tidal wave projects, and the showers of praise that always seem to follow. Yes, it's a boat load of creative work –which is usually the most emotionally exhausting– but it's never for nothing, and that's why I'm addicted."
Noelle has also felt very strongly about sharing her talent with another group of people who live demanding lifestyles far different than that of any road weary musician. Last year, she was given the opportunity to travel with The Canadian Armed Forces, performing for the troops here and abroad. It was a life-changing moment.
"The Canadian service men and women live very demanding lifestyles: minimal sleep and maximum expectation. I can't really relate because I'm self-employed. I only have to answer to me. I set my own goals and create my own missions. If I don't successfully execute a personal operation, I just take a break and try again tomorrow. But these men and women have to answer to an entire country, ready to respond to whatever world affairs, emergencies, and rescue missions are currently unfolding."
Wednesday, December 21 will see the launch of her new album appropriately titled Soulstice. The album of all new material took shape over many Saturday mornings with Brian Asselin and David Gaw. Noelle would pen the lyrics and basic melodies and Asselin and Gaw would hammer down the musical arrangements until something would emerge best reflecting their collaboration. After trying out some of the songs live, they found Jason Jaknunas at Metropolitan Studio.
"Jason had opinions, and stood his ground whenever we had an idea that didn't serve the album. When a recording environment opens up a whole new world of possibilities (as Metropolitan did), it's easy to get carried away. Jason really helped us focus our efforts on the things that count."
You can hear for yourself this Wednesday at the Mercury Lounge or catch Noelle on one of her coming dates for her solo Soulstice tour.
If multiple tours weren't enough, believe it or not, Noelle actually has plans to return to the studio next year with her aunt (musician Amy Noubarian) and grandfather to record a Christmas album. There will be three generations of her family on that recording! It's a perfect culmination of the dream that started with a four year old kid never doubting her want to one day join the musical members of her family no matter what color her hair might have to be!
Recommended Articles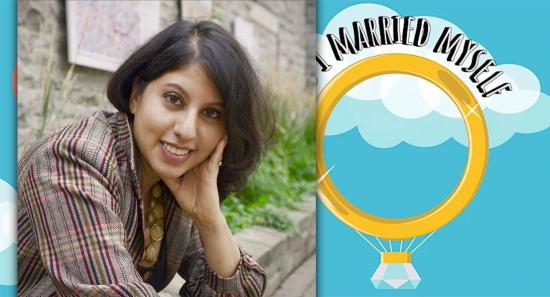 Ottawa-based filmmaker Amen Jafri's short film, So I Married Myself, is being screened on Monday, February 13th, at the DARC Micro Cinema inside Arts Court.
Read full story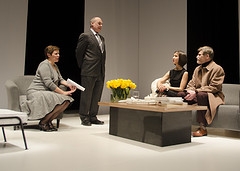 It's always a treat when a Yasmina Reza play graces the stage. Third Wall Theatre Company's curr...
Read full story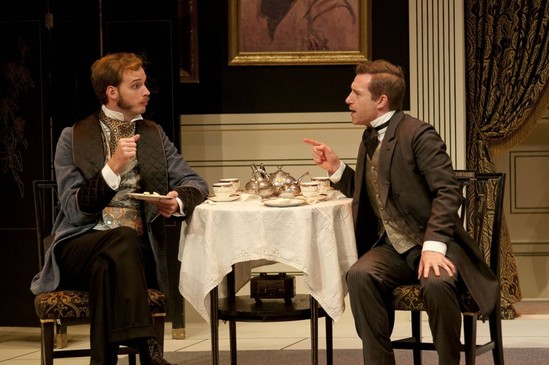 Alex McCooeye, Christopher Morris. Photo by Andree Lanthier He may be one hundred and sixty years ol...
Read full story
Comments (0)
*Please take note that upon submitting your comment the team at OLM will need to verify it before it shows up below.