Sports
Redblacks offence sputters once again in loss to Ti-Cats
Redblacks offence sputters once again in loss to Ti-Cats
Photo credit: Patrick Doyle
---
The rain stopped in Ottawa in time for the afternoon game between the Redblacks and Ti-Cats, yet a dark cloud continues to hang over this Redblacks season. East-leading Hamilton topped Ottawa 21-7. It is the first time the Redblacks have lost four straight home games since their inaugural season in 2014.
"It's frustrating. We are obviously having trouble scoring. There are a lot of good players and coaches and good people that are trying and working hard, but we are certainly not doing the fun part of the game and the necessary part of the game – which is making plays and scoring points," said Redblacks head coach Rick Campbell.
On paper, the Ottawa offence held its own. They had over 300 total yards of offence but were kept out of the endzone and never seemed to find their rhythm from play to play. The play calling seemed to be both predictable and 'head scratching' at times. On third and long opportunities, quarterback Dominique Davis often threw passes short of the yards needed to pickup the first down, resulting in punts.
The strong play of the Redblacks defence allowed Ottawa to hang around but only for so long. The backbreaker came midway through the fourth quarter on a quick succession of plays that went in the Ti-Cats' favour.
First, receiver Jaelon Acklin juked Redblacks defensive back Chris Randle en route to the endzone on a short passing play when the Ti-Cats were only ahead by four.
That @daneevans9 to @Jaelon_Acklin connection ????@Ticats regain the two-score lead. #CFLGameday

HAM 18 | OTT 7 pic.twitter.com/4HaYW9Uw4Q

— CFL (@CFL) August 17, 2019
Then on the first snap of the next drive, Dominique Davis threw a pass that was both off target and with a backwards trajectory, making it a fumble. Hamilton recovered the fumble and added a field goal on the subsequent offensive possession. The touchdown and field goal gave Hamilton a 14-point lead against an Ottawa team that could get little going offensively.
Davis had another tough outing passing the ball, completing less than 50% of his passes.
He was pulled briefly in the first half, allowing backup Jonathan Jennings to take a few snaps, but was back at the reins to start the second half. Campbell said it was to help the quarterback take a breath and refocus.
"I just wanted him to get out of the game and watch it from the sideline and watch their defence and make sure he was seeing things correctly," said Campbell, adding that he knew he wanted to get Davis back in the game after that.
At halftime, the game's score resembled more of what you would expect from a hockey game than football. It was 4-1 Hamilton. There were two missed field goals and only 13 combined first downs between the two teams.
Hamilton quarterback Dane Evans completed over 60% of his passes and threw for 299 yards and a touchdown in the game. There were a few critical mistakes for Evans however. He threw two endzone interceptions, one to Antoine Pruneau and the other to Anthony Cioffi.
Pruneau ends the Hamilton drive with a clutch pick. #RNation#LetErRippic.twitter.com/lzgwOXf7e4

— Ottawa REDBLACKS (@REDBLACKS) August 17, 2019
The Ti-Cats are now 2-2 with Evans as their starter and since star quarterback Jeremiah Masoli went down with a season-ending injury.
After nearly 14 months without a miss, Lewis Ward's record field goal streak finally came to an end Saturday night. A 32-yard field goal attempt sailed wide right, which halted Ward's historic streak at 69 straight.
After the miss, the second-year kicker received a standing ovation from the TD Place crowd to honor his unbelievable achievement.
The streak ends at 6??9??@LewyWard17 misses from 31 — the @REDBLACKS kicker's record will stand at 69. #CFLGameday

HAM 1 | OTT 1 pic.twitter.com/tlvvFCRGYw

— CFL (@CFL) August 17, 2019
Ward bounced back after the miss to hit two field goals.
The Redblacks struggled in the ground game as well. Mossis Madu received only nine carries and was often stopped near the line of scrimmage. He did have a 35-yard run in the third quarter however. It is Ottawa's longest run of the entire season and the team's first rush of over 30 yards.
There were two second-half plays involving linebacker Anthony Cioffi and pass interference penalties. The first was a no-call that involved Cioffi being a little too physical with wide receiver Brandon Banks that was challenged by Hamilton head coach Orlando Steinauer. The call was overturned to a penalty by the CFL command centre to setup the Ti-Cats at the one-yard line. David Watford scored a one-yard touchdown run on the very next play.
The other situation was a pass interference penalty called on Cioffi that was overturned after a Redblacks challenge. Ti-Cats receiver Bralon Addison fell on the play after losing his footing, which gave Cioffi the chance to intercept the errant Evans pass.
Ottawa's linebacker core continues to be one of their strongest units. Along with Cioffi and Avery Williams, Jerod Fernandez was a bright spot for the defence once again. The middle linebacker was physical all game long, delivering several punishing blows to any ball carrier courageous enough to enter his part of the field.
As a whole, the defence performed extremely well against one of the league's top offences but were burned a few times when they got away from their fundamentals. There were occasions when Ottawa defenders tried to deliver big hits, failing to wrap-up in the process and allowing extra yardage.
Quick Notes:
The Redblacks won all four games against Hamilton last season and eight of the last 13 meetings between the teams before Saturday
This is the first time the Ti-Cats have gone 7-2 to start a season since 1998
It was Stefan Logan's first game as a Redblack. The 38-year-old return man ranks third all-time in kick return yards in professional football history. He had a 46-yard punt return that was brought back by an illegal block in the back penalty
Former Carleton Raven Nate Behar made his first start as a Redblack and caught 3 passes for 21 yards
Ottawa-native and Philadelphia 76er-draftee Marial Shayok was in attendance and received a Redblacks jersey on the field during a TV timeout. Shayok was drafted by the 76ers in the second round of this year's NBA Draft
The Redblacks will travel to Saskatchewan next weekend for a Saturday night matchup with the Roughriders.
Recommended Articles
Ottawa is basically a world superpower city for the production of stand up comics.
Read full story
Ottawa prevailed 30-27 in overtime to halt their four-game losing streak.
Read full story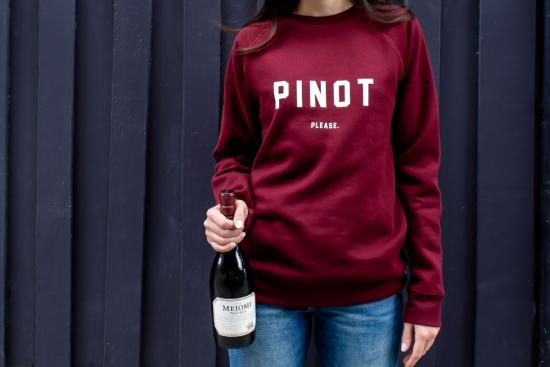 Brunette The Label launches limited-edition sweater inspired by Meiomi Pinot Noir.
Read full story
Comments (0)
*Please take note that upon submitting your comment the team at OLM will need to verify it before it shows up below.