Sports
Senator town hall meetings fail to provide much as playoffs push on for others
Senator town hall meetings fail to provide much as playoffs push on for others
SENATORS: A Week in Review is a weekly column looking back at the week in Ottawa Senators hockey written by OLMSports Dave Gross.
---
Feature photo Courtesy NHLI via Getty (Andre Ringuette)
So, your team is out of the playoffs, what are you going to do with all this sudden free time?
Reminisce?
Pontificate about the future?
Relish in a potential quick exit from one of your chief rivals?
Hit the driving range?
Pray for an end to winter (. . . yeah, right).
Regardless, hockey marches on with or without your Eastern Ontario hockey club.
And with that in mind, here's a look at the week on the ice (for those still playing) and off (for those not).
How about those town halls Ottawa? What'd you think - productive? Destructive? From this corner we put it somewhere in between. Yeah, it's all unicorns and cotton candy to swing open the doors to season-ticket buyers and let them catch a glimpse of the internal machinations of the Senator organization, but really, what did Joe Public learn. Not much. Will there be an attempt to sign Erik Karlsson? Yup. Will they trade the captain at the draft? Nope. Is he here for the long term? Probably not, is the call here. GM Pierre Dorion and resident villainous owner Eugene Melnyk said all the right things without really saying anything, regarding Karlsson.
One thing that caught the ear was the newest mandate, that a rebuild is on (again) folks. Target date for Ottawa to contend for a Stanley Cup is now pegged at 3-5 years. Frankly I don't get it. As has been pointed out numerous times, Colorado went from being the NHL's worst team (by 21 freakin' points) to grabbing a playoff spot, while Montreal went from 103 points to missing the post-season (by 26 freakin' points), in one calendar year. Lesson: turnarounds come quick in hockey in this era (unless you're Buffalo, of course). To maintain Ottawa will need 3-5 years is kind of ludicrous and this kind of white-flag thinking must be insulting to pending free agents Karlsson, Matt Duchene and Mark Stone.
Dorion et all have stated the team will hold on to it's first-round draft pick this year (well, "99.9 per cent" sure). That means Colorado gets Ottawa's first in 2019. This was part of that mega-package deal that saw Duchene end up in Ottawa and Kyle Turris in Nashville. Those boasting the deal was a slam-dunk steal for the Senators might want to check back in a few years. If Ottawa is unable to sign Duchene and the club releases a top-drawer selection next season . . . ugh.
Does Guy Boucher stay or go in Ottawa is the question. The gut call from here is he stays, but like so many before him, Boucher will be on a very short leash. Got a chuckle from Dorion's line: "I've said this all along: I think Guy has the toughest job in Ottawa as head coach of the Ottawa Senators." Yeah? Tell that to the poor schmuck who works lost luggage at the airport.
Cue the schadenfreude-ists: The Toronto Maple Leafs are a small sliver away from turning an optimistic 82-game season into true despair. After back-to-back poundings in Boston in the opening two games of the post-season, the Leafs were exposed. Not only did they lose badly, the way in which it was accomplished is troubling. Quite honestly, Toronto was manhandled and looked more like a junior team facing a team of men.
This situation with the Leafs needed to be addressed well before the playoffs were on the horizon. Toronto is a lovely, free-skating, creative regular-season machine that is clearly not built for the grind of the post-season. In case you missed the intonation – this ain't a Don Cherry team. Beyond that, the defensive corps sports an odour that's been prevalent all season.
Say what you want about suspended Leaf Nazem Kadri but he's one of the few in Toronto that plays with an edge (and somewhat over-the-edge too). It's no secret that Ottawa wanted Kadri in the first round of the 2009 draft, but Brian Burke told Bryan Murray on the draft floor he was hanging onto his pick to take Kadri. Murray shrugged then picked Jared Cowen two selections later, at No. 9.
Interesting tie-in to that draft – did you know Ottawa has two of the top-10 picks on the current roster? Duchene was selected 3rd overall by Colorado, while MagnusPaajarvi went 10th to Edmonton.
7-0, 5-1 then 5-1. Those wanting to head to the exits and get a jump on traffic in the Philadelphia-Pittsburgh set-to have a dream series on the go. All three games have been over by early in the third period. BTW, not calling this one 'done' yet but wouldn't a Penguins-Bruins showdown somewhere down the playoff road be enticing?
Playoff tip-ins: The draft lottery is on April 28 and will be aired on both CBC and NBC . . . The Senators chances at nailing the top pick overall sit at 13.5 per cent . . . The Buffalo Bad-Luck Schleprock Sabres lead the charge with an 18.5 per cent shot . . . Is it me or is this the precise moment when Mike Babcock needs to start earning his considerable salary? . . . A few fellas who could play on my team anytime: Blake Wheeler, Zach Hyman, Logan Couture, Austin Watson, Kevan Miller, the entire Vegas Golden Knights . . . Has anyone noticed that Tampa is leading New Jersey 2-0 in their series? Is anyone actually watching? . . . Remember when the Sabres essentially gave up on Tyler Myers (sending him to the Jets for troublemaker Evander Kane)? Further evidence why Buffalo is Buffalo . . . Remember when Buffalo essentially gave up on Kane and sent him to San Jose for a weak prospect package? Further evidence, Part II . . . BTW, the Sharks' Kane is my second favourite Kane, slightly behind the WWE giant . . . Speaking of giants, check out HBO's documentary on Andre – it's fascinating and a bit sad too . . . Subtraction by addition: Getting Tomas Plekanec from Montreal. A huge scouting gaffe by Toronto. Plekanec can't keep up in the new NHL . . . One Leaf who's earned much more ice is Kasperi Kapanen. He plays hard. Consistently . . . Loving the ferocity in the Winnipeg/Minnesota series. Hate is hockey, baby.
Recommended Articles
On Sunday, Ottawa soccer fans were treated to world-class soccer at TD Place in a rematch of the 2016 Summer Olympics Bronze medal match which Canada won 2-1 over Brazil.
Read full story
Dreaming about getting a sports scholarship from prestigious post-secondary schools in Ottawa? If so, this article is what you need.
Read full story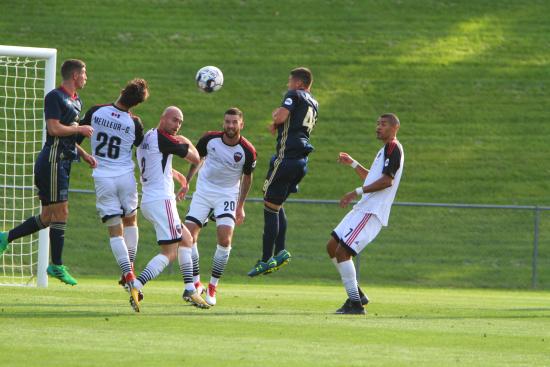 Fury FC looked better in the second-half, but all of the team's endeavour materialized into nothing as the match ended in a 2-0 loss.
Read full story
Comments (0)
*Please take note that upon submitting your comment the team at OLM will need to verify it before it shows up below.