Top Stories
Silversea: Discover The Gold Standard in Cruising
Silversea: Discover The Gold Standard in Cruising
A privately owned Italian cruise line that is recognized as the gold standard in luxury cruising, Silversea's new class of elite vessels are designed with more space for fewer guests, where travelers experience adventurous voyages to remote regions while enjoying the highest levels of personalized service. Silversea sails to the islands of Oceania, Southeast Asia, the Russian Far East, Australia's remote Kimberley Coast, Central and South America and the exotic western coast of Africa. I recently took my 17-year-old daughter on a Silversea Caribbean cruise aboard the Silver Spirit sailing from Fort Lauderdale to Key West, Belize, Guatemala, Costa Maya Mexico and then back to Florida. Silversea sets the bar for cruising and is the company others try to emulate.
The Silver Spirit is the largest vessel in the fleet, but is still considerably smaller than ships sailing for the big-name brands. Silver Spirit proves that size does not trump quality and service. With just 270 cabins and a crew of 376, it offers one of the most favourable crew-to-guest ratios in the industry, just 1.4 passengers for each crew member. Cabins are all located in the forward section, allowing dining and entertainment facilities to be focused aft for guest comfort. Classic, elegant and luxurious are the words that come to mind when you first arrive. We shared a comfortable two bed ocean-view suite with luxuriously designed finishings including a marble-tiled and mahogany bathroom suite, two satellite televisions, a cozy sitting area, walk-in clothes closet and fully stocked refrigerator. Each cabin has butler service and the all-inclusive fares cover drinks and gratuities. Amenities include a full-service spa, salon and gym, multiple restaurants and bars, a casino and a showroom featuring live entertainment. Silversea offers free wifi to all guests (the amount of free wifi will depend on your suite category).
Comfortable lounge chairs were always available on all decks. We spent hours relaxing at the outdoor pool on deck nine. We never felt crowded and enjoyed an immense sense of calm in a completely stress-free environment. For passengers wanting to mix and mingle, there is plenty of opportunity to participate in group activities like bridge, bingo, team trivia and shuffleboard.
Dinners are a treat on the Silver Spirit. On casual evenings, men wear open-neck shirts and dress pants, while women opt for dresses, blouses and skirts or pantsuits. On informal nights, men bring up it a notch with jackets, though ties are optional. One night each week is set aside for formal dining so bring a suit jacket or a tux and a gown for the ladies. We enjoyed dressing up for dinner and looked forward to cocktails beforehand at the art-deco inspired Panorama lounge or outside on the pool deck. Both have a swanky, chill vibe featuring live, jazzy music from some exceptional musicians and entertainers.
As for the meals themselves, they are a foodie's delight. French fine dining at the elegantly appointed 24-seat Le Champagne restaurant with a wine cellar in the centre and superb cuisine prepared in partnership with the Relais & Chateaux cooking school is on par with the finest French cuisine in the world. We enjoyed consommé with a truffle-coated scallop, shellfish with asparagus sorbet and smoked salmon with asparagus tips. (A dining fee of $40 per person is applied here, reservations are required and dress is formal business attire). Sushi at the Seishin Restaurant is incredible as well. The nine-course menu includes signature dishes like teppan grilled wagyu beef and carpaccio of king scallops with flying fish roe. The four-course meal is $30, and a nine-course meal is $40. The menu is the same every night, but changes seasonally.
Poolside on deck nine, The Grill features a wellness breakfast that offers smoothies, blended fruit and vegetable drinks, as well as a smattering of low-calorie entrées like cumin-scented egg-white omelets Florentine. It's a great option for early morning post-workout dining. The Grill on deck 10 overlooks the pool area and serves burgers, hot dogs, grilled salmon, pasta dishes, all-in-one salads, sandwiches, wraps, barbecued steak and chicken throughout the day. At 7 p.m. it reverts into a steak and seafood restaurant where you can dine under the stars. Premium choice beef, pork, lamb chops, veal and salmon steak are grilled on hot heated lava rocks at your table. Stars, on deck seven, is an art-deco styled venue featuring cool live entertainment by South African jazz duo Helene and Garth who attracted their own following by passengers on the cruise for their exceptional talent performances. The tapas-style servings features cuisine from five continents including gorgonzola with roasted beetroot, pine nut and red wine dressing, asparagus paired with caviar cream, oysters poached in sparkling wine and sashimi wrapped in curried aioli.
The Restaurant is a contemporary dining room with classical features and that can seat 456 passengers and serves as Silver Spirit's main dining room, serving breakfast, lunch and dinner (you never feel like it is crowded). There's always a great buzz in the room with the chatter and constant activity of passengers and a busy crew. Each day, the chef recommends a three-course selection and other selections could include beef filet mignon with foie gras-poached potatoes and shallot jam, a layered partridge tart with Rouennaise sauce, and wild boar ragout with porcini mushrooms, marinated short ribs one day, salmon coulibiac or Asian specialties like vegetable stir-fry, Malaysian beef curry or Thai food. For breakfasts we enjoyed La Terrazza on deck seven, where, whether we were sitting indoors or out, we felt like we were in a five-star hotel or a café in Geneva, Vienna or Paris. Offerings include a wide selection of fresh, healthy and delicious breakfast choices served on tables lined with rich white linen tablecloths, fine china and stemware. Afternoon tea is also served at La Terrazza from 3 p.m. to 5 p.m. with scones, cream, delectable treats and mini sandwiches provided as a pianist entertains in this wonderfully attired room. If you're still hungry, a room service menu is available 24 hours.
The day excursions and ports-of-call were a great addition. Key West is wonderful (read more at ottawalife.com) to just walk around and visit. The Butterfly Museum is a fascinating stop and if you feel peckish, try Caroline's on the main street for lunch. We spent a relaxing two hours listening to a local musician troubadour on the Key West Pier, which is touristy but still fun. In Belize, we had a beach day and in Guatemala we took an eco-jungle tour and learned about local history. Our favourite jaunt was in Costa Maya Mexico, a quaint seaside beach town at the very southern part of the Mayan Riviera where we took an exhilarating three-hour segway tour before spending an afternoon snorkeling.
There was no pressure or hard sell for tours, shopping, spa treatments and art auctions, on the Silver Spirit. In fact, it is quite the opposite. Silver Spirit provides exceptional services in all these areas and hosts guest lecturers each day on different topics. Art advisor, Pasquale Iannetti, held seminars about some of the fine art available onboard including originals of Marc Chagall, Renoir, Joan Miro, Bob Dylan's watercolours and Bert Stern's original shots of Marilyn Monroe. Phillip Rosenthal is a diamond and gemstones expert who provides advice on best options for ports-of-call purchases, shopping taxes and related matters. Dr. Philip Martin, a guest lecturer form the University of California-Davis, gave several lectures on the history of wine making and the history of the Caribbean that were very popular with passengers.
Each morning, passengers receive a newsletter which details daily happenings on the ship including info on the ports of call for the day. They make great souvenirs as well.
Luxury cruises have become more affordable in recent years thanks to competition and higher occupancy rates. The per diem for a comparable Silversea cruise is in the $400-600 range and most fares include an onboard spending credit of $500 to $1,500 per suite that you can use for shore excursions, Internet-access fees, surcharges in specialty restaurants, premium wines, spa treatments, or shopping. All-inclusive shouldn't be taken literally. You'll be charged for shore excursions, spa treatments, and additional Internet access but many items that are extras on other cruise lines, such as drinks and crew tips, are included in the fare at Silversea.
To check fares and special offers, see the cruise listings at Silversea.com.
Recommended Articles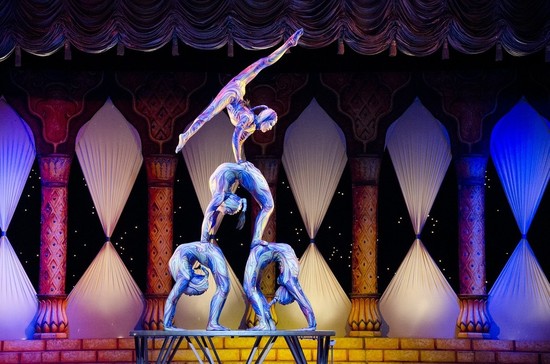 Do you believe in magic? The Arthritis Society is hosting an evening of wonder and awe at the Nation...
Read full story
2015 marks the Year of Sport and the 60th anniversary of Canada's Sports Hall of Fame. In recognit...
Read full story
The August long weekend marks the middle of the summer and if you haven't already taken time off f...
Read full story
Comments (0)
*Please take note that upon submitting your comment the team at OLM will need to verify it before it shows up below.