Travel
St. Pete's and Clearwater Florida —You won't want to leave!
St. Pete's and Clearwater Florida —You won't want to leave!
ABOVE: (CLOCKWISE FROM LEFT) Indian Rocks Beach has a low-key, laid-back vibe. Get close up to dolphins on Clearwater's Little Toot Dolphin Cruise. Indian Rocks Inn is a family-friendly resort-style inn located in the town of Indian Rocks Beach.
---
The problem with visiting the St. Petersburg and Clearwater, Florida area is that once you get there, you don't want to leave. Seriously. After a few days, you just get into this Florida kind-of-groove where it's — dare I say it — always 5 o'clock somewhere.
Covid kept millions of Canadians, snowbirds, and others away from Florida for two years. However, thoughts of Florida were always close by, and people are returning and picking up where they left off. There are numerous flight options from Ottawa, Toronto, and Montreal to the sunshine state. It's best to fly to Tampa and rent a car for the week. If you're planning to stay close to the beach, you can easily stay a week in Clearwater or St. Pete's without a car and make your way around walking or with the occasional Uber or public transit.
Our recent Florida discovery was the coastal village of Indian Rocks Beach, a ten-minute drive from the busier beach town of Clearwater and about 40 minutes from St. Pete's. Indian Rocks Beach and Indian Shores is the perfect spot for a family or couples who want a more tranquil experience.
This quaint and comfortably bohemian spot features restored 20th-century cottages that have retained the 'Old Florida' look. We checked in for a week 'on the beach' at the Indian Rocks Inn. You can't go wrong here, and you'll quickly get into a daily groove. Indian Rocks Inn has all the amenities that make for an easy stay. The quieter beach is perfect for those seeking serenity with a side of tasty food and cold drinks. A kitchen, spacious bedrooms, comfortable beds, Wi-Fi, barbecue, pool, and great beach chairs and umbrellas for the sun. The staff are attentive yet discreet. Steps away is the Kooky Coconut, which serves breakfast, sandwiches, and comfort food all day. Caddy's Indian Shores, the Indian Rocks Cafe, Sandy's Restaurant, and Pipo N Betty's Bakery are also popular. Keegan's Seafood Grille is a local favourite and a nice spot for lunch: the Blackened Amberjack Grouper sandwich or grilled octopus are delicious.
We loved hanging out on the low-key beach at Indian Rocks, but there are so many beach options in the area, so it really depends on your mood. For example, Sand Key Park is another pristine, peaceful paradise away from the hustle and bustle. It is the place to get away without going away — a beautiful white-sand beach and dog-friendly park conveniently located next to Clearwater Pass. Endangered sea turtles frequently lay eggs on the beach at Sand Key. Visitors can observe endangered birds nesting and feeding in a rare salt marsh. The park is also the base of operations for the county's artificial reef program.
It's a must to spend at least an afternoon or evening on Clearwater Beach, one of the best public beaches anywhere. There are lots of people, but you don't feel crowded. It's just a fun day of frolicking in the sun and water. The Clearwater Beach Pier offers superb views, and you can go fishing at the end of the pier. Rod rentals and bait are available.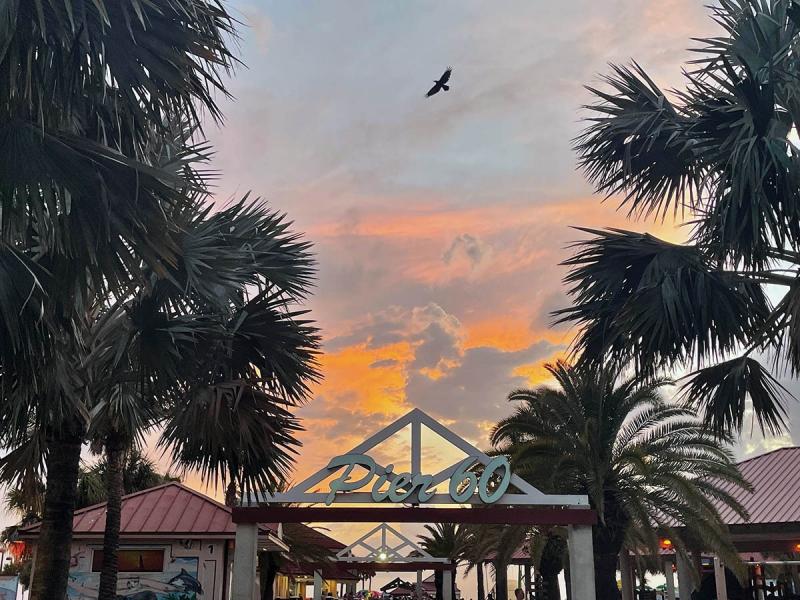 ABOVE: Sunset a Pier 60, Clearwater Beach.
---
Be sure to visit the Clearwater Marine Aquarium (CMA). The CMA is beautifully designed with committed and passionate staff and caretakers who love their jobs and whose enthusiasm is infectious. Made famous by the Disney movies Dolphin's Tale1 & 2, CMA was home to Winter the dolphin, the star of these movies that tell her story of survival after losing her tail to injury (both movies were filmed here, and you can see the actual movie set areas and props).
In real life, the mission of the CMA is to restore and preserve the marine environment through education, research, and the rescue, rehabilitation, and release of marine life. There are sea turtles, otters, and more at the CMA, including a working animal hospital. They have a popular visitation program for tourists so they can learn more about marine wildlife and the work that goes into protecting and preserving marine species and keeping the oceans healthy and sustainable; their week-long Marine Science Camp for kids is open to all, even those visiting. The rescued dolphins remain the star attraction of the CMA, and it is fascinating to watch them work with these wonderful and intelligent mammals.

ABOVE: The Clearwater Marine Aquarium was the home of the beloved dolphin Winter, who passed away in April 2022. (PHOTO: CLEARWATER MARINE AQUARIUM) All of the aquatic mammals, reptiles, and birds rescued are released once they have been rehabilitated. (RIGHT) A descriptive panel shows the process of rescuing dolphins in Florida.
---
It's a hoot to take a ride on the Little Toot Dolphin Cruise out of Clearwater. Little Toot's has been around since 1998 when Captain Tim Harris, a former member of the United States Coast Guard stationed in Sand Key, Clearwater, decided upon retiring to share his love of the area with tourists. The boat makes its way out of the bay through the Clearwater pass, and before you know it, you're whipping along the coast with magnificent views of Clearwater Beach, the pier, and other points of interest. On our trip, a pod of playful dolphins followed along both sides and in the back. Dolphins are very social animals that interact with one another, hunt for fish, swim together, and protect each other. It was great to have them frolicking about and up close as we motored along.
You'll need a day to experience the beautiful seaside town of St. Petersburg. The waterfront arts district is home to the renowned Salvador Dali Museum and St. Pete's newest museum, the Museum of the American Arts & Crafts Movement (MAACM), with its stunning architecture and over eight hundred incredible works of art.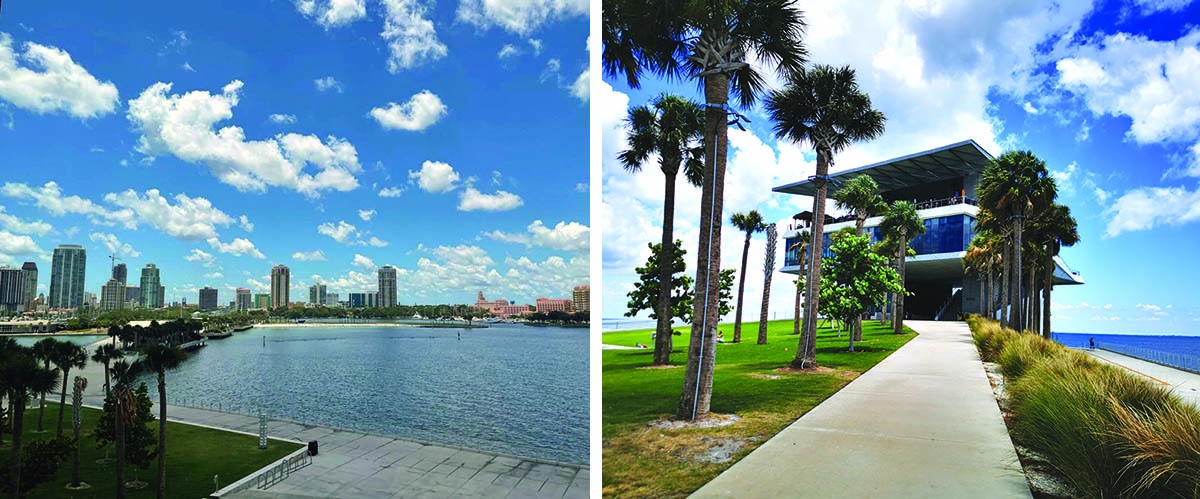 ABOVE: The new St. Pete Pier opened in 2020 and is a destination unto itself. At the tip of the pier, a modern four-story structure houses the fashionable restaurant Teak and a rooftop bar.
---
St. Pete's Pier is southeast Florida's largest waterfront playground — a picturesque urban beach area that is an extension of St. Pete's vibrant and flourishing city centre. The design of the pier is big, bold, and breathtaking. It is home to a beautiful public beach and children's playground, just steps away from a variety of modern-Florida dining spots, shops, condominiums, and a pop-up marketplace with local vendors. Be sure to visit Teak, a spectacular restaurant that sits atop the pier with lovely views of Tampa Bay and the ever-growing St. Petersburg skyline.
It's a short drive from St. Pete's to Get Up & Go Kayaking, where you can get out on the water for a couple of hours. Their eco-guided Shell Key Preserve kayak tour has several picturesque stops along the way where you will learn about local wildlife, marine life, and plant life. You'll be able to get up close to Florida's ecologically important natural mangroves, and there are many opportunities to hop out along the way on a sandy shoreline or sandbar.

ABOVE: The pristine beach at Honeymoon Island State Park is a great spot to spend a day. (RIGHT) Sunset at the marina in Dunedin, Florida.
---
Be sure to plan a day trip to the picturesque seaside town of Dunedin. A superb excursion is to rent bikes or e-bikes at Kafe Racer in Dunedin for an hour cycle along The Pinellas Trail to Honeymoon Island State Park. You'll find yourself in a pristine setting on a natural barrier island, with four miles of sandy beaches, nature trails, and abundant wildlife. Honeymoon Island is also the launching point for Caladesi Island State Park. While not a commercial beach, Honeymoon Island has bathroom and shower facilities to freshen up. Packing your own picnic is best, but if that's not an option, there are lunch spots.
The leisurely bike ride back to Dunedin takes you over the coastal bridge and down and alongside the shoreline. A few blocks from Kafe Race, you'll find one of the best dockside bars in Florida (the Tiki Bar at the Best Western). Dunedin's 'old Florida charm' comes alive on the main street, where local specialty shops, boutiques, bars, and ice cream vendors are thriving. One of the most popular restaurants in town is Casa Tina — a must-stop for margaritas and Mexican fare. Oh, and did I mention the local craft breweries, which seem to be everywhere. That makes sense, of course, because in Florida, it's always 5 o'clock somewhere.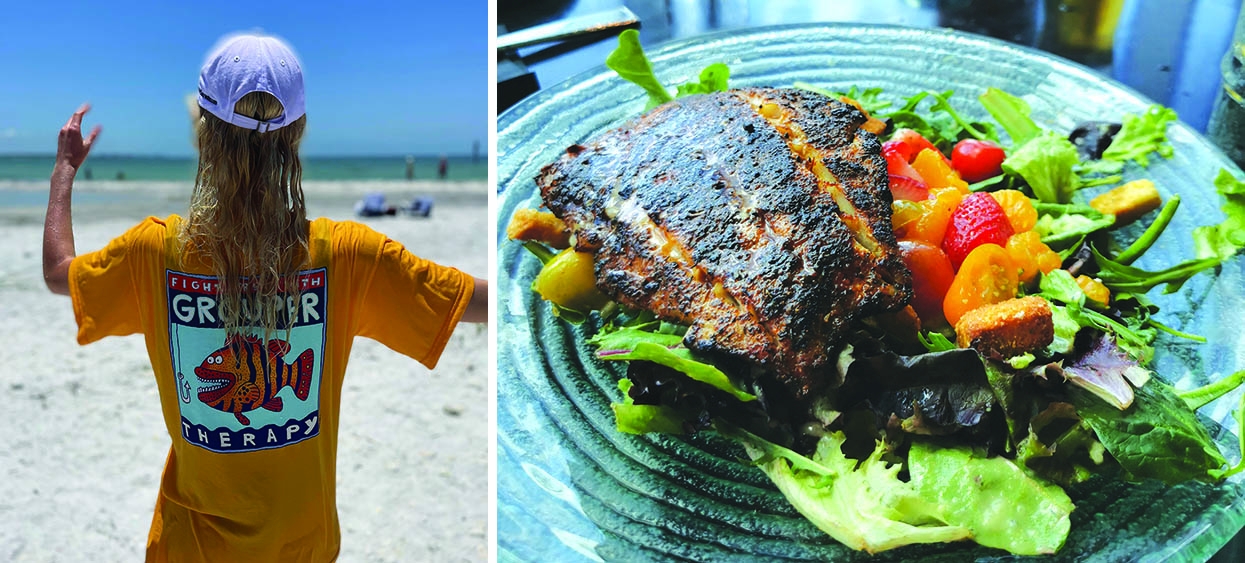 ABOVE: Head to Florida for some grouper therapy. Whether fried, blackened, on a bun, or in a salad, grouper is always available on the menu at Clearwater/St. Pete's Beach restaurants. (RIGHT)We enjoyed the blackened grouper at Teak restaurant on St. Pete's Pier.
---
Restaurants we can't wait to visit again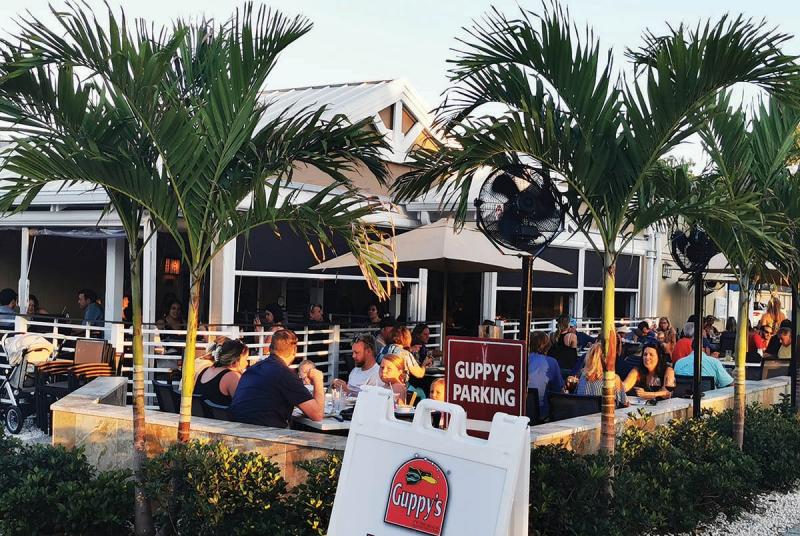 Guppy's on the Beach, Indian Rocks
Guppy's on the Beach is an exceptional culinary experience in the Tampa St. Pete's area. The ambiance, atmosphere, service, and food are exceptional. Fresh seafood, including gulf grouper picatta, Tuna Poke Bowl, and Florida lobster tail, are on the menu, along with New York strip steak and boneless beef short ribs. Their specialties are to die for and if you go, try the Lobsterscarcot and Guppy's Ceviche as starters. Their superb cocktails, excellent wine list, and top-shelf service make for a gastronome experience in Florida that you won't forget. Executive Chef Scott Bebell is one of Florida's Master Chefs. He has spent three decades perfecting his fusion of bold Florida Gulf flavours, coastal ingredients, and wizardry in the kitchen to create a unique and original food experience. And don't leave without first having dessert — Guppy's apple walnut upside-down pie served with cinnamon brown sugar ice cream is a local legend for a reason. Many of the staff at Guppy's have been there for decades. Their pride in the restaurant, the food, and the service are a rarity today. Bravo. We'll be back.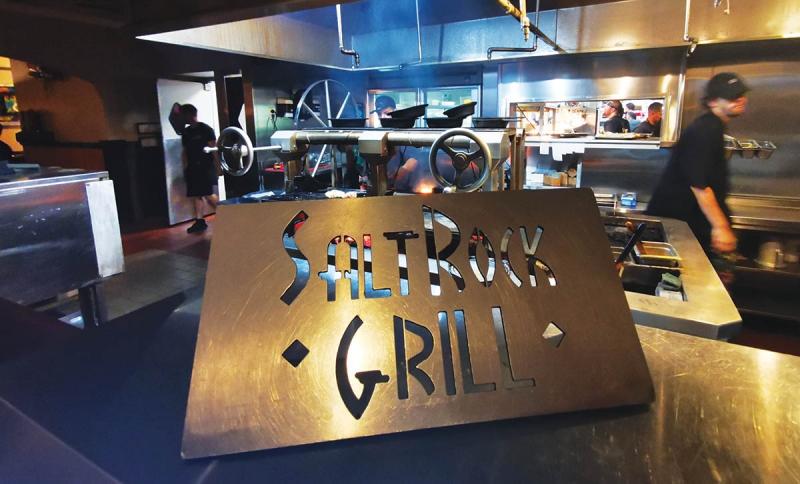 The Salt Rock Grill, Indian Shores
You know you want to go to a place where the locals say, "the Salt Rock Grill never disappoints!" This beach landmark is legendary for locals and tourists alike. The menu is varied, with many options from appetizers, and entrees, to desserts. The wine cellar is extensive, and the chefs here are experts at surf and turf and straight-ahead cooking. The proprietor began as a fisherman, and when you go, you will spot the fishing boast moored outside that brings the freshest catch back for the kitchen to cook up every night. The fresh seafood offerings include grouper, scallops, shrimps, mussels, salmon, and fish souped up in spicy broth. Their cooks have an uncanny knack for making great root vegetables and lentils and are particularly good with spicing on dishes that offer a gentle kick to your palette. Try the surf and turf or blackened grouper or Key West Mahi-Mahi piccata. Our server was top-notch. In short, the food was flavourful and cooked to perfection in a great setting with a beautiful view overlooking the Intercoastal waterway. A great evening. Be sure to have a reservation if you go!
---
For more information on Clearwater and St. Petersburg, Florida, visit www.visitstpeteclearwater.com.
PHOTOS: OLM STAFF
Recommended Articles
Visit the picturesque and historical places that played a key role in the formation of the United States of America.
Read full story
Türkiye's Culture Route Festivals in Istanbul & Ankara are a treasure trove of arts and culture
Read full story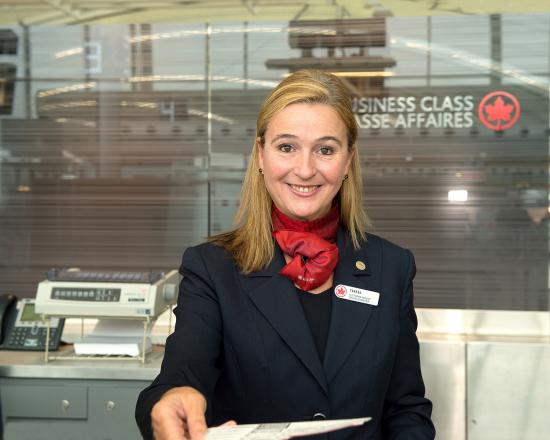 If you're travelling during the winter breaks, you'll be stepping into the hustle and bustle of Canadian airports during one of their busiest times of year. But that doesn't mean you need to stress about your vacation.
Read full story
Comments (0)
*Please take note that upon submitting your comment the team at OLM will need to verify it before it shows up below.