Top Stories
The best and the worst from last night's debate
The best and the worst from last night's debate
Last night Canadian's had the chance to hear the leaders butt heads over many contentious issues. There were some high points and low points for sure but overall the tone and temperament of the evening was respectful and dignified.
Here is Ottawa Life Magazine's best and worst from last night's debate.
The Best
One exciting thing about the debates was the all-female panel of moderators. It was the first Canadian debate to be hosted entirely by women. The moderators did an excellent job, not being afraid to shout over the leaders or sharply cut them off when their time was up. It was clear that without them, the debate could have veered off into a gong show. Lisa Laflamme was superb as the opening moderator and kept everyone is check. Global News' Dawna Friesen was polite and fair showing no hesitancy to cut them off if they ignored the time rule and Susan Delacourt was very impressive given that her regular gig is being a print journalist.
Andrew Scheer wasted no time going after Justin Trudeau. During his answer to the first question on holding up Canada's values on a world stage, Scheer said he would always stand up for Canada and then cleverly pivoted to criticize Trudeau, accusing him of only pretending to stand up for Canadians. Citing the blackface scandal, Scheer drew a metaphor saying that Trudeau is always wearing a mask -- whether it's a mask of reconciliation, a mask of feminism or a mask for the middle class. He then looked directly at Trudeau and said, "Mr. Trudeau, you are a phony, you are a fraud, and you do not deserve to govern this country". While someone may disagree with Scheer or question the timing of this statement, it was bold and impactful and something that everyone will remember from the debate.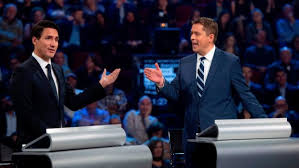 Maxime Bernier was questioned about his offensive tweets and was put on the spot about his beliefs on Canadian immigration and multiculturalism. While he did not deny or apologize for what he said, the other leaders joined in with their critique. Jagmeet Singh memorably said "I believe a leader is not someone who tries to divide people or pit people against each other. A true leader is someone who tries to build bridges that bring people together". Bernier was effective at rebutting Singh by saying that Canada has free speech and just because Singh does not agree with his (Bernier's) views on immigration or other matters, this does not give him the right to demand they not be discussed.
Trudeau asked Scheer why had not released his platform yet saying it disrespectful towards Canadian voters. He accused Scheer of doing what Doug Ford did by hiding his platform and then delivering enormous amounts of cuts to services and cuts on taxes for the wealthy. Scheer responded that this was not true and that Trudeau was making stuff up again. It was an interesting exchange that gave a clear, quick display of the differences between Scheer and Trudeau.
A nice moment occurred when Scheer complimented Singh for the way he has handled the issues around race and identity throughout the election. Scheer said Singh showed a lot of class, especially relating to the blackface scandal. May echoed his thoughts, and the moment was full of admiration among the leaders.
Of course, the climate change debate was a hot topic. Singh had a memorable line in which he reminded Canadians that they did not need to choose between Mr. Delayed and Mr. Denied, referring to himself and his climate plan as the other option. Elizabeth May piped in quickly questioning what his target was.
The Worst
There were several moments that didn't exactly go over well in the debates.
The rather embarrassing mistake of having people mix up 'Scheer' and 'Singh' was enough to make the audience cringe. Moderators, and Trudeau himself consistently referred to Mr. Singh as Mr. Scheer, which made for a few good jokes. Singh joked that he purposefully wore a bright yellow turban to the debate to make sure that no one got him, and Scheer mixed up. The situation was somewhat humorous, but some of the responses made it one of the most awkward moments of the evening.
Even though a major portion of the debate was supposed to be on Indigenous issues, it felt as though barely a minute was spent actually addressing the problems Indigenous people face in Canada. The first question was on obtaining consent of Indigenous peoples and respecting Indigenous treaty rights when it came to energy projects. The conversation quickly changed into an exchange about pipelines and the economy. While a small portion of this section legitimately discussed the United Nations Declaration for Rights of Indigenous Peoples, the entirety of that debate was not as focused as it could have been. Anyone who was looking forward to this portion of the debate was surely disappointed.
May and Singh expressed disappointment that healthcare was not a stand-alone section for the debate. Yves-François Blanchet took an opportunity to ask Scheer why he would not fight Bill 21 on a federal level. Scheer responded that Conservatives will always stand up for individual human rights but was quickly cut off by Trudeau who cited Scheer's comments on LGBTQ groups and abortion in the past. Before anyone knew it, the topic of abortion became a focus and sparked a debate about a women's right to choose. While it was a discussion worth having, the topic was not on the agenda and took away from issues that needed to be discussed.
While there were many other key moments during last night's exchange, these are just a few of the most memorable ones. Was there a winner or a loser of last night's debate? If not shouting, being clear on your platform, and remaining levelheaded is what makes a winner, then our winner would have to be Jagmeet Singh and our loser Maxime Bernier. If being able to maneuver around a question without directly answering makes someone a winner, our winner would be Justin Trudeau. Andrew Scheer came across well overall but was not as visible a presence as Singh.
Who do you think won last night's debate?
Recommended Articles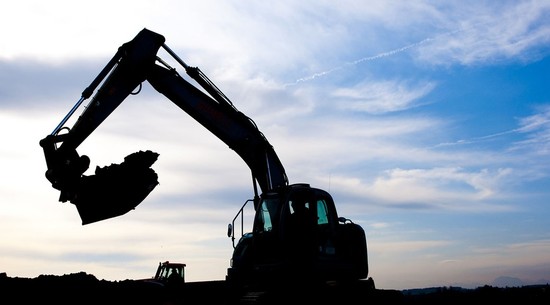 Campus life at the Operating Engineers Training Institute of Ontario (OETIO) is designed to give stu...
Read full story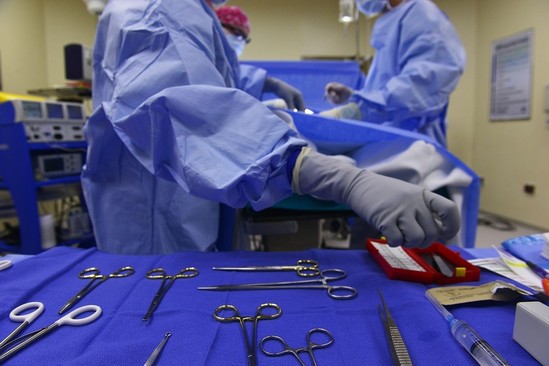 Reforms by Ontario College of Physicians and Surgeons are a step in the right direction, but not eno...
Read full story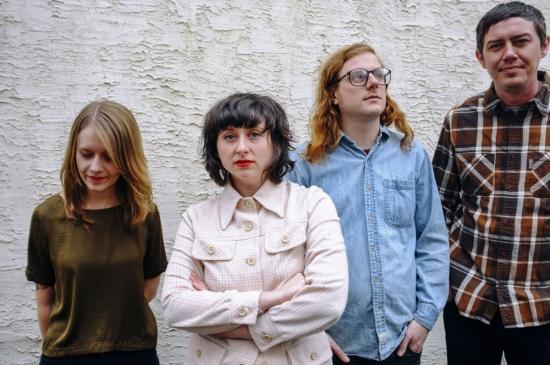 We caught up with Crutchfield ahead of the August 10 Swearin' show at the Dominion Tavern.
Read full story
Comments (0)
*Please take note that upon submitting your comment the team at OLM will need to verify it before it shows up below.