The Endless Evolution of HotKid
Photo Credit: Andi Shi
---
Whether it's been a three-piece, solo act or a duo, Toronto's HotKid has kept finding new ways to make music for over a decade. Led by the dynamic Shiloh Harrison, HotKid's diverse approach to genre keeps their sound fresh whether it's hard rock or shoegaze. We caught up with Harrison on HotKid's latest tour to talk about the project's metamorphosis and what a decade in the business looks like from inside a band.
Ottawa Life: There's a lot more shoegaze energy to "Warrior" than you usually have, what led to this shift from rock?
Shiloh Harrison: This song has more of a chill vibe than our other singles, though we've had songs in this realm on our album cuts. I've had a lineup change recently, plus this song was self-produced and recorded at home. I cut it with a drum-machine rather than a live drummer, which plays into it being more chill. This song really just came to me and I wanted to capture the moment of that message. Going from Late Night Mornings to the new material, I have a two-year-old now. Late Night Mornings was written before I had the baby, and now a lot of it is captured while he's sleeping or when I have a moment alone. Playing all of that at home and when people are around has led to this more chill sound.
I heard this is one of the first songs you've produced completely on your own, so what's led you to take more control in the studio and how has this changed your process?
Part of it is definitely practicality, so getting to record it at home and not having to arrange schedules with anyone else. I love recording in the studio, and the people that work there are super talented. It's just not always feasible to have the funds to do that though. Doing it at home I can get a lot more done within my schedule. Though part of it is definitely having that autonomy into the final product and last say on how it's done. Part of it is also having the courage to rely on your own opinions on something, because when it's just you, you have to believe in it.
You're one of these artists that have been transforming and making music in some form or another for at least a decade now, so what has changed the most for you on a career level?
Things have definitely changed. The goal at first is different at first. Now it's about the privilege of playing, recording and performing. At first there can be a naive desire to get signed and have someone layout the roadmap for you. A lot of artists in Canada has hard work to get through, and you have to be really working every aspect of the business. When we first did runs out east, we recorded a video on my old computer to upload to YouTube. You've got to have something that keeps you going.
Have you found anything has gotten easier about making music?
Nothing has gotten mundane. Haha I grew up Cambridge, Ontario, so my goal was to get a show in Toronto. Once you reach a goal, your goals change, so it's always getting to the next thing. I've thought several times "Why am I doing this?" etc. And today in the age of online media, especially when things are posted as highlight reels, it's easy to feel discouraged no matter what field you're in. I've become more convinced or at least comfortable about being a musician and artist. I'm trying to not get derailed from making the songs people like. And now my husband and I are building a label, so we're no longer looking outside to find a way. We're building our own community of artists to create support, marketing help, getting digital distribution. It's a huge learning curve but we've started figuring it out.
I know you've rotated sizes with the live band from solo to a three-piece, so what can we expect from your upcoming shows?
Right now it's guitar and bass, with a vintage Korg drum-machine behind us. I used to play this vintage guitar, an old Gretsch Chet Atkins model that almost got stolen. So after that I didn't play it anymore, but I've brought it back on this tour. That guitar has this unique town to it which brings a unique vibe to the show. We're bringing a lot of new life to the songs we've been playing too.
Recommended Articles
photo credit: GCTC/Andrew Alexander As  the GCTC celebrates its 40th season, it once again proves i...
Read full story
This may very well be the beginning to some low-budget version of Hollywood's An American in Paris...
Read full story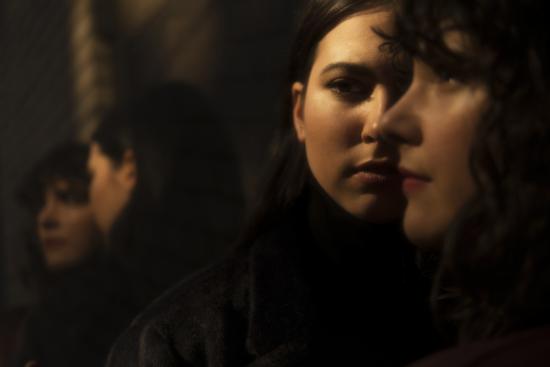 As much as Canada has dominated the world of unique indie music, it's rare that artists can stay as consistent as Montreal's Milk & Bone.
Read full story
Comments (0)
*Please take note that upon submitting your comment the team at OLM will need to verify it before it shows up below.