Arts & Events
The magical Woodlands style of Ojibwe artist Patrick Paul
The magical Woodlands style of Ojibwe artist Patrick Paul
ABOVE:Village Party, 66" x 36" • acrylic on unstretched canvas
Patrick Paul is an Ojibwe artist who paints in the tradition of the Woodlands school of art, as introduced to the world by Norval Morrisseau, whose father Potan, a respected Shaman and elder, pioneered the style. It draws inspiration from rock pictography and sacred birch bark scrolls to express concepts found in Indigenous spirituality. The Woodlands style translates this knowledge using a distinctive visual vocabulary of boldly-coloured figurative forms and shapes on a single plane articulated by thick black outlines.
Woodlands art is a representation of a culture whose myths are rooted in the Canadian Shield, where rugged forests, erratic boulders, and glistening waters welcomed the first human inhabitants following the recession of the glaciers eons ago. There is no art more deeply centred in this vast and ancient land.
Patrick Paul was born in Winnipeg and currently lives with his family in Dauphin, located in Treaty 2 territory. He never imagined taking up a paint brush until last April when creativity and a desire to explore his heritage captured his imagination. Patrick's imagery depicts animals, community across the generations, and the landscapes, traditions, and legends that filled his heart while growing up in Thunder Bay and northwestern Ontario, where his extended family calls home.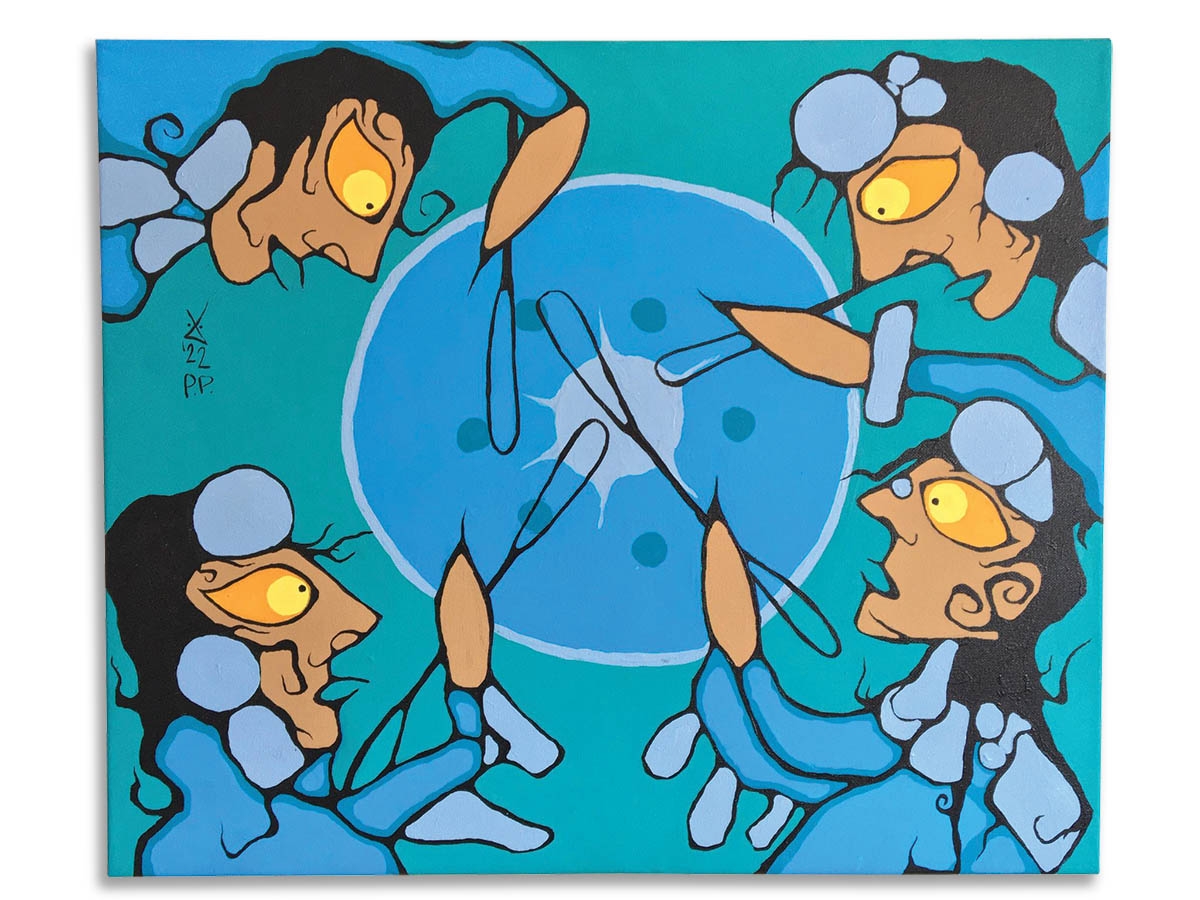 ABOVE: Drumming Circle, 24" x 20" • acrylic on unstretched canvas
"A lot of the cultural roots and my understanding of them came from the Ojibwe teachings I received at Whitesand First Nation in Ontario (three hours north of Thunder Bay) where I went to elementary school for two years," Patrick recalls. "I learned the principles of the seven sacred teachings, and to speak the Ojibwe language. My dad's auntie was the teacher and a lot of the lessons she shared are still with me today." Those lessons and memories are central to Patrick's art, and are reflected in three of his favourite creations.
"'Familiar Lands' is heavily influenced by a Norval Morrisseau piece called 'In the Land of the Giants'. I wanted to make references to it and show the characters as I see them in my imagination," Patrick says. "The scene in the painting is located in the same places where Morrisseau painted, so the land we share is familiar to us both."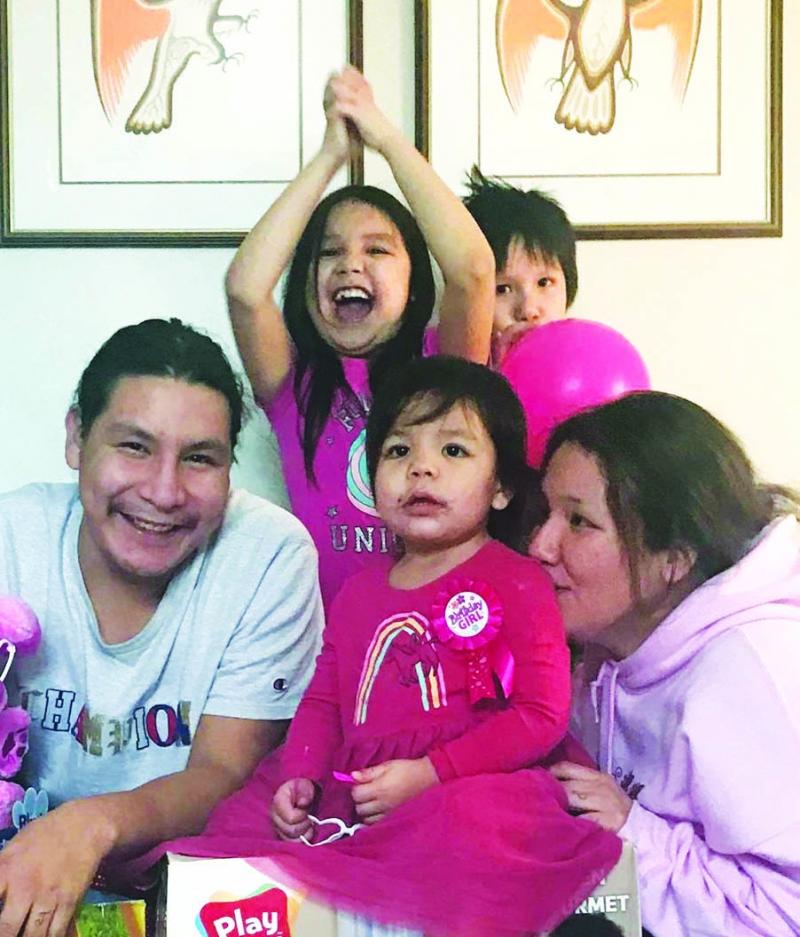 ABOVE: Patrick Paul and family.
'Drumming Circle' has a poignant story behind it, reflecting the sense of isolation that so many of us have experienced during the pandemic. For Patrick, it is about yearning for the sights and sensations of his community. "This is my favourite piece right now, and I got very emotional working on it for four days," Patrick says. "It's been three long years since my family and I have been to a powwow, and that's totally heartbreaking. I could feel the drums on my chest and under my feet while I was painting. I had to take a lot of breaks while working on this canvas."
'Village Party' uses variations of tone in a manner that differs from Patrick's other examples. Colours transit across the background from left to right in support of the journey taken by the characters in the foreground. "It's the first large piece I ever did. A medicine man and a Shaman lead the spirits of the animals from the physical to the spiritual reality."
No doubt collectors should be very enthusiastic about this up-and-coming artist, and evidently they are! "My work is selling faster than I can paint it sometimes," Patrick says. "I'm very pleased."
ABOVE: Familiar Lands, 41" x 24" • acrylic on unstretched canvas
Patrick Paul's work is a dazzling, authentic expression of the great school of Woodlands art. He is well on his way to preserving the style for future generations to cherish as both strikingly beautiful images and as ancient teachings.
---
Patrick Paul's work can be viewed and purchased at: https://www.facebook.com/ABsoluteORIGINAL
Follow Patrick Paul on Facebook at @ABsoluteORIGINAL and on Instagram at @absoluteoriginalart
Recommended Articles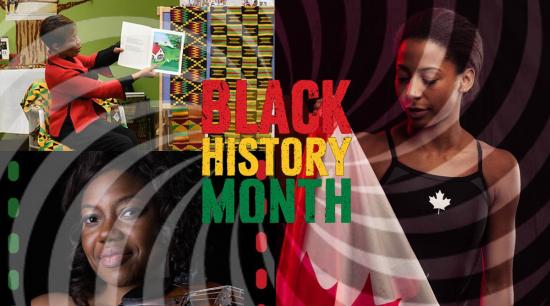 This year, in light of the ongoing COVID-19 pandemic, most of Ottawa's Black History Month events are once again online.
Read full story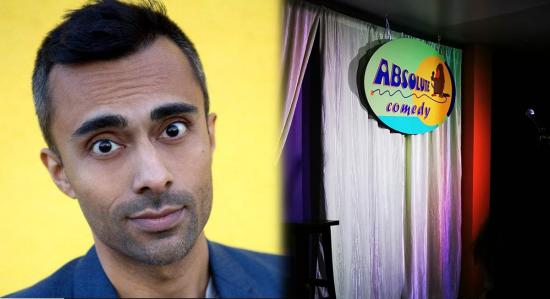 He observes the contradictions, stupidity and and weird paradoxes of society today and uses humor to illuminate it so we can all laugh
Read full story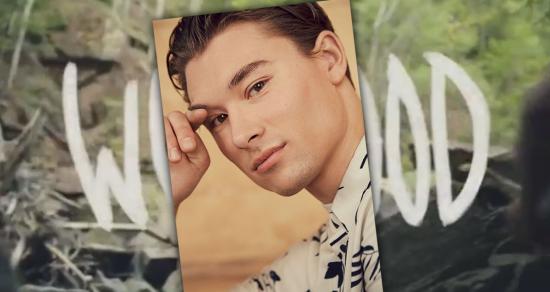 At this year's Toronto International FIlm Festival Lewitski was named a TIFF RIsing Star, a prestigious honour that recognizes his emerging talent.
Read full story
Comments (0)
*Please take note that upon submitting your comment the team at OLM will need to verify it before it shows up below.