The nitty gritty on The Dirty Nil
Photo credit: Steve Gullick
---
How many artists can say they made it with their high school band? Well, The Dirty Nil is one of those rare cases, and they've managed to maintain that fiery energy while maturing as artists at the same time. With their new album Master Volume, the group has brought out a bigger sound while taking risks that are truly interesting to hear. We caught up with the band's Luke Bentham ahead of their set at RBC Bluesfest (City Stage) tonight to talk about growing up (literally and musically), shadowing The Who and how to survive touring life.
Ottawa Life: This whole project started years back as your high school band, so what's been the biggest change since you all started in the early days and what's stayed the same?
Luke Bentham (The Dirty Nil): What's changed over the years is a complex thing to unpack since my answer changes day-to-day. It's changed into a career for us though, and we're really lucky that's the case. The most interesting thing to me looking at our longevity though is what has stayed the same. That's been the general feeling of excitement and fulfilment for ourselves that I have making music with the band still. We started the band in school because we didn't have anything else in our lives that gave us a sense of purpose, and that we could call our own. I didn't know it was missing in my life until we did it. We were all learning to play our instruments while writing songs. Writing material now has the same vibe as playing in my parents basement. It's cheesy, but that brotherhood is still part of our core. The more rungs on the ladder you climb, the thinner the air gets and the harder it is to get to that next rung.
How did John Goodmanson get involved in the new record and what did they bring to the table?
John was the perfect guy for the job! He had a good attitude and put us at ease, but he was extremely competent at his job. He's a veteran who's done a lot of awesome albums. We met a few people who wanted to work on the album but John was who felt best, and our goals aligned with his. He really brought the arrangements the last ten per cent of the way there. He helped us construct "Evil Side" because we had parts but no final form. We tasked him with the kind of adventurous writing there since we didn't have the time to sort the nuts and bolts of it. That song is his masterpiece. He was very vocal about how we'd put so much work into the songs and that he was stepping into that kind of situation. With Higher Power, we thought we were ready to make a record but it was more of a learning experience than a complete success from my perspective. We'd see songs didn't work in ways since we hadn't demoed them enough. This time we really wanted to make it having done our homework.
How did your live show evolve into what it is now considering how well regarded your sets are?
When we made Master Volume we had a goal of making songs that would sound good on a massive stage. That was the learning point on Higher Power, because when we played in arenas with Billy Talent and The Who I found that those arrangements sounded thin on larger stages. We crafted these new songs to engage people at the back of the room in a big venue. It's a fun way of working on songs. Going to the show itself, that's changed a lot from the early days. We've always had a lot of energy on stage, but before that was definitely more of a nervous energy. It was fear which meant it doesn't always work for you. Now I enjoy being on stage so much more because I'm relaxed, but not totally. At this point we have the confidence and experience to just enjoy what we do.
You mentioned playing with The Who, did they share any special moments with you all?
They have their own village behind festival stages, so band's typically can't interact with them. It makes sense to me because they're seventy years old and they probably want their space. But I happened to run into Pete Townshend when he was looking for his guitar tech angrily. I took the opportunity to talk to him, I was shadowing him too to be perfectly honest. We were both walking separately and this massive Escalade blocked us into a spot together. He looked at me and said "Go ahead, I can see you're excited." He was super nice and was even going to let me take a photo. Right then his assistant said "Hey Rog, you want to get in on the photo?" I looked over and Roger Daltrey had just gotten out of that same Escalade looking a little pouty. He said "I think he just wants Pete." I just screamed "Roger f***ing Daltrey," and I grabbed him to pull him in. We were all laughing because I was just so hysterical meeting all my heroes. It made for a funny photo but it was a truly amazing moment of my life.
Is there a secret to playing 350 shows over just a few years without burning out, especially with what you put into a live how?
Well writing about the road is more of an accidental product of it. In general though we get our largest fulfilment from playing on stage every night, so energy is never a problem there. The monotony of the rest of it is a problem every touring artist faces. We read, work out and have made so many stupid inside jokes. I just try and take advantage of the luxury of travelling, and see new things in the places we go to. Obviously some places are more fun to tour to than others from that point though haha. Getting to play rock and roll to a large audience every night though, in my book you can't beat that.
Recommended Articles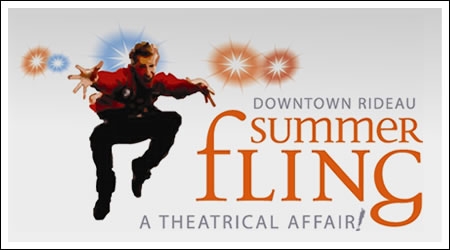 You don't need to hit Stratford or Shaw this summer to catch some great shows.  Head to the Downt...
Read full story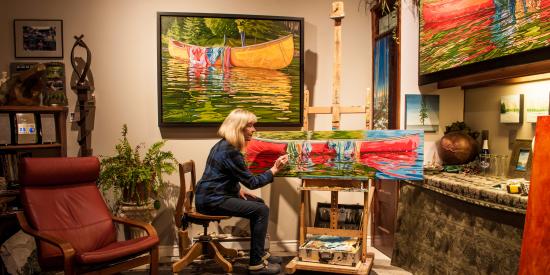 Janet K. MacKay's new series of paintings will warm your heart and enliven your soul while maintaining a PG rating.
Read full story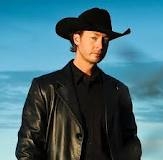 One might say that Paul Brandt could be the star of a modern-day Western. The bravado and mysterious...
Read full story
Comments (0)
*Please take note that upon submitting your comment the team at OLM will need to verify it before it shows up below.