Politics
The Vimy Award winner pushes back against spineless toadies in Ottawa.
The Vimy Award winner pushes back against spineless toadies in Ottawa.
ABOVE: Lieutenant-General J.O. Michel Maisonneuve (ret'd), CMM, MSC, CD delivering his acceptance speech at the 2022 Vimy Awards Gala. (PHOTO: CDA)
---
The woke-ist Locusts and their corrosive cancel culture.
The cancel culture movement is rampant in Ottawa. Under the Liberal government, it has become Orwellian as purveyors of 'correct speak' have spread like a plague from government departments to outside organizations that receive funding from the government. These so-called 'progressives' are the new thought police who cancel you if you dare to suggest an idea, thought or narrative that is counter to their mind-numbing woke-ism. Prepare for a full-frontal character attack if you dare challenge their agenda.
This is the corrosive currency that has come to define the Trudeau government. The intellectual dishonesty of it is becoming unbearable as the collateral damage of this vacuous thinking suppresses reason, due process, and common sense. The hypocrisy of these woke-ist locusts knows no bounds. Worse is the flawed reporting of these events by so-called mainstream media reporters in the Parliamentary Press Gallery.
They are often the first to jump on the cancel bandwagon and go along with the narrative without providing something called 'context.' Shame on them all — no wonder Canadians have abandoned the CBC, CTV, and the two mainstream newspapers in droves. To get a full grasp of this, you only need to watch this clip of Douglas Murray brilliantly eviscerating the credibility of Canada's 'legacy media' at the Munk Debates earlier this week.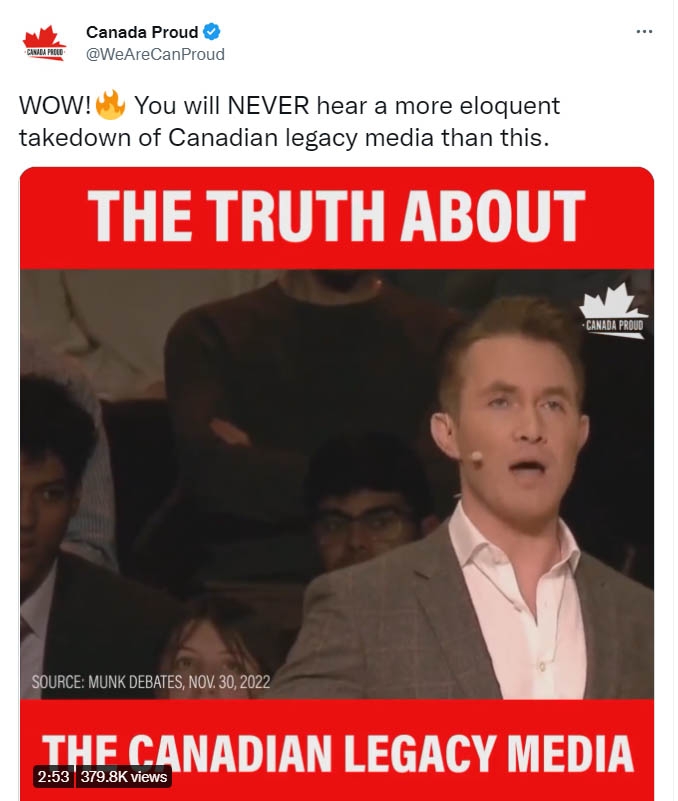 Justin Trudeau, of course, is the pied piper of this progressive cancel culture movement. Ironically, Canada's self-described 'feminist leader' of people-kind discards his flatulent principles the moment they are applied to his own behaviour. He fired Jody Wilson Raybould, Canada's first Indigenous female Justice Minister Attorney General because she would not cede to his demands for her to go along with his corruption in the SNC Affair. Neither would Jane Philpott, a medical doctor, and his most impressive minister. She quit.
Same for Celina Caesar-Chavannes, a former Liberal MP first elected in 2015, who says her experiences of being tokenized, excluded, and undervalued by Trudeau led her to resign from the Liberal caucus and not run again in the 2019 election. Her decision culminated in an explosive conversation with Trudeau in February 2019, during which she alleges he complained to her about being confronted about his privilege. "I was met with an earful that I needed to appreciate him, that everybody talked to him about his privilege, that he's so tired of everybody talking to him about this stuff." After listening to his "rant" for a while, Caesar-Chavannes said she cussed out the prime minister. "I had to ask him, 'Motherfucker, who the fuck do you think you're talking to?'" she said. "I was so angry."
It is worth noting that Justin Trudeau, as an adult, has danced around in blackface, called for all women victims of misogynistic behaviour to be believed until it was learned that he groped a woman himself when he was twenty-eight and then justified it as PM by saying she experienced the moment differently than him. That response was good enough for the Liberal caucus and the cult of Justin. They were happy to forget that Trudeau had previously ejected three former MPs without any chance to defend themselves after very dubious sexual harassment claims were made against them, which they vehemently denied. Yet their due process was sacrificed on the altar of Justin worship. Oh, and then there is the small point of Justin Trudeau being sanctioned for ethics violations on three separate occasions while he has been Prime Minister. No other PM since Confederation has been found guilty of ethics violations while serving in the country's highest office.
With that backdrop, you will get a sense of what people of integrity are running into in Ottawa these days when they speak truth to power. The most recent chapter in this Kafkaesque freakshow happened at the recent Vimy Award dinner and gala when one of Canada's most respected military officers gave a speech upon accepting the 2022 Vimy Award.
The Vimy Award is presented annually by the Conference of Defence Associations Institute (CDAI) to honour Canada's fallen heroes in the context of the Remembrance Day activities held across the country. The award honours a "Canadian who has made a significant and outstanding contribution to Canada's defence and security and the preservation of (its) democratic values." The winner is selected by a prestigious panel that has included current and former Justices of the Supreme Court of Canada. Recipients are serious, substantive people of character who have done great service for Canada. Attendees include active and retired members of the Canadian Armed Forces, future officers currently enrolled at the Royal Military Colleges, industry and government leaders, and international guests of honour. It is an evening to remember and reflect upon the sacrifices many have made for Canada and the men and women who serve.
Lieutenant General Michel Maisonneuve (ret'd) is the 2022 Vimy Award recipient. A highly decorated military officer and recipient of the Meritorious Service Cross, an Officer of the French Legion of Honour, an Officer of the U.S. Legion of Merit, and a recipient of the NATO Meritorious Service Medal, Maisonneuve retired in 2007 after completing 35 years of active service in the Canadian Armed Forces. During that period, he served on staff and as an operational commander in missions ranging from humanitarian relief to conflict operations, including Cyprus and the Former Yugoslavia (UN) and Kosovo (OSCE). His senior appointments included Assistant Deputy Chief of the Defence Staff of Canada and Chief of Staff of NATO's Supreme Allied Command Transformation. His service to Canada, dedication to NATO, and his academic leadership at the Royal Military College Saint-Jean have made this country safer and more prepared than ever. After he retired from the Army, he was appointed by the Minister of National Defence as the first Academic Director (Principal) of the Royal Military College (RMC) Saint-Jean on its re-opening in December 2007. During his tenure at RMC Saint-Jean, he elevated the academic institution to university status. He also dedicates much of his time to advocating for the Veterans residing at Ste Anne's Hospital in Montreal's west end.
After receiving his Vimy Award, Maisonneuve gave an eloquent and heartfelt speech to the audience, where he exercised his right to freely express his real-world experience and concerns about the state of the CAF today. He was critical of the Trudeau government, saying Canada needs improved leadership and service to earn a spot on the world stage again. He questioned why the initiative has been undermined by the entitlements of a "me first" and a "not my problem" mentality. He talked about there being no accountability for false accusations because "Truth is no longer a requirement; once cancelled, you are done."
Many in the audience assumed Maisonneuve was referring to the treatment of Maj-General General Dany Fortin, the military officer in charge of the federal government's COVID-19 vaccine campaign. A graduate of the Royal Military College with a master's degree from the U.S. Army Command and General Staff College, Fortin had also been the first commander of the NATO mission in Iraq from 2018 to 2019. In his capacity with PHAC, Fortin had procured and distributed more than twenty million doses of the COVID-19 vaccine. He was removed from the position in May 2021 after he was accused of sexual assault tied to a single allegation dating back more than 30 years from when he was a student at RMC.
Fortin's legal team argued the decision to publicly announce that Fortin was leaving the vaccine rollout during a military police investigation was made for personal and political gain by Prime Minister Justin Trudeau, Health Minister Patty Hajdu, Defence Minister Harjit Sajjan, and the clerk of the Privy Council. In court, the case against him seemed absurd and left many wondering how he was ever charged in the first place. In defiance, Fortin wore his full-dress uniform to court and showed up with his spouse and family to support him. (In response, the government outlawed having CAF members show up in court in uniform).
Maisonneuve suggested that balanced journalism is hard to find due to a blurred line between op-eds and factual news. This is not news to anyone, especially people who work in media. Ironically, Maisonneuve's point on this would be made real in a very personal way when Vancouver Sun and Citizen writer David Pugliese ran a hit piece on him a day later that presented the veritable former General as a last-century neanderthal for challenging the rampant woke-ism and sad state of the CAF in his speech. Pugliese has been writing about the CAF for well over two decades and clearly made a deliberate decision to leave context or truth out of the dribble he wrote by inferring, among other things, that Maisonneuve was somehow a racist. But, of course, it fits with the very de rigueur narrative in Canada's legacy media that the CAF is a bastion of misogyny, racism, and inequality led by incapable dunderheads. Tripe would be too kind a word to describe the perverted spin Pugliese wrote in his article to fit his pre-ordained narrative.
Maisonneuve said that extremism is rampant from the right and the left, and popular causes are not backed by logical steps to achieve these utopian ideals. He even took aim at the contradictions of the climate change agenda, saying, "Canada's prosperity is being sacrificed at the altar of climate change as opposed to being used to help the world transition to clean energy." He talked about the modern-day 'victim phenomena,' suggesting that individuals no longer want to be held accountable and relish the opportunity to become a victim.
He said the Canadian Armed Forces (CAF) are underfunded, understaffed, and under-appreciated. He undressed the CAF's new policy on uniforms which he says has become about personal expression rather than a symbol of pride and unity, which does not make them uniforms. And with laser precision, Maisonneuve turned his sights on the Trudeau Liberal government and accused them of not holding up their end of the contract saying the CAF is not being given the best tools, leadership, equipment, and education to ensure safety and success. In short, he stood up and spoke truth to power and was a voice of clarity and reason, which showed 15 years after his retirement from the CAF, he still had their backs. Everything Maisonneuve said was valid and was something that needed to be said by a person of substance and experience. That he chose the timing of his remarks to be at the dinner where he received the Vimy Award is telling because he knew people would be listening.
It is no secret to anyone with a pulse that the Canadian Forces are in bad shape. They are underfunded and are struggling with serious capacity and morale issues. Just last week, Chief of the Defence Staff Wayne Eyre told Joyce Napier on CTV's Question Period that while the forces in Europe are "ready for the tactical mission they've been assigned," he has larger concerns about strategic readiness. Eyre said there is a lack of people and equipment and further concern around the ability to sustain a larger-scale mission in the longer term. He said the Canadian Forces are struggling to retain staff, with 10,000 fewer trained personnel than they'd need to be at full force and equipment stocks well below what they require. "We've got challenges in all of those," Eyre said, adding the numbers reflect what's been "let slip over decades, as we've focused on the more immediate (needs)."
Eyre said Canada's military would be "hard pressed" to launch another large-scale operation like it had in Afghanistan, as an example, without having to redistribute its resources around the globe as threats evolve. He added that "The military that we have now is going to be increasingly called upon to support Canada and to support Canadian interests, to support our allies overseas, but as well at home," Eyre said, citing Russia's invasion of Ukraine, climate change impacting the landscape in the Arctic, and an increase in digital and cybersecurity threats. Eyre disclosed that about one in ten positions within the Armed Forces sits empty after years of lagging recruitment rates, and there is a growing shortage of non-commissioned officers and other mid-level leaders.
Eyre questioned whether the "The CAF will always be ready to defend Canada and help Canadians through a crisis." He questioned whether "the CAF is properly mandated, and should they be tasked with the increasing domestic duties they have been asked to take on? Is a more dedicated force, functionally tasked to do so within the military, or a new civilian agency a better fit to meet the growing demand from domestic emergencies?"
So Maisonneuve said nothing different from Eyre. He was just blunter. And that was his crime.
The positive aspect is that when 'moments of levity occur and a person of true character and integrity comes out, the spineless and characterless lackey's who hide behind big titles and bigger egos who attack them are quickly exposed for what they are. Minions.
In the case of General Maisonneuve, the pipsqueaks who tried to cancel him could not hold a candle to him in terms of substance, experience, or intelligence. The first Toadie to throw Maisonneuve under the bus was Youri Cormier, the Executive Director of the Conference of Defence Associations Institute (2019-present). The CDAI has had no meaningful impact on defence policy in Ottawa or in Canada for several years. That role was usurped by the Canadian Global Affairs Institute over the past decade. Ironically the CDAI signature event that keeps them relevant is The Vimy Award and dinner.
So it was sad to witness in real time that Cormier, the head of an organization founded in 1932 with the mission to advance informed debate on national security issues, particularly those that pertain to national defence, and the Canadian Armed Forces has allowed the organization to become tethered like a cheap hooker to the whims, wishes, and fantasies of their main client—the political thought police at DND. The current board of the CDAI has relinquished the relevant and independent role the organization once played as the independent umbrella group for forty member associations that represented over 400,000 active and retired members of the Canadian Armed Forces by choosing to accept funding of over a quarter million dollars from DND over past five years. In return, the political staff at DND seem to have convinced Cormier and CDAI Board that Canada's military is besotted with institutional racism, misogyny, and a lack of diversity and that these are the key priorities that must be addressed by CAF.
Cormier was in the audience when Maisonneuve spoke and wasted no time in throwing the CDAI VIMY recipient under the bus, telling reporters, "Many attendees were offended by Lt.-Gen (ret'd) Maisonneuve's speech. His remarks do not reflect those of the CDA Institute." Cormier, of course, would not name the 'many attendees' who were offended. They were certainly not the soldiers and other supporters of the military or advocates for the military that Cormier is supposed to advocate for as part of his CDAI role. It was such an intellectually dishonest comment—given that one of the most experienced Generals in the country laid bare the problem and the woke-ist locust Director of the CDAI was using Orwellian speak to tell everyone that the truth, is not the truth. Quite incredible. Or preposterous.
It begs the question of why the forty-member associations representing the CDAI would countenance having Cormier continue in his job after his intemperate response where he claimed to speak for them. However, given that the ongoing collapse of Canada's military's capacity due to underfunding has not been the focus of the CDAI under Cormier's tenure, and he and the board have been focused on more critical issues like the new gender-inclusive dress code, which for the first time allows long hair, fingernail polish and face tattoos while in uniform, is understandable. It remains to be seen if Ukrainian troops, who are supported by NATO logistics and supplies, will want to copy the oh-so-important diversity uniform development in the CAF, which has taken up much of the oxygen in CAF and DND defence policy in the past two years. Gender-neutral uniforms will surely be something Ukrainians are considering that might help them in their battlefield fight against the Russian onslaught. Pass the nail polish, please. It brings into question whether the board of the CDAI has a spine or are they too, tethered to their masters at DND. As Brian Mulroney once famously said, "there's no whore like an old whore."
Why would sponsors like ADGA, KPMG, Raytheon, Irving, ATCO, Mckinsey and Company, Pratt Whitney, and others want to be associated with an organization that will so callously cancel a substantive person like Maisonneuve who spoke truth to power and, in doing so, was ironically advocating for those very sponsor companies who are tasked with providing support to the CAF in terms of procurement and equipment? Cormier's comments have stained not only the credibility of the CDAI but have dishonoured a fine officer and gentleman who actively served Canada for 35 years adhering to the tenet of unlimited liability in defence of Canadians.
Cormier's and the CDAI's hypocrisy were matched by that of another tethered minion, Dr. Ramesh Zacharias, the CEO and Medical Director, Chronic Pain Centre of Excellence for Canadian Veterans (CPCoE), which was established to conduct research and help improve the well-being of Canadian Armed Forces (CAF) Veterans, and their families, suffering from chronic pain. No surprise that their funding comes from Veterans Affairs Canada (VAC). After Maisonneuve's Vimy speech, Zacharias requested and received, on behalf of the Board, the resignation of Maisonneuve.
In a note that can only be described as genuine insincerity, The CPCoE, its Board, and its Executive thanked Lieutenant-General (retired) Maisonneuve for his service and commitment to Canadian Veterans and wished him well in all his endeavours. Leprosy victims are treated better. Ironically, weeks before this CPCoE, Zaharias was singing Maisonneuve's praises in a statement when he joined the CPCoE Board, saying, "Michel brings invaluable experience and insight to our organization. We are incredibly thankful for his contributions and believe that his leadership of fundraising efforts to support research will have an extraordinary impact." That Zacharias and his ethics-deprived board moved so quickly to discard Maisonneuve, who was helping Veterans in a tangible way, is a national disgrace. Maisonneuve responded, taking the high road saying, "My advocacy for Veterans preceded my work with the CPCOE and will continue in the future. I wish the CPCOE the best of luck in its work caring for our Veterans."
It begs the question, where was the CPCoE board statement of concern admonishing VAC when it was reported in recent months that officials at VAC had been telling Veterans suffering from PTSD that one option for them was assisted suicide? The board said nothing—issued no statement on that matter. Again, there is no whore like an old whore.
It's interesting to note that Cormier and the CDAI Board, and Zacharias and the CPCoE board both remained silent when a veteran who had one of his legs blown off in a roadside bombing in Afghanistan confronted Trudeau in a town hall meeting in 2019 telling Trudeau, "You made the promise "no veteran will be forced to fight their own government for the support and compensation they have earned" yet you are still currently in a legal battle with veterans regarding equal support and compensation to their peers." Trudeau infamously responded, "Why are we still fighting against certain veterans' groups in court? Because they are asking for more than we can give right now."
During the very same period in November, while the CDAI and CCoE were trying to cancel Maisonneuve, it was widely reported that PM Justin Trudeau spent $6,000 per night for eight nights for a hotel room in London, England, courtesy of taxpayers. Seems there was enough money for that . . . but I digress.
There is no doubt that the Canadian Forces have immense challenges. There have been three years of scandals involving members of the Canadian armed forces at the very highest levels—two chiefs of defence staff, two chiefs of personnel, and several other 2–3-star officers who have had to leave after repeated scandals and reports about sexual misconduct and abuse of power. Those are facts, but those happenings do not define the CAF.
Lt-General Maisonneuve's speech simply pointed out that with the current Liberal government, there has been a complete lack of focus on the core mission of the military, and as a result, the CAF and Canada are compromised. His message is relevant and an important truth that Canadians need to know. The fact that he was attacked by self-important character-challenged windbags who are supposed to advocate for Canada's soldiers and veterans speaks volumes about the state of our democracy.
For most thinking people, Lt-General Michael Maisonneuve's courageous speech and subsequent cancelation by the woke-ist locusts puts him on the growing honour roll list that includes Jody Wilson Raybould, Jane Philpott, Celina Caesar-Chavannes, and others who are not afraid to speak truth to power and who put principles and country first. Bravo.
Recommended Articles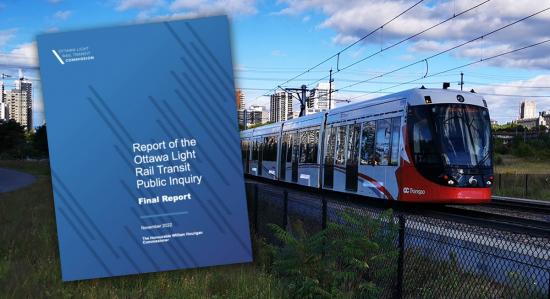 The Public Inquiry made 103 recommendations to fix the problems with the Ottawa LRT and ensure they do not recur on other major infrastructure projects.
Read full story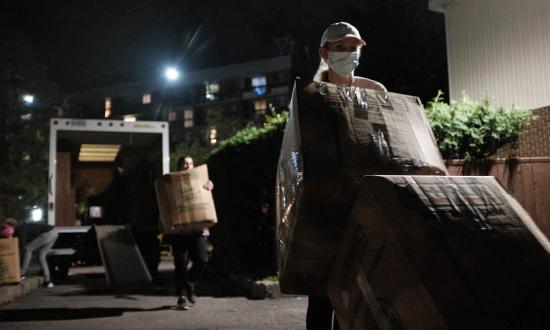 On November 30th, Shelter Movers is holding a virtual information night to discuss their expansion and their wide range of volunteer opportunities.
Read full story
The following letter from Rita Notarandrea, CEO of the Canadian Centre on Substance Abuse, is a resp...
Read full story
Comments (0)
*Please take note that upon submitting your comment the team at OLM will need to verify it before it shows up below.