TIFF 21 could be the festival of Jessica Chastain
Photo: Anne-Christine Poujoula
Writing an article about one of my celebrity crushes shouldn't make you think 'Oh here comes the favouritism! He can't be objective!' — not true, fake news — I can very honest and unbiased. Now that we have that out of the way, I can honestly say, with no influence . . . this could be the year of Jessica Chastain!
Allow me to present my case. She is starring in not one, but two featured films at the Toronto International Film Festival and she is about to be awarded a TIFF Tribute Award — a very prestigious award. Chastain is about to seen in the anticipated HBO series, Scenes from a Marriage alongside her old friend Omar Isaac. Next year, she will be seen in The 355 an action film she also produced. Jessica Chastain is a force!
My crush on her didn't manifest simply because she has a smile that, as Manny on Modern Family would say, makes science class feel like recess, but because of the fact that I am beyond impressed with her selection of roles. If you look at Buzzfeed, Letterboxd, etc you will discover a similar category; 'Movies where Jessica Chastain gets fed up with the useless men around her, so she decided to save the world herself'.
Among the titles, Interstellar, The Martian, Miss Sloane, Zero Dark Thirty, A Most Violent Year…' The category is funny because it's true.
Zero Dark Thirty – gets tired of the men around her not taking action with Bin Laden . . . takes over!
Molly's Game – Find the men around her limiting her abilities . . . takes over!
Interstellar – Needs to save the world . . . takes over!
It's just what she does!
Chastain plays complicated characters, but they all exhibit a certain level of confidence. I feel this is where fiction meets fact.
Chastain is unapologetically uncompromising. She isn't playing the damsel in distress, instead she has carved out a wonderful niche for herself. Name another actress with these types of roles consistently . . . . I'll wait.
While I am impressed with the characters she plays I am more interested with the woman who plays them. Her body of work is very impressive as it shows she has been very intelligent in her selection of roles.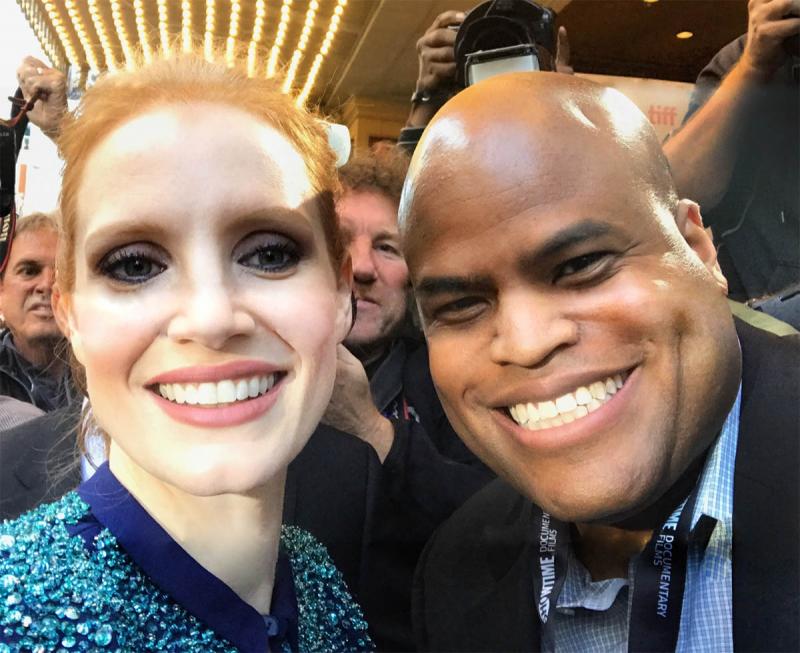 ABOVE: Jessica Chastain at TIFF 2017 with OLM film reviewer Keith Whittier.
The 2021 Toronto International Film Festival could be the festival of Chastain. Her turn in The Eyes of Tammy Faye is already generating Oscar talk. When Chastain was at TIFF 2017 promoting Molly's Game, I had the opportunity to ask her a question at the press conference for the film. I said to her, "It's not a matter of 'if' you'll win an Oscar, it's a matter of 'when".
I suspect the wait could be over soon. Executive Director and Co-Head of TIFF, Joana Vicente, refers to Chastain's performance in The Eyes of Tammy Faye as a tour-de-force performance.
Chastain also co-stars in The Forgiven at this year's festival with Ralph Fiennes.
Another exciting aspect for this year's festival is that Chastain is being awarded the TIFF Tribute Award. By TIFF's own words the Tribute Award honours the film industry's outstanding contributors and their achievements, recognizing leading industry members, acting talent, directorial expertise, new talent, and a below-the-line artist and creator.
Every year since its inception there has been at least one of the TIFF Tribute Award recipients who has gone on to win an Oscar. This could be Chastain's time.
In addition to being a force on the big screen, Chastain is also working to change the culture behind the scenes. As a strong advocate for gender pay equality, she helped co-star and friend Octavia Spencer get five times the salary. There are a lot of people who talk but Chastain's actions speak volumes.
Chastain also falls into a category for me of 'People who don't seem to get that they are celebrities.'
After covering TIFF for many years, I have had my fair share of celebrity sightings. There are those who are not very approachable and those like Chastain who just seem to adore their fans. At the Molly's Game premiere in 2017, Chastain was extremely generous with her time for fans, signing autographs and taking pictures. When you consider how many films she has made in Canada, she just might be part Canadian by now?
Whether the Academy Awards call her name in 2022 is yet to be determined but Jessica Chastain is already extremely successful. With a catalogue of fantastic roles under her belt, her ability to help improve the industry she is a part of and be a catalyst for change, major festivals showcasing her work and yes, that smile that makes science class feel like recess, she is having a moment. She isn't just at the top of her game, she's changing the game.
This is Jessica Chastain's year, and we are living in it.
Recommended Articles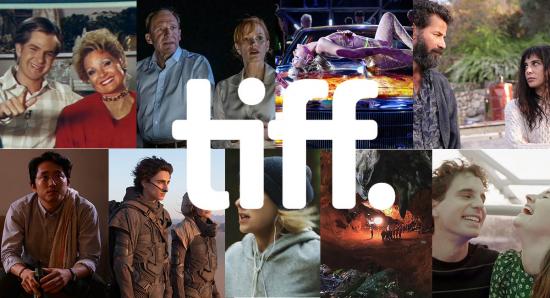 This year TIFF will be a hybrid of virtual and in-person screenings.
Read full story
In-person festivals are slowly starting up again in Ottawa and Pique, a brand new art-focused event produced by Debaser, is joining the roster!
Read full story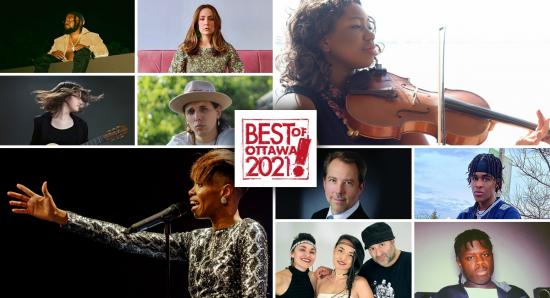 After over 20-years writing about life in Ottawa, we think we have a pretty good idea of the best of what this city has to offer. Check, share and discuss #OLMBest every week!
Read full story
Comments (0)
*Please take note that upon submitting your comment the team at OLM will need to verify it before it shows up below.