Travel
Time to get away – Prince Edward County and Chelsea
Time to get away – Prince Edward County and Chelsea
This is the time to reunite with family and friends and rediscover destinations in our own backyards – how about Prince Edward County's wineries or the Gatineau's Chelsea and Wakefield?
As soon as non-essential travel restrictions were lifted and the Ottawa-Gatineau crossings reopened I was raring to go. When I asked my sister Jill if she wanted to get away for a few days during my seven-day visit from Vancouver (we hadn't seen each other since pre-pandemic), she enthusiastically replied, "Heck Yes!" Then I asked if she wanted to do a Prince Edward County wine tour or nip over to Chelsea and Wakefield to visit an old friend and the Nordik spa. "Woohoo, let's do them all right now," she hollered.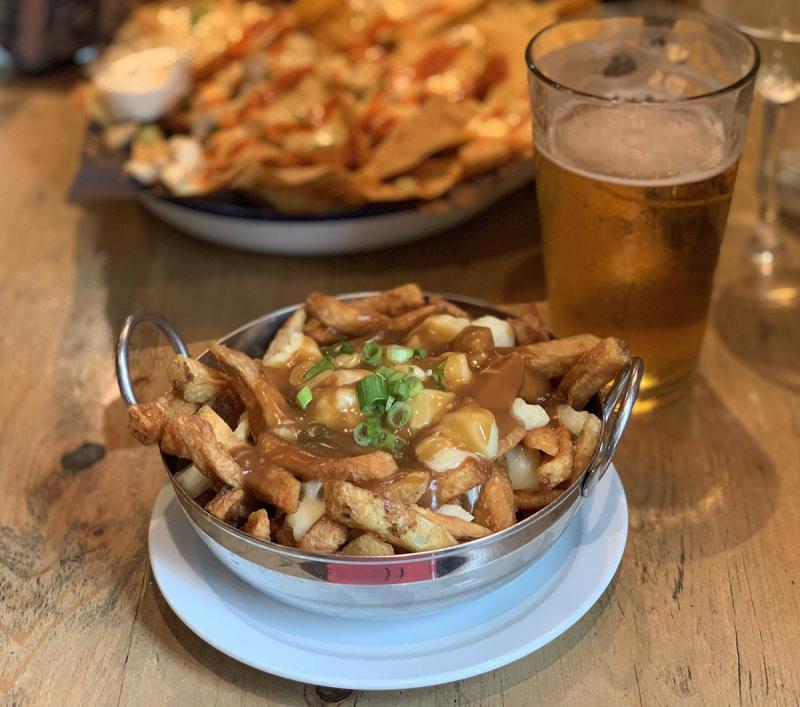 ABOVE: Poutine from the Chelsea Pub with a side of microbrewery beer. (PHOTO: JANE MUDY)
We both have great memories of these destinations but this time everything was better, mostly because we had been cooped up for so long. The Chelsea Pub was rocking at 2 p.m., filled with patrons from both sides of the border. Jill and I perused the menu for a nanosecond—as a west coast gal I've got to have authentic poutine and Jill agreed to ditch the salad and live recklessly. It didn't disappoint, especially with a pint of their microbrewery beer. Exposed brick walls and wood beams and antler motifs everywhere provide a hipster cool ambience and so great to enjoy indoor dining again – who cares that it's raining?
Along with the Chelsea Pub, a bike rental shop is part of the Old Chelsea Square, Business was booming with cyclists exploring the Gatineau Park and the train that left from Ottawa to Maniwaki is now a bike trail. But we ordered another beer, having ditched the car at nearby Lofts du Village, where we soon sprawled out in a huge space with uber-modern fittings and equipment (took a while to configure the shower and lighting and flat screen TV).
Visiting Chelsea was also a trip down memory lane. "Back in the olden days (circa 1970) we went to the Pearson Hotel to drink cheap beer and enjoy live music – Irish fiddlers mostly. "It had a ladies and escorts side that was only taken away about 25 years ago," my high-school pal Dawn Bell-Jack reminisced. "Back then we had an idyllic sleepy village for tourists and now it's still idyllic but not sleepy. In the fall one million people come here to see the leaves."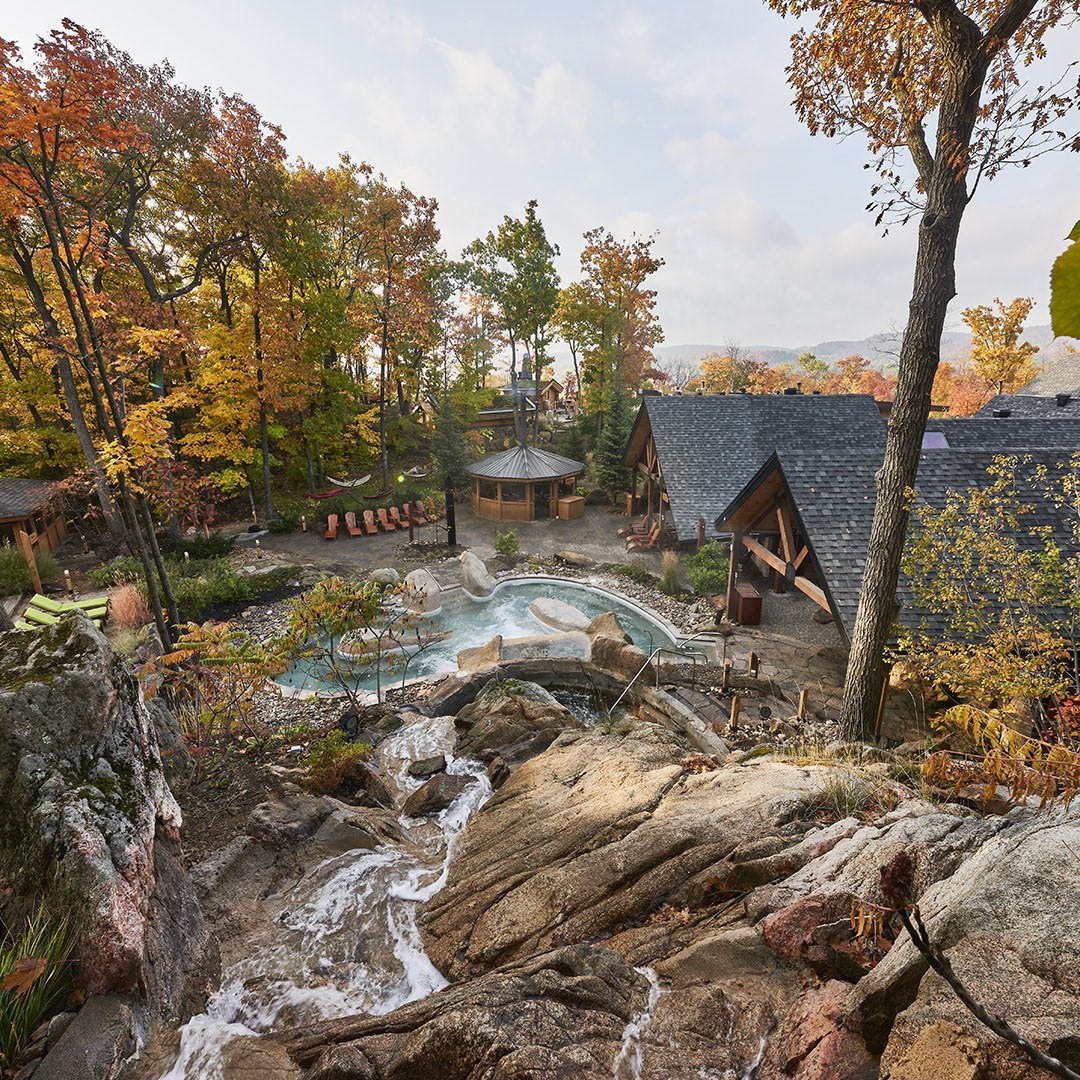 ABOVE:The Nordik Spa-Nature in Chealsea, Quebec. (PHOTO: facebook.com/nordikspanature.chelsea)
While there's much to explore in Chelsea we came to relax and rejuvenate at the Nordik Spa-Nature, which offers Nordic baths and waterfalls, saunas and steam baths, cold plunge pools, quiet rooms and lounging rooms. I spied someone with a martini at 11 a.m. and figured that she knows how to enjoy life. And I overheard someone say, "I'm too relaxed to eat".
We arrived at 9 a.m. and didn't have to wait to access the pools but there was already a crowd by noon – go early. The Epsom salt flotation pool had just re-opened (since the pandemic). This Källa treatment "encourages restorative sleep, helps with inflammation and muscle recovery, stimulates creativity, reduces stress, and releases tension". That night we both slept like teenagers.
We headed back to Ontario and Prince Edward County, also known as Canada's Hamptons. Apart from Sandbanks (the county's most popular destination), I barely recognized the region. Also named the best vacation spot in Ontario and the sixth-best in Canada for 2021, it's a good idea to book accommodations well in advance. Waring House in Picton, along with a great location to explore nearby wineries, is reasonably priced and provides a great breakfast from locally-sourced ingredients served by friendly staff who go above and beyond to please.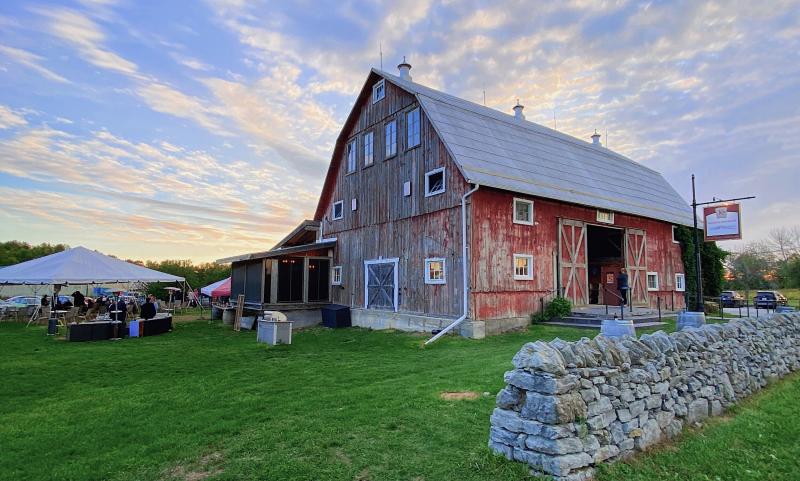 ABOVE: Karlo Estate Winery in PEC. (PHOTO: www.karloestates.com)
Black Prince Winery on the edge of Picton was our first stop. We claimed a picnic bench and enjoyed a fascinating vinegar tasting followed by, of course, wine tasting. (Time it right and order a wood-fired pizza.) The vinegars, which are aged in local oak barrels, are not the "oh, my wine went bad" wine vinegars. We left with "Holy Jumpin" Pinot Noir vinegar aged for 19 years in oak barrels, along with peach and pear vinegars.
We drove on to Wellington and Karlo Estates. I favoured the 2018 Estate Pinot Noir while Jill went for Three Witches, made with Sauvignon Blanc, Sémillon and Gewurztraminer that makes, as one reviewer describes, a "glass of bottled sunshine". The tasting room and store is housed in a large rustic barn but we enjoyed a flight of four tastings outside to allow for distancing.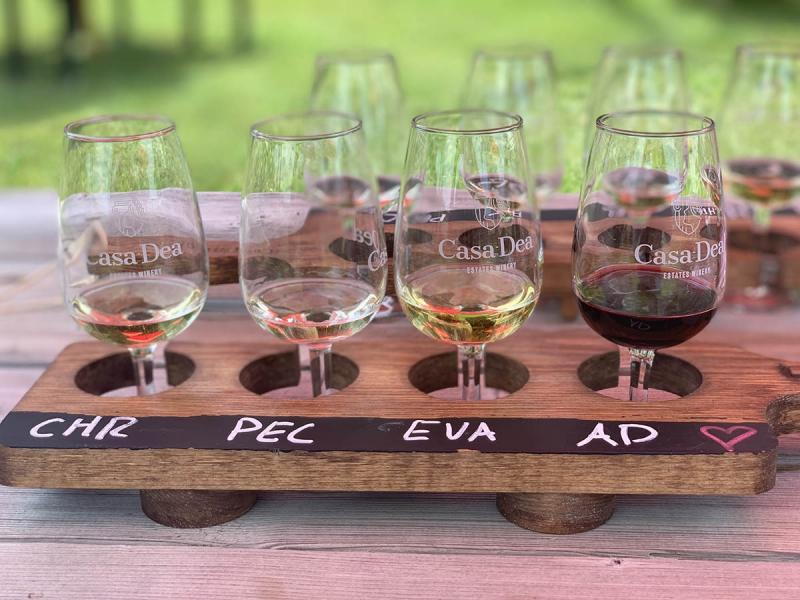 ABOVE: Casa-Dea Estates Winery is one of the largest vineyards in PEC. (PHOTO: JANE MUDY)
Time to break for shopping. Who can stroll Bloomfield's Main Street and not find treasures? Cannery Row stocks an extensive pantry with local items and like a crow to shiny things, I was drawn to repro tomato cans and other one-of-a-kind housewares commemorating the canning history of PEC. Manager and history buff Kathy Huiskamp told us that 40 per cent of tomatoes shipped from Canada were once from PEC. At Green Gables Gifts you can purchase a slinky toy, microscope and board game along with trendy mineral paints to spruce up the cottage.
Next up was Casa-Dea Estates Winery, one of the largest vineyards in PEC. "We are unique from the 46 or so wineries because we grow pecorino grapes that no one else in the county grows," said owner Piero. He told us that before 2018 this white-wine grape once thought extinct was only grown in Italy and of course we left with a few bottles of Pecorino that also spoke of summer with hints of peaches and lemon zest. If you feel like splurging, the 2016 Adamo is amazing. Made by the Appassimento method, Cabernet Franc grapes are dried naturally and aged in barrels to yield higher sugar levels.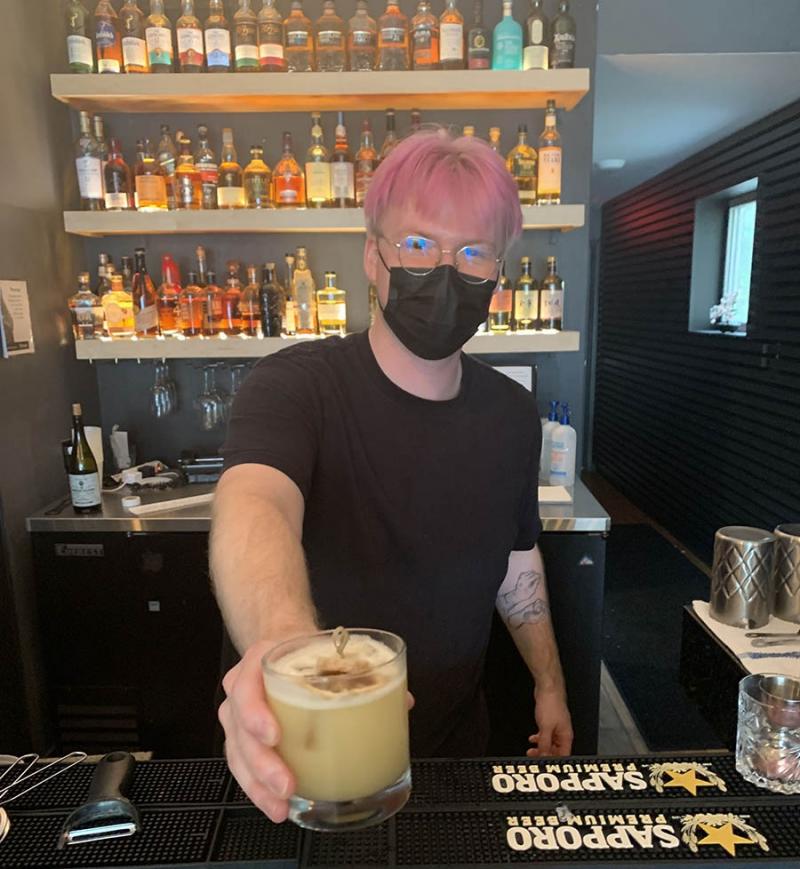 ABOVE: A "Penicillin" paired perfectly with the Japanese small plates at Koenji Whiskey Bar. (PHOTO: JANE MUDY)
We had time to squeeze in one more stop before closing time and so glad we made it Sandbanks Estate Winery. Emily Towers, who is studying to be a sommelier, explained during our tasting how this cooler climate makes for more acidity, how Marechal foch is a hyrbrid grape that ripens faster for a juicy full bodied wine that you can sip without food and my head was about to explode with so much fascinating information. The "Entre Nous" is a big red that's good for pinot noir fans (me) while the "Noir 2" is a gateway red wine for people whom only drink white (sister Jill).
Refueling was in order before calling it a day and we lucked out with Koenji Whisky Bar offering Japanese small plates and whisky-based cocktails. Kushiage – fried cheese with a side of Japanese mayo was so good we ordered another and ditto the veggie gyosas, and the wonderful bartender didn't steer me wrong with perfectly paired with "Penicillin" – ginger reduction, honey and whisky. Overhearing Jill say she was driving and couldn't decide on a drink, he brought to our table a virgin Penicillin. That's service.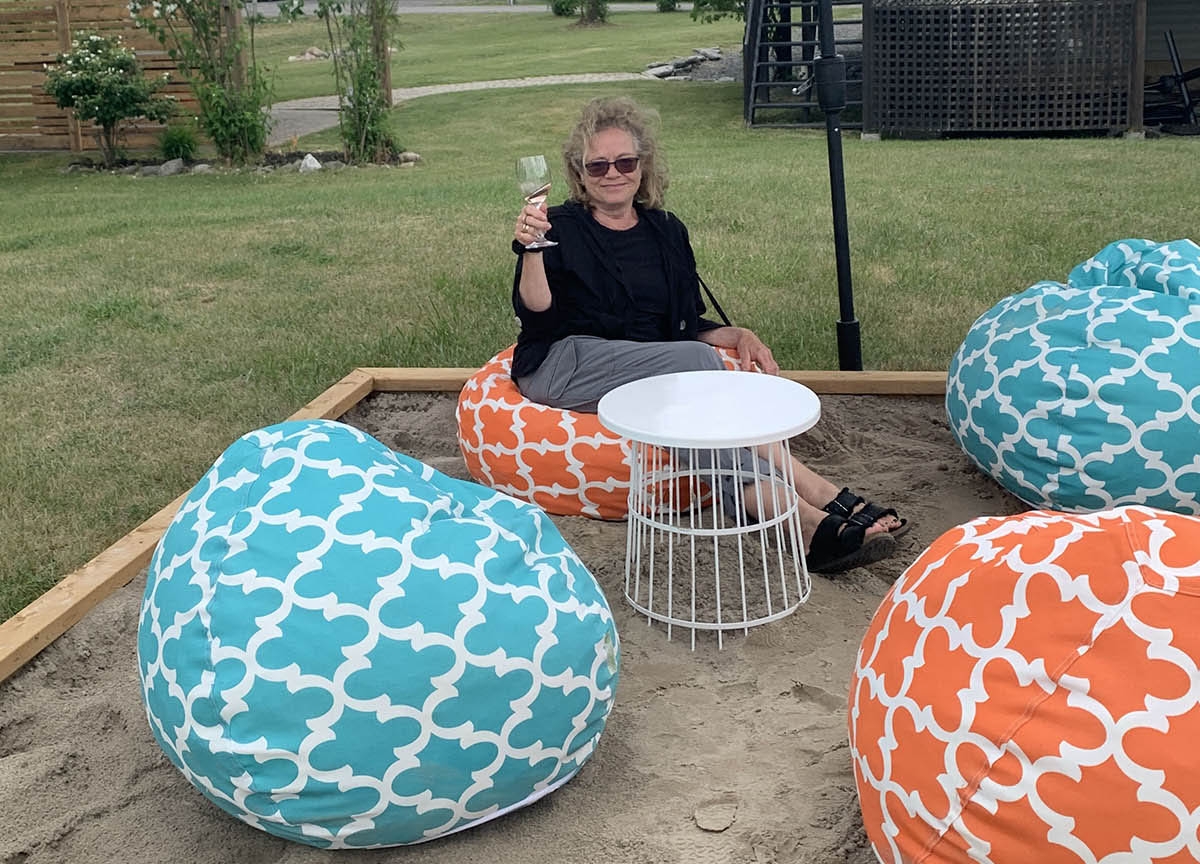 ABOVE: Our author, Jane Mundy, enjoying a "Sand Set Tasting" at Sandbanks Winery. (PHOTO: JILL MUDY)
Back at Waring House we couldn't decide whether to open the Sandbanks, Karlo Estate or Casa-Dea wine. With so much catching up to do, we strolled their extensive gardens sipping all three and vowed to reunite here again next year.
Recommended Articles
In what seems like an experience from an idyllic era, my wife and I recently drove from Gulf Shores, Alabama to Atlanta, Georgia through Monroeville, to Selma and along the National Historic Trail to the Alabama state capital of Montgomery.
Read full story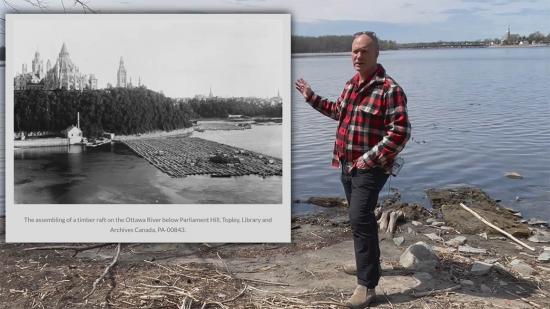 The Kichi Sibi Trails team is marking down lost history and helping Canadians and Indigenous Peoples remember the importance of Ottawa's many rivers and their banks.
Read full story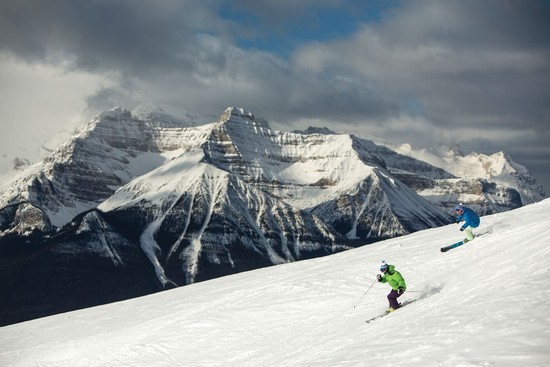 The town of Canmore, Alberta[/caption] On the south-east boundary of Banff National Park, an easy o...
Read full story
Comments (0)
*Please take note that upon submitting your comment the team at OLM will need to verify it before it shows up below.