Sports
Too soon for Knights to wear the crown
Too soon for Knights to wear the crown
Photo courtesy NHLI via Getty Images
---
Dear Johnny NHL Fan,
By definition, writing a column entails churning up and slamming in a hefty helping of opinion.
I get it.
But this one I had trouble writing because – let's face it – trotting out THIS opinion is kind of like launching Winnie the Pooh, Lassie, Babe and Bambie onto the 401 during rush hour.
(Apologies for a grim reference even Stephen King would shy away from, but there you have it).
So here we go.
I can't stand the Vegas Golden Knights.
If they're George Costanza, I'm his old gym teacher, Mr. Heyman.
"Can't stand ya!"
The Knights' rags-to-riches story, their love affair with their newbie city, their never-ending cuddle with an adoring, gushing hockey community and certainly not their 45-minute over the top, Cirque de Soleil-styled pre-game show.
No thanks.
Before you succumb to a fainting spell and reach for your favourite teddy bear, remember: This is an opinion.
A crusty one?
Maybe, but I'll own it.
I don't like the idea of an expansion team in its first season cutting a swathe through a beloved sport I'd followed and played since I was about 5 years old.
It just irks me.
It does not speak well for the league.
I admire and respect the slow build. It's a tradition in sport, generally.
For Johnny Ottawa Senator Fan, you probably agree.
The Senators were horrific in the early years.
Twenty-four wins in the first two seasons, in 168 games.
Nine wins, in 48 games, in the lockout-shortened Season 3. Just 18 in Season 4.
Then respectability . . . then a pretty damn good run.
It gave the Ottawa fan base time to just simply enjoy and relish the fact that it had its own National Hockey League toy to play with (and chuckle at, at times) - before getting grumpy with the losing.
This Vegas run also makes Ottawa management/ownership look silly (not that it needs much help lately) with the proclamation that it's going to be a 3-5 year rebuild.
You can pretty well throw that little chunk of philosophy right out the window now, Eugene.
The Knights-on-the-run storyline also trashes a damn good Canadian hockey angle during a recent era when that's just what we needed.
I truly feel poorly for the Winnipeg Jets cause, because, as my niece used to say: "It's not fair!"
The Jets did it the right way – at least I thought they did.
Take your lumps, gather together a slew of good draft picks, don't rush development of said picks, make a few slick deals, then drink in the winning.
And do it all in an honest-to-goodness Canadian market where summer is a hasty visitor and winter loiters longer than a Jack Daniels-binged hangover.
Not good enough I guess.
Winnipeg stomached the great unfortune of banging heads with Nashville last round. Frankly, it took the stuffing right out (see teddy bear reference above) of them.
By the time they got to Vegas, the Jets weren't the same. The same push and drive wasn't there.
And so, the Vegas choo-choo train featuring immensely lovable characters like smiling and ear-tickling Marc-Andre Fleury (cast aside by Pittsburgh), Winnipeg native (agh!) Cody Eakin and head coach Gerard Gallant (REALLY cast aside/taken to the curb by the Florida Panthers) charges ahead.
The city of lost wages and souls has embraced these rascals. The media sends a dozen roses. The fans can't get enough Cinderella. It's hockey's feel-good story of the year, maybe the decade.
I mean, you gotta just love 'em, right?
Right.
Sincerely,
Sour Grapes
Playoff tip-ins: What if the wife of a future free agent and former Norris winner was seen inking a membership with a local private golf course for the duration of the summer and fall? Would you then think that the future free agent might not – imminently - be leaving for different climes? (Hint: We're not talking Drew Doughtyhere) . . . The Vegas dash to success isn't likely to slow. The Knights came out of the 2017 NHL draft with three first-round selections and four of the top 34 picks . . . Got to hand it to the Knights for their humour. Tweet of the week is this classic from the team's Twitter feed: "ON THIS DATE IN GOLDEN KNIGHTS HISTORY: Actually, not much happened. We didn't have a team yet. Probably just had some meetings." . . . How much further do you think Pittsburgh would have gone if the Pens had held on to Deryk Engellanda few years ago? He ended up in Calgary before heading to Vegas. Engelland is as tough as they come and, reportedly, a tremendous leader. The toughness, Pittsburgh desperately missed . . . Conn Smythe? Likely down to the two goalies at this point: Fleury and Tampa's Andrei Vasilevskiy. . . Marian Hossa (at age 39)announces his retirement, prompting reflection, and arriving at this: Hossa was undoubtedly one of the best two-way forwards in NHL history. Incredible skill-set and incredible skater. Owned a top-notch defensive mind to go with his 525 goals.
Recommended Articles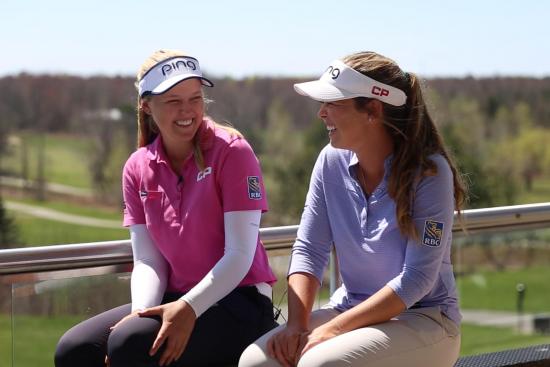 Brooke and Brittany Henderson sat down with Timeout with the Twins to discuss #girlpower, being role models and succeeding as best friends and teammates in a single-player sport.
Read full story
This past week, Ottawa's rather smallish scouting staff put together its final rankings list for the draft, slated for Dallas on June 22nd and 23rd.
Read full story
The surprise, from this corner, is not that Guy Boucher is back. The magnificent way in which the Senators have flip-flopped head coaches during the last decade is well documented, and really, isn't enough, enough?
Read full story
Comments (0)
*Please take note that upon submitting your comment the team at OLM will need to verify it before it shows up below.