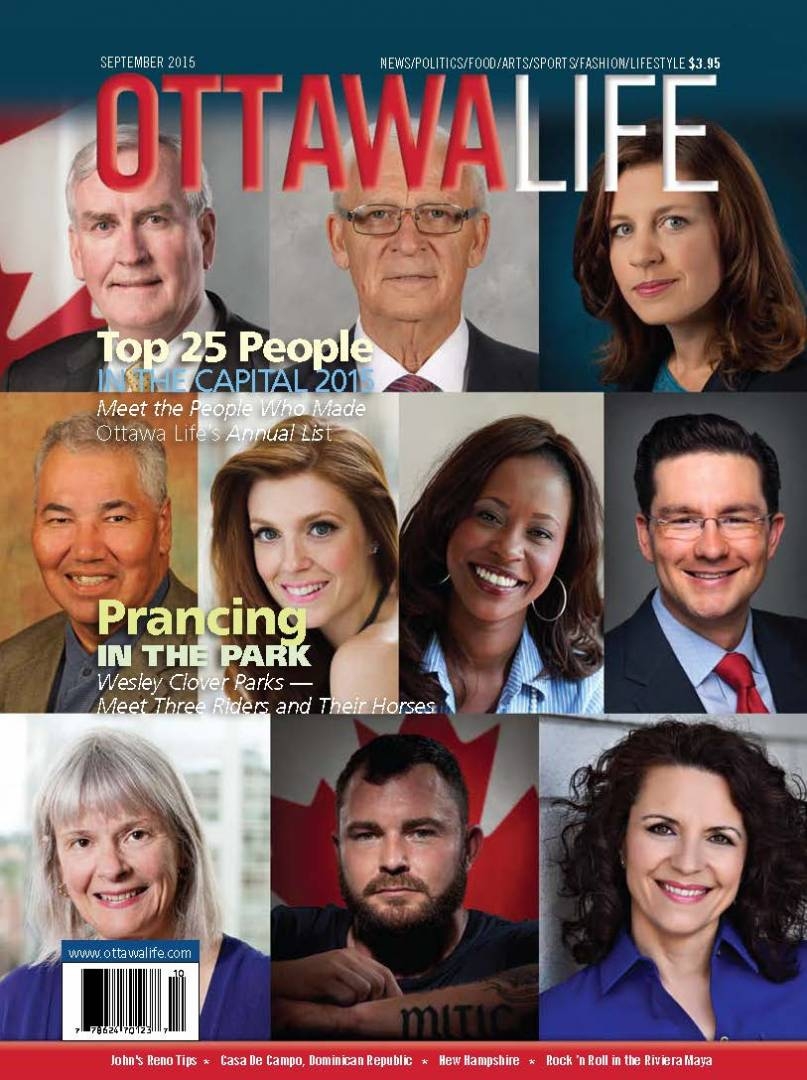 Top 25 People in the Capital 2015
The To

p

Amon

g

Us

This year marks the 15th anniversary of Ottawa Life Magazine's TOP 25 People in the Capital. Over the last decade and a half, OLM has shined the spotlight on some of Ottawa's newsmakers, leaders, and most interesting people. Our 2015 list touches on the themes of innovation, inspiration and involvement. Ambassador Kevin Vickers, our number one pick, is a Canadian hero who needs no introduction. Ottawa Senators' General Manager Bryan Murray made headlines this year not just for winning games but for raising awareness about colon cancer after his diagnosis. Catherine Cullen is captivating the Capital with her talent and passion for storytelling. Councillor Jody Mitic has overcome every challenge that has come his way. Wallis Giunta's opera career is thriving, as she heads to Germany to join Oper Leipzig. Justice Murray Sinclair is fighting to draw attention to Canada's history of residential schools. Janice Payne is one of the Capital's top employment and labour lawyers. You can read about these amazing individuals (and 18 more) in this year's issue. From athletes to artists, politicians to performers, and everything in between, this diverse group is chock-full of talented, creative, entrepreneurial and brave honourees.
---
Ambassador
Kevin
Vickers
THE HERO ON THE HILL
Everyone remembers where they were on October 22, 2014. What started out as a beautiful, sunny morning turned into a fearful, surreal day when Michael Zehaf-Bibeau fatally shot Cpl. Nathan Cirillo at the National War Memorial and then stormed Parliament Hill. On that day, Kevin Vickers, then Sergeant-at-Arms of the House of Commons, became a household name and a Canadian hero for his actions in ending the attack. Prime Minister Stephen Harper, politicians from all parties and Ottawans alike displayed their gratitude for his bravery and valour on that day. However, his respected and decorated career began long before that. Vickers served for 29 years with the Royal Canadian Mounted Police (RCMP), taking on a series of high-profile cases, important roles and positions, including the rank of Chief Superintendent. During his time as the RCMP Incident Commander, Vickers was integral to the diffusion of the 1999-2000 Burnt Church Native fishing crisis. He also served as an Aide-de-Camp for the Lieutenant Governor of New Brunswick. He acted as the Director General for the Aboriginal Police Services Branch and Director General for the National Contract Policing Branch of the RCMP. Among many important causes, Vickers spearheaded the development of a National Strategy for the Protection of Children from Sexual Exploitation on the Internet, resulting in $45 million in funding and the establishment of the National Centre of Expertise. He was appointed Director of Security Operations for the House of Commons before taking on the position of Sergeant-at-Arms of the House of Commons. Vickers acted as Sergeant-at-Arms from August 2006 to January 2015, when he was appointed as the Ambassador of Canada to Ireland. Throughout his career, Vickers has received a multitude of recognitions, including the Queen's Jubilee Medal, the Canada 125 Medal, and the RCMP Long Service Medal.
---
Bryan
Murray
THE LEGENDARY LEADER
The Ottawa Senators' General Manager (GM) and former coach has led a remarkable career over the past 36 years. Murray became the Senator's fi head coach in 2004, after working with the Washington Capitals, the Detroit Red Wings, the Florida Panthers, and the Anaheim Ducks—to name just a few. He later led the Senators to their first Stanley Cup Final series in 2007. In more than 18 years of coaching in the NHL for various teams, Murray ranks ninth in the league in all-time games coached (1,239) and eighth in wins (620). Murray became the Senators' GM in June 2007 and has been an integral part of the team, to say the least. In 2012, he was honoured in his hometown for his success as an inaugural inductee in Shawville's Hockey Wall of Fame. He currently is Executive Vice-President, General Manager, President of Hockey Operations and Alternate Governor for the Ottawa Senators. Throughout his career, Murray's commitment to community has never wavered, but this legendary leader kept a relatively low profile until last November, when he announced that he had been diagnosed with Stage 4 colon cancer. Since then, Murray has become extremely vocal about the disease and early detection. For his efforts to raise awareness about his condition, the United Way named Murray the 2015 Community Builder of the Year. With the challenges he currently faces, many wonder what he will do when his contract with the Senators expires after the 2015- 2016 season. Whether he leaves, stays as GM or takes on an advisory role, Murray will always have a special place in our hearts, here in Ottawa.
---
Catherine
Cullen
CAPTIVATING CAPITAL HILL
As the CBC's senior reporter on Parliament Hill, Catherine Cullen's days are jam- packed. It's a challenging job with long hours and lots of thinking on your feet but Cullen is up to the task. "It's really hard work and so you have to know why you are doing it." For Cullen, it is all about the human moments. "I think that we are all so interesting and we have such incredible stories to tell and even with the most complicated political story, there are people behind it." She files mostly for The National, but you might have also heard her on the radio or read her stories on the web. She has covered all kinds of topics over the years from the Lac Mégantic explosion to the student tuition protests to the milkman working for more than six decades. Working predominantly in Montreal before coming to Ottawa a little over a year ago, Cullen said being in the Capital is like a "homecoming." Born in Montreal, her family moved to Ottawa when she was eight-years-old. She later attended the University of Western Ontario for an undergraduate degree in communications studies and then completed Concordia University's graduate diploma in journalism. In the decade since graduating from Concordia, Cullen has built up a thriving career with the CBC. Although she says political reporting can be drastically different from some of her other experiences, at the end of the day, it is the same basic instinct. "It's the same thing that everybody does when they go home at night. You call your friend or you turn to your partner or your parent and you say, 'Oh my gosh: you wouldn't believe what happened today. This was incredible.' And you tell the best parts of the story." Cullen said it is an exciting time to be a political reporter in Ottawa especially with the federal election and all of its excitement.
---
Jody
Mitic
THE NEVER QUIT COUNCILLOR
Never quit. Those two words pushed Councillor Jody Mitic to recovery after losing both his legs below the knees while on tour in Afghanistan. It's also the mantra that led him and his brother, Cory, to second place on the Amazing Race Canada and the name of his foundation, devoted to raising awareness of injured Canadian heroes and helping them along their road to recovery. Councillor Mitic's story is a true and touching tale of perseverance and dedication. After 20 years in the Canadian military, Mitic had to take off his uniform after being wounded in action. "It was a bittersweet moment because I didn't want to leave the military but my injuries forced me to leave. The sweet part was that I found this new way to serve Canadians," he said. That new way was through municipal politics. "It's an honour to serve the people of Innis Ward." Furthermore, as a strong advocate for injured veterans, he wanted to get involved in politics. "We need more veterans in politics," he said. Among his many recognitions, Mitic and his wife, Alannah, received the General Sir Arthur Currie Award this year. "We just look at it as more motivation to keep doing what we're doing," he said. Mitic is also extremely active in the Ottawa community. He is Ottawa's first sports commissioner and serves on the community protective services, environmental and transportation committees as well as the Ottawa community housing board. "Those are all different jobs all in themselves on top of being councillor and dad and husband," he said. Looking ahead to 2015/2016, Mitic's priorities in his ward are on infrastructure and the redevelopment of a hockey arena. He is also looking to "open new doors" as sports commissioner, exploring the the possibilities of UFC and cross-fi games in Ottawa. Mitic said he is really looking forward to the future, with the relaunch of the Never Quit Foundation and the release of his new memoir, Unflinching: The Making of a Canadian Sniper, coming up on the horizon. "I feel really good about the future. I feel really positive," he said. "This is such an exciting time in my life."
---
Justice Murray Sinclair
WORKING TOWARDS RECONCILIATION
Although Justice Murray Sinclair does not live in Ottawa, Manitoba's first Aboriginal judge made an extremely important impact on the Capital this year as Chair of the Truth and Reconciliation Commission. The closing ceremony for the Commission took place in Ottawa this summer, when the final report and recommendations were presented. Sinclair said it was significant that the ceremony was in Ottawa because the city has a special connection for all Canadians. "When the people of Ottawa and those who came to Ottawa for the closing event stepped forward…it was like the voice of government, the people of Canada were standing up and saying it is now time for us to do something. It is time for a change." He emphasized that recognizing the history of residential schools is important for all Canadians. "This is not an Aboriginal history. It's not an Aboriginal problem. It's a Canadian history. It's a Canadian problem." After six years of research and thousands of testimonies from coast to coast, Sinclair and his fellow commissioners brought the history of residential schools into the public discourse like never before. "It was really to remind people that they already knew what to do," he said. "It was really to inspire them to take the next step that they were hesitating to take." What is the next step? Of the 94 recommendations, Sinclair highlights the need to change the educational curriculum. "I think that's probably the element of our recommendations that's going to have the best and most significant long-term benefit," he said. "Also finding a way for the [political] parties at the leadership level, nationally and provincially, to begin to engage in a dialogue is very important." Sinclair said no one will be able to ignore this issue anymore and he is hopeful that progress will be made in the coming years. "Now the real question is: how can we come to terms with our past and still develop a very positive future between Aboriginal and non-Aboriginal people?" There is more work to be done.
---
Denise
Siele
THE EQUAL VOICE ADVOCATE
Denise Siele said politics is in her blood. Born in Nairobi, Kenya, Siele moved to Ottawa as a young teenager when her mother, a diplomat, was posted here. When her term was over, Siele's mother moved back to Kenya to run for public office, the first woman in her community to do so. "I think she ran twice in total and while she didn't win either time, she inspired others. When she retired from politics, a young woman in the constituency said: 'Well, if she can do it, I can do it.' And she subsequently ran and won," Siele described. Watching her mother's campaign, Siele too was inspired to get involved. She discovered Equal Voice, an organization that advocates for women in all levels of politics in Canada. As the Director of Strategic Initiatives and Operations, Siele works to engage young women from across the country to consider the role that they can play in politics. She said she loves the cooperative nature of the organization. "What I love most is when women from all political stripes are gathered within the Equal Voice umbrella…the stereotypical view of politics is thrown out the window," she said. Over the years, Siele said she has worked on upwards of 10 political campaigns, but she has many additional interests and responsibilities. She is also managing partner of the strategic events and public affairs company, SEMgroup, as well as an active philanthropist and mother. Focusing on youth, Siele has been extremely involved in many charitable organizations; she is the Chair of the Board for a Fund for a New Generation, founder and Chair of the Black Women's Civic Engagement Network and a past Director of the Youth Services Bureau Charitable Foundation—to name just a few. "The joy that you get from giving back is incredible, such a good feeling and I don't want to deny myself that," she said. "I just love my community and I want to do what I can to give back." 
---
The Honourable
Pierre
Poilievre
A POLITICAL POWERHOUSE
The Honourable Pierre Poilievre is a man of many titles. Only 36-years-old, Poilievre has served as a Member of Parliament, Minister of Employment and Social Development, Minister for Democratic Reform and Minister Responsible for the National Capital Commission. Poilievre said his broad objective is to expand people's freedoms to take responsibility for their own lives, so that they may strive for success and own their destinies. Poilievre said his vision focuses on the private sector. "I want to continue to expand private sector employment through trade, training and tax cuts," he said. He is dedicated to the development of a strong local economy. Poilievre has been the MP for Nepean-Carleton for more than a decade. Over the course of his career, he said he has learned an important lesson: "I've learned that you have to set a small number of important goals and focus relentlessly on them until they are done." By staying focused, Poilievre has achieved a great deal for the community and for the City of Ottawa, such as the Strandherd-Armstrong Bridge. "Through relentless focus, we were able to get that bridge built and everyone who uses it will agree that it has been a precious addition to our community." This kind of accomplishment is what Poilievre loves about his job. "I love the opportunity to deliver real, tangible results that make people's lives better," he said.
---
Wallis Giunta 
MESMERIZING MEZZO SOPRANO
Growing up in the Capital, Wallis Giunta first started singing in the Ottawa Central Children's Choir (now the Ottawa Children's Choir). It was through this choir that Giunta was introduced to opera. The National Arts Centre recruited the choir for a production of La Bohème and Giunta was awestruck. "It was really incredible. It totally opened my mind to what classical music could be." The following year, she came back to the NAC as part of the adult chorus for Madame Butterfly and fell in love with the art form. "I wanted to move people the way that singing actress was able to move me at that time," she said. Giunta went on to complete undergraduate and post- graduate programs at the Glenn Gould School as well as an artist diploma at Juilliard. She also attended apprenticeship programs with the Canadian Opera Company in Toronto and the Metropolitan Opera in New York. Giunta loves performing and feeling that unique connection with the audience. "The feeling that you get when you are creating something in the moment, and you have this whole group of people that is there with you, and you're breathing the same air and you're on the same wave length, emotionally it's really incredible." Working professionally for about nine years, Giunta has travelled all over, from Texas to Taiwan, but she still feels at home in the Capital. "I like everything about Ottawa better than anywhere I go," she said. What's next for this mesmerizing mezzo soprano? Giunta's career is skyrocketing as she makes the move to Germany this fall to join Oper Leipzig. "I'm looking to basically build the kind of career in Europe that I've started to build here," she said. Giunta will also be making her debut in Rome this fall. There is no stopping this Ottawa opera superstar.
---
Janice
Payne
A LEGAL MENTOR AND ROLE MODEL
Janice Payne joined Nelligan O'Brien Payne LLP as an articling student in 1975 and hasn't left since. Then called Nelligan Power, Payne was the first female lawyer hired among six men at the firm. "This was at a time when women were just beginning to make inroads into private practice," Payne explained. "So, it was a very different time. It was exciting to be at the forefront of that wave of women moving into the practice of law." In October 2000, Payne made further progress for women in the field when she became a name partner at the firm. "It was a time when very few women had their name in the firm name, and so again I felt like I was making inroads that were supportive both of women in our practice in the firm—because we have a much larger proportion of women now—and more broadly in the profession," she said. Focusing on employment and labour law, Payne has been widely recognized for her commitment to the practice and to her clients. She was selected by her legal colleagues for the 2006 and 2008-2015 editions of The Best Lawyers in Canada in Labour and Employment Law. She was also named one of the Leading 500 Lawyers in Canada in the 2008-2011 and 2014-2015 Lexpert®/American Lawyer Guide and in the 2013-2015 Canadian Legal Lexpert Directory for employment law. Add on the honour of "Lawyer of the Year" in the 2014 edition of The Best Lawyers in Canada for Ottawa employment and labour law to the list of accolades. Payne is a recipient of the Diamond Jubilee medal and was inducted into the Wall of Honour, by the University of Ottawa Common Law Society. Payne said one of her proudest achievements has been her role in helping women succeed in the practice of law and she has acted a mentor to both men and women in the field. Outside of her work at the firm, Payne is also very involved in the community. She is a former member of the Board of Directors and past President of the Ottawa Chamber Music Society, a former member of the Board of the National Youth Orchestra and is currently a member of the Board of Governors for the Community Foundation of Ottawa and the Board of Directors for the GCTC.
---
Susan St. Amand
FOCUSING ON FINANCE, PHILANTHROPY & FAMILY
Susan St. Amand is an accomplished Ottawa businesswoman who strives to share her success with the community. As the founder and president of Sirius Financial Services, St. Amand specializes in continuity planning, such as life insurance and risk management, for families, individuals and entrepreneurs. "I really wanted to develop a practice that focused on people and providing them with continuity planning and outside-the-box thinking that really adhered to what their goals and directions were," she said. Philanthropy and community involvement are equally important as her business, St. Amand said. "I look at my community as my extended family." St. Amand estimates she has been involved in close to 20 community organizations over the years. She is currently the secretary on the board of the Community Foundation of Ottawa, a past chair of the Royal Ottawa Foundation for Mental Health and one of the 20 founders of the Women for Mental Health campaign—to name just a few. St. Amand has also been active in professional organizations such as the Conference for Advanced Life Underwriting (CALU) and Society of Trust and Estate Practitioners (STEP). "I think it's important as advisors for us to work together as a team for our clients to make sure that we understand how each piece of the client's puzzle works together," she said. This spring, St. Amand was named the first female Chair of the Ottawa International Airport Authority board, a body she said is also extremely important for the community. "It's a really integral part of our connection to the rest of the world," she said. "The vision is to be the gateway to the world and to have a safe, secure environment and to be an economic engine for the region."
---
Aditya Mohan

INNOVATION AT AN EARLY AGE
Aditya Mohan loves to play basketball and hang out with friends, like any other teenager. But this 18-year-old stands apart for his passion for science, research and innovation. After all, not all teenagers can boast receiving awards from the Intel International Science and Engineering Fair (Intel ISEF) and the Sanofi Biogenius Challenge for their work in cancer-virus therapy—but Mohan can. Mohan's love of science started when he was very young and once he reached high school, he wrote countless emails in search of a mentor until he came across Dr. Angela Crawley of the Ottawa Hospital Research Institute, who focuses on HIV immunology. His interest in viruses and immunology later led him to modify a common cold virus to target cancer cells. For this research, he received regional, national and international recognition. Mohan just started in McGill's Microbiology and Immunology program where he will continue to pursue research projects. For the young, aspiring scientists out there, Mohan tells them to follow their hunch: "If a young person has an idea, which they truly feel can make a difference then they shouldn't wait until they are older to pursue it." 
---
Christopher Griffin
THE CONCRETE CRAFTSMAN
Christopher Griffin's artwork transforms the everyday urban concrete jungle into something beautiful. Although he also paints and draws, Griffin is known for his concrete creations, having worked on about a dozen projects in the Capital. His signature style plays with the simplicity of primitive designs and children's art. You may have noticed his turtles at the Beaverbrook branch of the Ottawa Public Library, the raccoons by the Glebe Community Centre, or the falcons over the Bronson-Riverside Bridge. Even though concrete structures can be drab and harsh, Griffin sees the potential beauty. "It's an ugliness that we kind of accept in the city—not just our city, any city. By decorating them like this, it brings back the human aspect," he said. This year, Griffin is working on a project for the Glebe parking garage, adding his artistic touch to the supporting columns. Creating large-scale pieces, racing against the clock of drying concrete and working on scaffolding can prove challenging, but that is what Griffin loves about the job. "It's a balancing act that I really enjoy," he said. By beautifying the city with his work, Griffin has become an important member of the growing arts community in Ottawa. "There are amazing artists in this city and I am so proud to be part of it." 
---
Cory Carlick
MEDIA WITH A MESSAGE
As the founder, chief creative officer and CEO of Skycron, Cory Carlick has created a name for himself in the production industry and he is quickly expanding his reach. Skycron is a video production company that makes everything from TV commercials to music videos to corporate videos and has worked with high profile clients including CTV, Cineplex, and Baskin Robbins. The Undersigned, a modern-day twist on Robin Hood, is one of Carlick's most recent projects. An American broadcaster recently picked up the female-driven action drama with an Ottawa-based cast. The show will air on ABC–TV affiliate WSYR–TV in Upstate New York this fall. But The Undersigned is more than just a cool story. Carlick partnered with Vera House, a domestic and sexual violence agency, for the project. "We worked closely with Vera House when writing the show. It's a great show that's lots of fun, but it has a dark undertone and can be very raw." Carlick hopes the show will raise awareness and bring the issue of domestic violence more into the mainstream. The show premieres this September at the Landmark Theatre in Syracuse and proceeds from the gala screening will go to Vera House.
---
Erik Karlsson
THE CAPITAL'S CAPTAIN
Erik Karlsson is known as one of the best defencemen in the league. Receiving the James Norris Memorial Trophy not once, but twice, he has been recognized by the Professional Hockey Writers' Association as the defenceman showing "the greatest all-around ability in the position." He is one of only two active players to receive this award twice. The 25-year-old superstar reached career highs on the ice this year. In the regular season, he played 82 games with 21 goals and 45 assists, leading all defencemen with 66 points. Karlsson also reached an amazing milestone in April 2015 when he reached 300 career NHL points in only 393 games—making him the fastest defenceman in 17 years to do so. The newly appointed Ottawa Senators Captain is an athletic hero in the Capital. Originally from Landsbro, Sweden, Karlsson was the Senators' first-round pick (15th overall) in the 2008 NHL Entry Draft and was named Captain in October 2014.
---
Garry Brownrigg
QUICKSILK CREATOR AND COMMUNITY LEADER
Garry Brownrigg is the CEO and founder of QuickSilk, the Capital company that helps you or your business build a website with ease and efficiency. Originally called SohoPortal, Brownrigg founded the business in 2001 for Small Office Home Office (SOHO) websites, after losing his ability to speak; he was diagnosed with Laryngeal Dystonia. "The Internet provided me with a means to communicate, share and collaborate with others using non-verbal means," he said. And the business grew from there. "Our reputation for doing quality work grew and with it so did the type and size of clients we worked with," he said. Now, QuickSilk works with clients of all sizes including The World Bank Group, Canadian Parliamentary Budget Officer,  the University of Ottawa and NAV CENTRE. Brownrigg is taking his company to the next level, currently raising funds to expand internationally. Ottawa's tech industry is growing and gaining attention. "Our goal is to become one of next local companies to shine and contribute back to the community," he said. In addition to being a Capital entrepreneur, Brownrigg is also a community leader, acting as Chairperson of the Cameron Smith Memorial Fund and a mentor with Imerman Angels. 
---
Jen
Grant
THE ACCOMPLISHED COMEDIAN
Since starting her stand-up career in Ottawa in 1998, Jen Grant has become one of Canada's top comics. Comedy comes naturally to Grant—her style is honest, relatable and, of course, hilarious. She has performed at every major comedy festival in the country, including the Just for Laughs Festival, the Ha!ifax and the Winnipeg Comedy Festival. You might also recognize her wit and charm from her frequent appearances on CBC's The Debaters or her CD titled Nobody Likes Your Homemade Wine. Of her many achievements, Grant said she is very proud of the time she spent entertaining Canadian troops in the Middle East. "It was really emotional, an eye-opening, life-changing experience," she said. But Grant's talent sometimes hits a nerve. This year, Grant made headlines when she spoke out about sexual harassment at a gig. Heckling is part of the job now and then, Grant said, but there is a difference between heckling and harassment. "I just want to be respected for who I am, not through the lens of what gender I am. I work hard at my job and I've done it for a long time and I just want to be considered a comic, not a female comic or a female trying to do a job," she said. There is no doubt Grant is extremely talented and should be recognized for her accomplishments. OLM is proud to have her on the Top 25.
---
Dr. John
Bell
COMBATING CANCER
Dr. John Bell is bringing Canadians closer to a cure for cancer, and he is trying to find a way to do it without the side effects that cause so many patients to suffer. By asking the question: 'How can we use viruses to treat cancers?', Bell pioneered research on virus therapy as a form of cancer treatment. While traditional therapies tend to attack both the cancer and the person, resulting in terrible side effects, Bell said his work finds ways to attack the cancer while leaving the human tissue alone. "Current cancer therapies are just not good enough," he said. "We are not curing enough people." For about two decades, Bell has been working to change that. The new head of Biotherapeutics for Cancer Treatment (BioCanRX for short) and world-renowned scientist at the Ottawa Hospital Research Institute is combating cancer with a goal in mind. "Our dream is that these viruses could replace many kinds of current therapies that are out there and will be more effective and safer," he said. With more trials planned for the coming year, Bell is working towards making this dream a reality.
---
Kailena Van de
Nes
DANCE STUDIO DREAMS COME TRUE
Kailena Van de Nes didn't always want to be a dance teacher or a business owner. For as long as she can remember, she wanted to be a pilot, just like her dad. But Van de Nes always had a passion for dance, and worked part-time teaching classes while she was in school. Soon enough, seven classes turned into 70 and before she knew it, she was running a full-time dance program at a local community centre. "When I started teaching dance, I got so much from the kids—their love for not only me as their instructor, but the love of dance itself," she said. After nine years as the Dance Program Coordinator at the community centre, Van de Nes decided to make a change. She took a brave next step and opened her own studio. "This past year has been life-changing," she said. "There was a huge transition from being just a dance instructor to a business owner, but I have always felt that this was my destiny that I have been training for my entire life." After just one year of business, KV Dance Studio's classes are packed. It has already become a community hub, a second home for dancers and their families. Van de Nes had to add a fourth dance space to the Third Street studio this summer to meet demand and dreams of expanding to multiple locations.
---

Kimothy Walker
THE MEDIA MAVEN
When Kimothy Walker saw her first story air on CTV, at the age of 21, she knew she had chosen the right career. "I pretty much danced out to the parking lot, just so incredibly thrilled with television. It felt like a perfect fit for me." And for 25 years, this award-winning journalist thrived at the network, eventually reporting from the Philippines, Tanzania and Kenya. She said her travels contributed in part to her decision to leave CTV in 2014. "I had spent a fantastic 25 years in a dream job but I wanted to do some new things," she said. She wanted to explore international development, make documentaries and work in communications, so she and Eric Collard launched Ottawa Media Group. Working with nearly 20 experts in their fields, Ottawa Media Group provides a wide range of communications services to its clients while also emphasizing philanthropy (i.e. building schools in Nicaragua) and making documentaries. Walker's investigative documentary premieres this fall. She couldn't tell us too much about it, but she did say this: "In the fall, I think the single most important piece of journalism I have ever done will be released to the public and I'm very excited." Walker also noted that although her relationship with CTV has changed, the network is still very much a part of her life, as she continues her involvement with the Amazing People Gala and other projects.
---
Linda Babulic
ZEST EXPERT
Linda Babulic is a motivational speaker, momondays Ottawa host, and author but she likes to describe herself as a ZEST Expert. "What I do is help people find a new perspective and see the joy in their life. I provide people with a different way of looking at things, a different attitude. Instead of the glass being half empty it could be half full," she said. As the momondays Ottawa host, the lively and vibrant Babulic brings together six speakers every month to "tell a story from the heart." She said she loves how the show connects people and changes lives. She wants people to walk away from a momondays show feeling like they are in control of their own lives; there is hope, love and a sense of community. "What I want them to walk away with from momondays is also what I want them to walk away with when my new book is published," she said. Babulic's new book ZEST Your Life: A Taste of Inner Wisdom hits shelves this fall. With the goal of impacting one million women, Babulic's inspirational work compiles research, anecdotes and personal wisdom. She said she is looking forward to getting on more stages and speaking to larger audiences in the coming year.
---
Marc Lepine
THE CULINARY MASTER
Marc Lepine, owner and head chef of Atelier, is one of Ottawa's most talented chefs. The Canadian Culinary Champion has spent time in Toronto, France, Italy and Alg
---
---