Food & Wine
Two Easter brunch recipes you gotta make this weekend
Two Easter brunch recipes you gotta make this weekend
Easter seems to have crept up on all of us this year! If you're stressing over what to cook this weekend, don't fret. Here are two to-die-for recipes you can whip up for Sunday brunch.
Something Savoury: Spring Salad With Hard-Boiled Eggs
This salad incorporates tons of yummy, fresh spring veggies along with protein-rich (and the symbol of Easter itself) eggs! The dressing is also so good you'll want to drink it.
Ingredients:
4 hard-boiled eggs, peeled and quartered
½ a large avocado, diced
12 to 14 cherry tomatoes, halved
5 cups mixed greens, washed and dried
½ red onion, diced
4 radishes, thinly sliced
Dressing:
2 tablespoons white wine vinegar
2 teaspoons dijon mustard
¼ cup extra-virgin olive oil
Salt and pepper to taste
Firstly, prepare the dressing. To a small mason jar, add vinegar, dijon mustard, olive oil and a pinch of salt and pepper. Secure the lid of the mason jar and shake the jar until all ingredients are well combined and creamy. Taste the dressing to gauge whether or not more salt or pepper is needed. Set aside.
In a large bowl, toss together the greens, cherry tomatoes, red onion, avocado and radishes. Then, top with the hard-boiled egg slices. Pour the dressing over it and it's ready to serve! If you want to make this a little more decadent, add some crumbled bacon to the mix!
Recipe adapted from Nerds with Knives.
Something Sweet: Carrot Cake Pancakes
Bring your pancakes to the next level with a festive twist! These fluffy and delicious carrot cake pancakes, complete with a sweet cream cheese drizzle, will have you wishing every Sunday morning was Easter.
Ingredients:
1 ¼ cups all-purpose flour
2 teaspoons baking powder
1 teaspoon cinnamon
¼ teaspoon ground ginger
¼ teaspoon nutmeg
? teaspoon ground cloves
½ teaspoon salt
¼ cup packed brown sugar
¾ cup buttermilk
1 tablespoon vegetable oil
1 ½ teaspoons vanilla extract
2 eggs, lightly beaten
1 ½ cups finely grated carrots
¼ cup toasted chopped walnuts, plus extra for serving (optional)
Cream Cheese Drizzle:
4 ounces cream cheese, softened
2 tablespoons milk
1 teaspoon vanilla extract
½ cup powdered sugar
Over a large bowl, sift together the flour, baking powder, cinnamon, ground ginger, nutmeg, ground cloves and salt. Create a little well in the middle of the dry ingredients and add the eggs, brown sugar, buttermilk, vegetable oil and vanilla extract. Mix until everything comes together and there is no more dry spots in the batter. Then, gently fold in the shredded carrot and, if desired, chopped walnuts. Set aside the batter to thicken for about 5 minutes. While you wait, heat up a teaspoon of butter or oil on a non-stick pan or griddle over medium heat. Pour a ¼ cup of batter onto the pan for each pancake and let cook for about 2-3 minutes before flipping. Once flipped, cook for an additional 2 minutes.
For the drizzle, add the cream cheese, milk, vanilla extract and powdered sugar to a bowl and mix well until smooth and fully combined. Pour this over the pancakes while they're still warm, sprinkle with some additional chopped walnuts if desired, and serve 'em up!
Recipe adapted from Spicy Southern Kitchen.
Recommended Articles
These trendy spots in Ottawa are on both their cocktail and mocktail game!
Read full story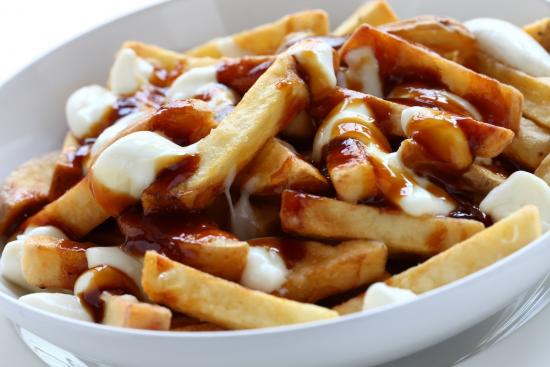 From traditional to exotic versions of poutine, the Sparks Street Poutine Fest is an event worth checking out – put on your stretchy pants, and get ready to treat yourself!
Read full story
With spring finally here, and Easter and Passover in full swing, we are all ready for some delicious brunch!
Read full story
Comments (0)
*Please take note that upon submitting your comment the team at OLM will need to verify it before it shows up below.