Good Reads
Best CBD cream Canada — Top 3 brands for pain in 2021
Best CBD cream Canada — Top 3 brands for pain in 2021
CBD products have become increasingly popular amongst customers, primarily due to their pain-relieving properties.
Slowly but surely, as the taboo around cannabis is disseminating, customers are growing increasingly aware of its health benefits. Although these health benefits have been known for a while, it is only during recent times that we see people moving away from prescription painkillers and exploring more natural options such as CBD Oil Canada.
A quick Google search on "Best CBD Cream for pain in Canada" will redirect you to hundreds of blogs and articles with varied recommendations. However, it can be tricky to figure out which ones to trust and which ones to turn a blind eye towards.
When it comes to treating chronic pain, it is always best to trust the experts. Fortunately, you don't need to look far as we are here to help you.
In this guide, we have compiled a list of the top 3 CBD creams for pain in Canada. So if you're ready to find out about them, let's get started.
Top 3 Best CBD Cream For Pain Canada Wide [Full Reviews]
CBDNorth - Top-Quality, Best Overall & Editor's Choice
CBD Magic - Full Spectrum Pain Cream
#1. CBDNorth - Best Overall & Editor's Choice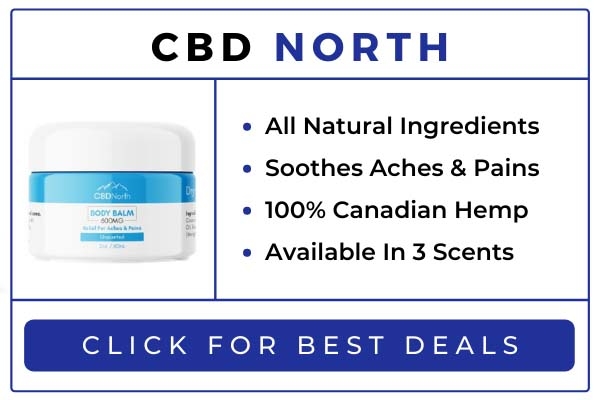 Brand Overview
When it comes to finding the best all-natural hemp cream for pain relief, researching thoroughly beforehand is vital. Most CBD pain relief topical creams guarantee to relieve you of an array of symptoms related to chronic pain - but how do you know which ones you can trust?
Well, after reading dozens of customer reviews and finally testing the product, we are happy to include the CBD Pain Cream Body Balm in our list. What we (and other customers) liked best about this cream is that it is made of entirely natural products with no chemical additives.
There are three options to choose from - Unscented, Rose & Vanilla, and Lavender & Lemongrass. The Unscented option is excellent for those who have allergies or are sensitive to smells. However, the two scented options are refreshing, offering mood-lifting notes that help relieve pain and alleviate stress and discomfort.
The manufacturer has also provided detailed instructions on the dosage of the cream - so that you aren't confused about how much to use. The CBD used is entirely Canadian-grown and handcrafted in BC.
The best part is, the manufacturer provides the lab results for customers to check. This reassures us immensely of their quality control and safety measures.
The website also offers free shipping on orders above $99. However, since this cream costs less than $99, you can avail of this offer only if you purchase two or more products.
Pros:
Completely safe product with all-natural ingredients
It has no adverse side effects
Offer of free shipping on orders above $99
Excellent customer service
Titled #1 for manufacturing the best CBD oil in Canada
Detailed guide and instructions provided on the website
Third-party lab test results available for the customer to check
Features scented and unscented options
100% Canadian-grown hemp
Cons:
No information on the website about shipping or money-back guarantee
Highlights
In our opinion, CBD Pain Cream Body Balm was our top pick due to the following factors:
A. Price
The CBD Pain Cream Body Balm comes in a 600mg container, which will cost you $60. Now, we agree that it may not be the cheapest product on the market. However, for its pain-alleviating features and numerous benefits, we feel that the product is priced justly.
B. Additional Ingredients
Aside from the 100% natural Canadian Hemp, the CBD Pain Cream Body Balm contains added ingredients that have immense benefits.
For starters, the manufacturers have added Rosehip Oil - an ingredient known for its anti-inflammatory and anti-aging properties. Moreover, this natural oil is said to reduce eczema.
Next, the manufacturers have also added Jojoba Oil - another excellent ingredient that helps with wound healing and inflammation, amongst other things.
Finally, the addition of Marigold Oil gives the CBD cream its anti-bacterial, wound-healing, and anti-inflammatory properties. All these ingredients added together to make this product one of the safest, most gentle, and effective solutions for pain in Canada.
C. Array Of Benefits
Although this CBD cream is marketed primarily for its pain-relieving properties, that's not all it has. In fact, this body balm is ideal for those suffering from itchy skin, dryness, sagging and damaged skin.
The all-natural ingredients and addition of natural oils help in soothing chronic or temporary pains and provide immense relief to damaged skin. Furthermore, the antioxidant-rich ingredients are beneficial for your skin - when used in the right proportions.
D. Detailed Guide And Dosage Instructions
Figuring out the correct CBD dosage can be challenging, especially if you are a first-time user. Fortunately, the manufacturers left no stone unturned when providing a detailed guide and dosage instructions for their customers.
The detailed dosage guide on the website also includes an informative chart that tells you how to choose the right dosage by considering your gender, weight, and pain severity.
⇒ Click Here to Visit the Official Website of CBDNorth
#2. CBD Magic - Full Spectrum Pain Cream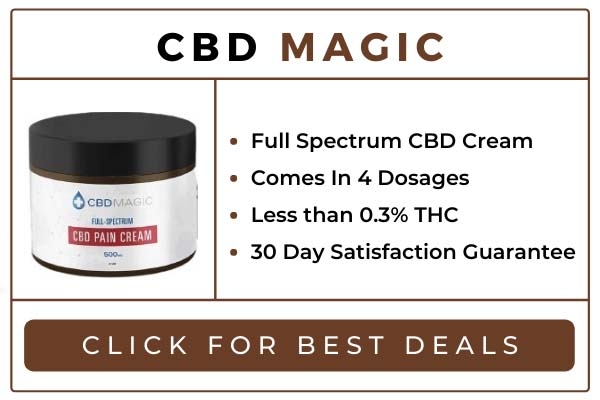 Brand Overview
Finding CBD creams for pain relief isn't the tricky part - it's finding the best CBD creams that don't contain high amounts of THC. Let's face it - when you're looking for a suitable, all-natural pain relief solution, the last thing you want to worry about is high levels of THC playing tricks on your brain.
This product is slightly different from our other recommendations because it is a full spectrum CBD pain cream. Essentially, this means that the product contains not just CBD but all the other cannabinoids - and their fantastic health benefits.
Of course, the manufacturer has also addressed the growing concern around high levels of THC. Although this full spectrum cream contains the benefits of several cannabinoids, it contains less than 0.3% THC - something we all appreciate.
Furthermore, the company has assuredly used only the best, high-quality ingredients on the market to develop its pain relief cream. The all-natural ingredients are combined safely and tested in labs before finally being sent out to store shelves. Rest assured, you can use this cream on any part of your body without worry.
You may want to branch out from CBD creams and salves and explore other options. Well, CBD Magic makes it possible for you within an instant. You can take a look at their website to find a variety of amazing CBD products such as full-spectrum hemp oils, pet-friendly CBD oils, topicals, and much more.
Pros:
30-day money-back guarantee
Less than 0.3% THC
Full-spectrum CBD cream with diverse health benefits
Helps boost clarity and focus
Multiple third-party lab test results provided
Less product usage is recommended, which helps prevent wastage
High quality, all-natural ingredients used
Convenient cancellation policy
Cons:
Highlights:
A. Easy Placement Of Orders
Once you have decided what you want to order, the next steps are straightforward. Click on the one-time purchase or monthly subscription plan. As you may expect, you can end up saving some money by opting for a monthly subscription plan. However, the product is priced reasonably, so you won't be in two minds when opting for the one-time purchase option.
The best part is, the company ships its products all over Canada - no matter which district, town, or village you reside in. They ensure complete discretion, so your personal affairs are kept private during delivery.
B. Multiple Lab Test Results
We understand - when it comes to pain relief and chronic discomfort, you need to find a company you can trust. What reassured us and built our trust in CBD Magic is that they provide customers with not one but two third-party lab test reports.
On visiting their website, you will find two links. The first one will redirect you to the Certificate of Analysis. The second link takes you to the results of the Mandatory Pesticide Testing in Canada.
Both lab test results are authentic and reassure potential customers about quality control and checks conducted regularly.
C. Full Spectrum CBD Cream
You don't come across full spectrum CBD creams with low THC content often, which is why we were pleasantly surprised to come across this company. Full-spectrum CBD products have tremendous health benefits - ranging from alleviating pain and discomfort to reducing inflammation, helping with stress relief and sleep disorders, migraines, and much more.
However, the high THC levels in these CBD products dissuades a lot of people from purchasing them. Fortunately, CBD Magic has provided its customers with an authentic full spectrum CBD cream with all the health benefits of the various cannabinoids, but, as we've already mentioned, with less than 0.3% THC.
D. Container Size Options
Most customers appreciate having options. CBD Magic understands this well, which is why they have provided their users with multiple container size options for varying requirements.
You can choose between the 500mg, 1000mg, 2000mg, and 4000mg container sizes. Those looking for a discreet option may find the small 500mg container ideal for their needs. However, if you want to save a few bucks while opting for a long-term solution, consider ordering the 4000mg container.
E. 30-Day Money-Back Offer
We love a company that has faith in its products but also looks out for its customers' needs. CBD Magic offers a fantastic 30-day money-back offer that you can avail of if you are unsatisfied with their products for any reason.
That being said, keep in mind that you will have to bear the shipping costs if you decide to return the product.
⇒ Click Here to Visit the Official Website of CBD Magic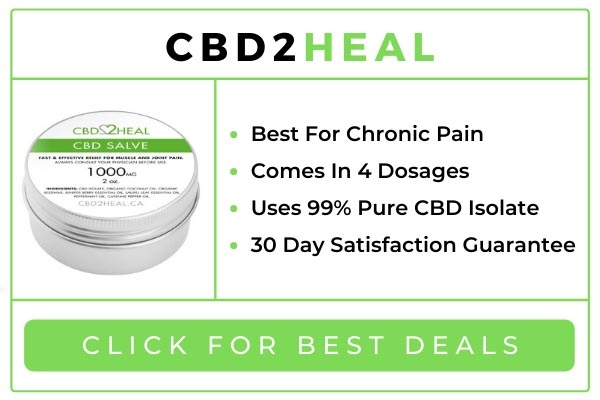 Brand Overview
Chronic pain, soreness, discomfort, and skin conditions can eventually lead to an individual's deteriorating mental health. You will find hundreds of "quick tips" and "magic potions" on the market that guarantee to provide you with the best pain relief solutions. Unfortunately, most of them are ingenuine, unreliable, and not worth trusting.
While curating this list of the best CBD creams for you, we had one thing in mind - providing our readers with the best, most reliable products on the market.
So, after extensive research, we finally came across the CBD Healing Salve Cream. Let us begin by telling you why we trust this brand - and why you should too.
For starters, the brand CBD2HEAL boasts of having over 40 years of experience in medicine. Not just that, their team comprises experts in IT, business operations, marketing, and management.
These brilliant minds have put in immense hardwork and research to develop one of the best CBD creams on the market. Its CBD cream has been made using non-GMO hemp stalks. This complies with GMP Canada and other industry standards, so we were instantly assured of its quality and safety.
One of the best aspects of this CBD cream is that it comes in a handy 2 oz container. This makes it the ideal product to carry with you wherever you go. Not only is it discreet, but it also has a smooth, matte-like texture that won't leave you feeling sticky and messy after its use.
Pros:
Free shipping on all orders
An incredible monthly subscription plan for customers
Alleviates muscle and joint pains
Heals cracked and wounded skin
Variety of container sizes
Non-sticky, non-messy product
30-day money-back guarantee
Cons:
Although rare, it may have some side effects like fatigue or nausea
Highlights:
A. Flavour Options
Why have one when you can have two? Everyone loves having options, and CBD Healing Salve Cream offers two varieties of its products for its customers. The "Original" salve cream has a light and subtle scent, which is perfect for those looking to use it on the go.
On the other hand, if you prefer a slightly stronger salve cream that has a distinct scent, you can opt for the Peppermint option.
This flavor option is ideal for those who enjoy the fresh, relaxing, and rejuvenating peppermint scent. Not just that, the salve cream provides excellent pain relief properties, along with having the ability to heal cracked and wounded skin.
B. Size Options
Although we love the compact 2 oz container, some customers may be looking for bigger options. Fortunately, the manufacturer has taken care of this by providing a variety of container sizes for various customer needs.
As such, you have the option of 500mg, 1000mg (the option we are reviewing), 2000mg, and 4000mg. So, whether you're looking for a discreet salve cream to carry on the go or a larger size container for long-term use, the options are plentiful.
C. Less Is More
One of the unique aspects of this salve cream is its use of 99% pure CBD isolate. This means that a small amount of salve is enough to work miracles on your pain, soreness, and discomfort. Of course, the manufacturer also provides an informative dosage guide and detailed instructions that help you figure out the correct quantity of product to use.
D. All-Natural Formula
Safety is a priority, especially when it comes to your health. Well, forget about taking painkillers or using topical ointments that are loaded with chemicals and preservatives.
The CBD Healing Salve Cream is made using all-natural ingredients, including organic hemp grown locally in Canada. Along with CBD as its primary ingredient, it also uses Copaiba essential oil, organic coconut oil, Juniper Berry essential oil, Cayenne Pepper oil, Laurel Leaf essential oil, and organic beeswax. These ingredients make a completely natural pain relief solution that is safe to use.
E. CBD Certificate
The best way to determine the purity and quality of a product is by checking their third-party lab test reports. Well, CBD2HEAL not only provides its third-party lab test results for customers to verify, but they also attach a Certificate of Analysis. This builds trust, credibility and reliability amongst users.
F. 30-Day Refund Policy
Unlike many competitor products on the market, CBD2HEAL takes customer satisfaction very seriously. Rest assured, if you are unhappy with the outcome of their product, you may request a refund within a 30-day period. The impeccable customer service ensures that your issues are handled with utmost care and expertise.
⇒ Click Here to Visit the Official Website of CBD2HEAL
How We Made This List
To be true to our readers, we decided to conduct extensive research and look into various articles, blogs, and medical journals, before compiling our list. Let's be honest here; it wasn't easy. This is especially because of the innumerable options available on the market - both authentic and ingenuine.
We began our research by exploring the various CBD pain cream options on the market. We looked into customer ratings and reviews, especially those from third-party websites, so that we had an authentic report of their feedback.
Since we were looking at a medical condition, we also looked into several third-party lab test reports to know if the ingredients used in the cream were safe. Not just that, we ensured that the companies source their products from the right places without using unfair or illegal means.
After extensive research, we found a couple of CBD cream companies that complied with our research standards. But it didn't end there. Several members of our research team tested the products on themselves (these were members who are currently suffering from chronic pain).
So, after thorough investigation and testing, we have compiled our list of the top 3 CBD creams in Canada. Of course, we came across dozens of brands we liked during our research. However, we shortlisted our products by considering the following:
Hemp sources
The process of CBD extraction
Overall brand reputation and experience
Customer reviews and genuine feedback
Ingredients used
THC levels in the product after it was processed and packed
Detailed instructions provided by the brand to their customers
Efficacy of each product in alleviating pain, inflammation, and other issues
The information provided by the company about the benefits, working, and adverse effects of CBD
Buying Guide
It's not surprising to find dozens of brands offering the "best CBD creams" or the "most effective and natural pain relief solution." However, an aware consumer understands that brand marketing cannot be trusted blindly.
After scouring through dozens of products, articles, and blogs online, we have a few tips to help you find the best CBD creams on the market.
We understand that you would want to find only the best, safest products on the market. Keeping that in mind, we have curated a list of things to remember when looking for the best CBD creams for pain relief in Canada.
It is important to note that the dosage instructions provided by the manufacturer are not based on medical recommendations. As such, we recommend consulting with your doctor before using a CBD product.
Furthermore, speak to your doctor about any allergic reactions you may have - no matter how minor. Although it is unheard of for individuals to overdose on CBD products such as oils, creams, and salves, it is best to be safe nonetheless.
Here are a few essential tips to keep in mind when purchasing CBD creams and products for pain relief:
1. Potency
One of the most vital factors to remember is that CBD does not pass through the skin easily. This is why a lot of people opt for other methods to ingest CBD, especially when it comes to alleviating pain and discomfort.
That being said, CBD creams, salves, and oils are highly effective - if used correctly. When opting for a CBD cream for pain, ensure that it contains at least 3mg to 8mg CBD per application. In some cases, the higher potency products may begin at 8mg potency.
2. CBD Source And Type Of Hemp Extract
Another vital factor to consider when choosing a CBD product is to pay close attention to its CBD source and the type of hemp extract it uses. Since CBD is the primary ingredient in these pain-relieving creams, it is essential to take note of these factors to ensure safety.
This also helps you determine the quality and reliability of the product. As such, you will likely come across three main terms - isolate, broad-spectrum, and full spectrum.
Isolate products are ideal for consumers who want to ensure that there is no THC in their products. The extraction procedure involves stripping away any volatile organic compounds and cannabinoids from CBD. Although it ensures that you get a completely THC-free product, it may be less effective than those products containing THC.
Broad-spectrum products contain most of the beneficial cannabinoids; however, they don't contain THC.
Lastly, full-spectrum CBD creams and products contain all the organic compounds and cannabinoids, including THC. However, most full-spectrum products contain only 0.3% THC (or less.) THC and CBD work together miraculously to alleviate pain, soreness, discomfort, and inflammation. This is commonly known as the Entourage Effect.
So, depending on your specific requirements, ensure that you note these factors before purchasing a CBD cream.
3. Ingredients Used
We cannot stress this point enough - always check the ingredients used in the product that you're purchasing. The greatest disservice you can do to yourself is to purchase mislabeled or ingenuine products pumped with chemicals, hormones, and toxic ingredients.
Always make it a point to check all the ingredients in a CBD cream thoroughly. If you are unsure of any ingredient, run a quick Google search to find out more about it and if it's safe for you or not.
As such, it is best to opt for CBD creams that contain all-natural, chemical-free, preservative-free ingredients. Furthermore, when opting for a topical, it is vital to check the ingredients to ensure that they don't cause any allergic reactions on your face or body.
4. Third-Party Lab Test Results
Would you trust a company that isn't transparent about the safety and quality of its products? We sure wouldn't.
When looking for a CBD cream, always check the third-party lab test results provided by the company. As such, the FDA does not regulate over-the-counter CBD products - which is unfortunate. This leaves massive scope for companies to mislabel and misrepresent their items.
Read the product label carefully and check the third-party lab test results to ensure that your purchase is contaminant-free and safe to use.
5. Is CBD Cream The Right Option For You?
When it comes to finding the best all-natural solutions for pain relief, CBD products can be an ideal option for most. As such, there are no adverse health reactions - unless you are allergic to specific ingredients used in the product.
Moreover, CBD and THC work wonders in relieving pain symptoms and helping individuals with chronic pain relax, boosting focus, clarity and fighting insomnia.
CBD interacts very differently with our blood than it does with our skin, which is why it can take longer for topicals to show their effects. That being said, CBD creams are safe to use for everyone and do not have any major adverse reactions. We recommend consulting your doctor before self-prescribing any CBD product.
You can consider using CBD products if you have -
Chronic pain
Insomnia
Restlessness and anxiety
Muscle and joint pain
Damaged and dry skin
Temporary pain due to injury
However, avoid using CBD products if you -
Are allergic to any of the ingredients
Are allergic to CBD or THC
Have previously had a negative experience or reaction with CBD or THC
Have sensitive skin or are prone to allergies
Have a skin breakout
6. Benefits
The primary reason people look for a CBD cream is to alleviate pain and discomfort. However, most CBD creams have other benefits which you should look out for. These are:
Treating psoriasis, eczema, rashes, allergies, and acne
Stress relief and anxiety alleviation
Helps with insomnia
Boost clarity and focus
Anti-inflammatory properties
7. Side-Effects
Before purchasing a CBD cream, ensure that you check its side effects and third-party lab test results. Although it is rare, some people have adverse reactions to CBD creams and products. If you notice any of these symptoms, speak to your doctor at the earliest.
Headache
Fatigue
Sleeplessness
Diarrhea
Appetite changes
Allergies and skin reactions
How CBD Cream Helps With Pain?
If applied correctly and in the correct dosage, CBD creams can help alleviate pain and discomfort rapidly. Although CBD takes some time to be absorbed by the skin, once the cream comes in contact with your skin, the lipids transfer the CBD phytochemicals through the layers of the skin into the cells.
Once your skin cells receive the stimuli from the phytochemicals, they produce anti-inflammatory and pain-relieving hormones. These are circulated throughout the body rapidly and target the areas in your body where there are inflamed cells.
Within a few minutes, you will begin to feel the effects of the CBD cream. However, the time it takes for you to feel this effect may vary depending on the dosage, the potency of CBD in the cream, and how an individual's body responds to it.
FAQs Regarding CBD Cream Canada
1. Do You Need A Prescription To Buy CBD Cream?
You can purchase CBD creams and products over-the-counter without a doctor's prescription in Canada.
2. Can You Overdose On CBD Cream?
It is improbable that you will overdose on CBD cream. The amount of CBD and THC in these creams is nowhere close to being fatal. However, it is best to follow the dosage instructions carefully when applying them.
3. How To Use CBD Cream For The Best Results?
For starters, identify the areas in your body where you feel pain, inflammation, soreness, itchiness, or discomfort. Once identified, take the recommended amount of CBD cream and rub it gently on the affected spot. You don't need to dilute the cream - it can be applied directly in most cases.
Keep a close eye on the area for any adverse reactions. You may feel a cooling or warming sensation, which is completely normal. This is primarily due to menthol, peppermint, and other natural essential oils in the cream. If you notice any swelling, redness, itching, or allergies, consult your doctor immediately.
Conclusion - Which CBD Cream For Pain Should You Buy?
That's all we have for you today.
After extensive research and testing, we are happy to tell you that the CBDNorth's Body Balm is one of the best products you can buy in Canada. However, those looking for a slightly discreet option can consider the CBD Healing Salve Cream.
Finally, if you're looking for the best full spectrum CBD cream, we highly recommend the CBD Magic Full Spectrum Pain Cream. Ensure that you check your state laws carefully before purchasing a CBD cream.
Recommended Articles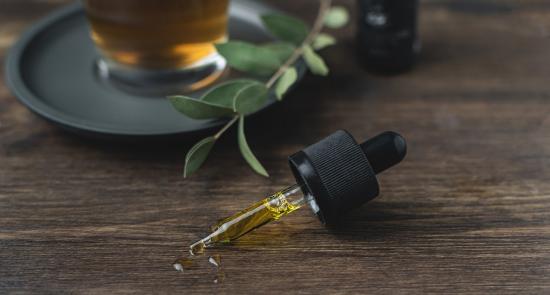 Are you looking to purchase CBD Oil in Canada? We have an extensive guide to help you out.
Read full story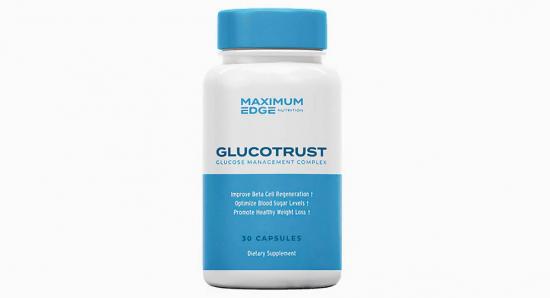 This blog highlights the benefits of GlucoTrust with its ingredients and composition and the method to place it online from the official website.
Read full story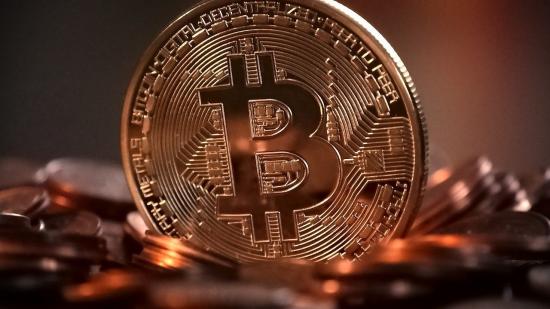 The world is changing rapidly, and nowhere can this change be felt more than with currency.
Read full story
Comments (0)
*Please take note that upon submitting your comment the team at OLM will need to verify it before it shows up below.