Harea Band Wants You to Get Lit!
Photos by Andre R. Gagne
---
When he was a kid Alex Harea, frontman to Ottawa's Harea Band, wasn't much of a reader. Then his mother started bringing him to the Ottawa Public Library (OPL). It soon became one of his favourite places in the city to visit. Sure, books brought knowledge but they also brought different worlds to escape into. They brought fun.
Ottawa has been Harea's home for 25 years and, like those days whittling away the hours at the OPL with a good book, this town has given him a lot. He wanted to give something back. While brainstorming event options for various local charities, the idea to help support the Friends of the Public Library was born. He readily admits it mainly came out of the sometimes bizarre conversational turns road life banter takes for a traveling musician.
"The idea came up while we were on tour last year. When you spend an extended period of time with the same people on the road the conversations tend to get pretty strange," says Harea.
"We were all joking about how the young people use the lingo get lit. Then our guitarist Liam just pitched this idea of a big nightclub event where the main theme is to party and get lit in the literal sense. We do a book drive as well, so people who need it can get LIT-erature."
He says Get Lit may be pretty silly in title but, then again, this is the band that called a baseball themed album All The Hits. Herea enjoys the puns. He also enjoys picking up his phone and tablet, stating that he is part of the culture that often turns to other media for reading instead of picking up a physical book. However, according to a 2016 PEW Research Centre Study, only 6% of Americans only read books digitally with 38% still turning to print.
"There is something so special about an actual hard copy book and I don't think that will ever change. Given that this young generation is the first to grow up with smartphones it is definitely on us to educate the kids about the beauty of books. I think that, even though printed literature may not be a necessity anymore, there will always be a place for it," Harea tells Ottawa Life, sharing that some of his favourite reads include Tuesday With Morrie by Mitch Albom and The Pilgrimage by Paolo Coelho.
Get Lit, taking place Thursday November 30 at the Mecury Lounge, is the second dive into helping populate the OPL stacks and this follow-up is shaping up to be bigger than the original. Presented by Beaus Brewery, the band will be bringing their usual sonic safari performance to the stage. Like a library, Harea and crew have a bit of everything. Unlike the library, it's ok to get loud and dance. DJ Breakthru will also be seeing to that.
The event, Harea says, will feature a lot of covers from the early 2000's which makes it a sort of millennial dance party. Fellow musician Jessica Pearson will be hosting.
"It was important for me to have other musicians from Ottawa involved in the event to create a strong community among Ottawa musicians."
Entry is only $10 but with a used book donation for the OPL you can get in half price.
"In a world of social media and smartphones we have become so used to instant gratification and 140 character tweets. Just finding a way to focus your energy on one thing for an extended period of time can have an incredible effect on your mental and physical health. Books are great, but for me, as long as people continue to create good quality literature the public will consume it, whether it's on a kindle, computer, or in a book," says Harea.
Recommended Articles
Continuing our series of amazing local artists, we talk to another five amazing local acts to see why they'll excite you and who excites them.
Read full story
Photos by Sean Sisk Photography. It's been a pretty big week for Ottawa's Harea Band. They have...
Read full story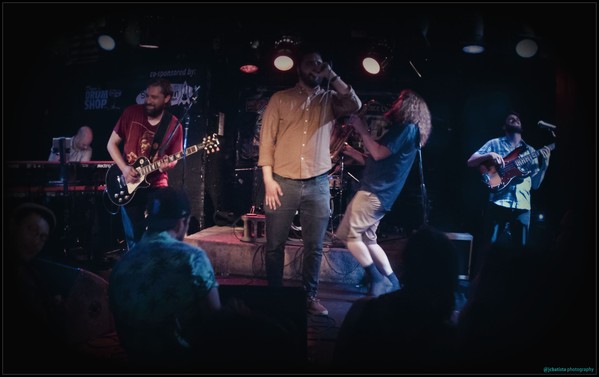 It rose out of black America, dipped in gospel and spiced with the rhythm, flavoured by the blues. The beat was the Bible and the prophets had names like Cooke, Burke and Redding. Their Queen was Aretha and their Godfather was James and their sound made the disciples dance.
Read full story
Comments (0)
*Please take note that upon submitting your comment the team at OLM will need to verify it before it shows up below.