Sports
Senators: Mission accomplished (for the most part)
Senators: Mission accomplished (for the most part)
ABOVE: Dzingel gets one past Hellebuyck in the Sens 4-3 loss to the Jets on April 5, 2021. (PHOTO: NHL.COM/SENATORS/VIDEO)
---
Thanks Trooper:
"We're here for a good time,
Not a long time
So have a good time,
The sun can't shine every day."
In just more than a month's time, the Ottawa Senators call it a day on a shortened but entertaining season. Seriously, can you qualify the first part of 2021 in any other way besides the way the Canadian legendary(?) band described it?
Entertaining?
Yep.
Even at times deliberately.
Oh sure, there were those stretches through Alberta – particularly Edmonton – where the organization looked like it would garner a decades-long hold on last place overall.
Entertaining to be sure for the folks in Northern Alberta. Not so much in long-long-long suffering Eastern Ontario.
But there's been good-value entertainment (intentional) as well - the development of Tim Stutzle, Drake Batherson, Josh Norris and Artem Zub, the increased development of leader Brady Tkachuk, and the somewhat surprising rapid-fire development of goaltender Filip Gustavsson (Joey Daccord looks to be a good one potentially as well).
As the song says though, the sun can't shine every day.
It hasn't, especially for general manager Pierre Dorion. Rumblings suggest Dorion is walking the Eugene Melnyk tightrope at this point. This is simply speculative, but worth exploring.
Dorion's moves to bring in talented veteran aide for the youth movement has been as successful as Willy Loman (. . . keep going to school, kids).
Arguably Dorion's biggest manoeuvre, and biggest failure was his attempt to solidify the netminding situation with his huge investment in Matt Murray.
There's no way to pom-pom this one for the local media, Murray's been a disaster.
To a lesser degree, Dorion bringing in guys like Braydon Coburn, Erik Gudbranson, Evgenii Dadonov, Derek Stepan, Micheal Haley (explain that one, anyone?), and Josh Brown (explain that anyone, Part 2) has sucked wind out of the youth movement. Winger Austin Watson proved to be a small nugget of good news until injury took him out of the mix.
The past trading of Erik Karlsson was a fortunate turn of events. Karlsson appears to be a shell of his former self, while prospects like Norris flourish. But luck proved not to be a lengthy visitor. The trade of Mark Stone – now captain in Vegas and considered a Top-10 forward in the NHL, likely for years to come – for under-sized and overrated Erik Brannstrom was catastrophic.
Some could argue Dorion struck bronze, silver and gold at the draft table in recent years. Most of the credit should go to his scouting personnel though. Underpaid and under-staffed, it's one of the best crews in hockey.
So is he indeed steeped in hot water?
Hard to say. One never knows what percolates in the mind of the Ottawa owner.
But it's certainly out there.
If you're glass-half-full, sure the GM has stumbled over his own feet, but the organization remains in good stead, future-wise.
It'll be interesting to watch if Dorion remains in good stead, future-wise as well.
Notes, thoughts, hefty opinions: Had a hoot this past week guesting on the For Future Considerations podcast with Manny Paiva and buddies. Talked Sean Avery, Brian Kilrea, Leafs, Senators and my time covering the Owen Sound Platers (now, Attack). You can check it out here . . . Seems like an eternity since Ottawa's skated for real (regularly/prime time) on a Saturday night. This week though, Ottawa heads to Toronto for the national broadcast on CBC/Sportsnet (that's two in a row!) . . . The Senators have two games remaining against the Leafs; three against the Montreal Canadiens for those intrigued by rivalry . . . Let the debate commence: Is that Matthews-Marner-Hyman line in T'ranna now the best in hockey? I suspect so. However, throw a Hyman on a line with McDavid-Draisaitl and we might be prone to a switcheroo . . . If you're like me, and who wouldn't want to be, you're obsessed with the NHL's North, but haven't paid a lick of attention to the rest of the circuit. A form of nepotism perhaps . . . Speaking of which. At the beginning of the season, this corner had predicted a tough go for the Winnipeg Jets. We rescind, we rescind . . . The Jets showed Ottawa just how far the road is going to be with that win Monday night. Throw the final score out the window, it was men-versus-boys . . . Is it me or did Montreal's Shea Weber look less than enthusiastic when he dropped the gloves with Brady Tkachuk. Weber didn't look mad, he looked bored.
Senators' week ahead:
Wednesday, April 7: Edmonton at Ottawa (5 pm)
Thursday, April 8: Edmonton at Ottawa (7 pm)
Saturday, April 10: Ottawa at Toronto (7 pm)
Recommended Articles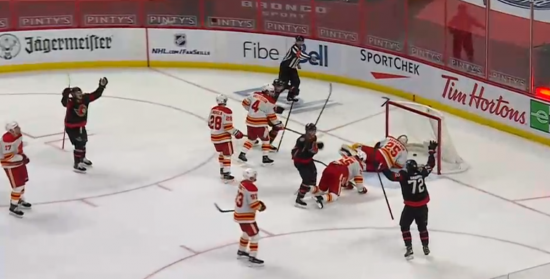 The Sens sit eleven points out of the final playoff spot in the North Division currently held by the Montreal Canadiens.
Read full story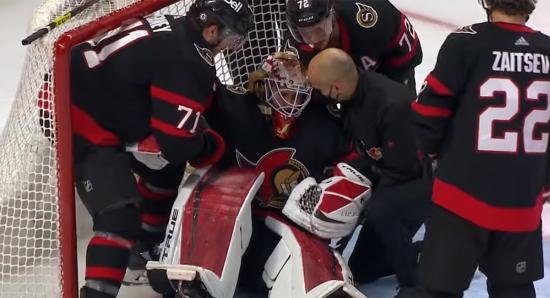 The Ottawa Senators played two games last week, and both were spirited efforts against the Vancouver Canucks.
Read full story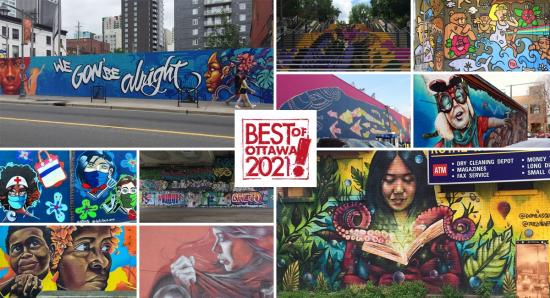 In this weekly series, we share our top spots for takeout, live music venues, local brews, bands and more. Check, share and discuss #OLMBest every week!
Read full story
Comments (0)
*Please take note that upon submitting your comment the team at OLM will need to verify it before it shows up below.