2020 was one of those life-or-death situations for many retail businesses. As physical stores were forced to close their doors due to worldwide lockdowns, consumers had no other choice but to rely on the companies that were able to provide a safer – online shopping – option.
This inspired a sudden digital makeover, leading to a significant change in customer behavior, unprecedented e-commerce growth, and increased screen times, as shopping online has become one of the most popular digital activities worldwide.
IMI's data analyzed by the HelpCenter app team reveals that shopping apps are the second most popular app category, being used by 78% of users globally and falling behind music apps by only 1%. Daily shopping has also become a habit for consumers across all generations, from Gen Z to Boomers, yet the majority of people who shop online every day are millennials, taking the lead at 73%.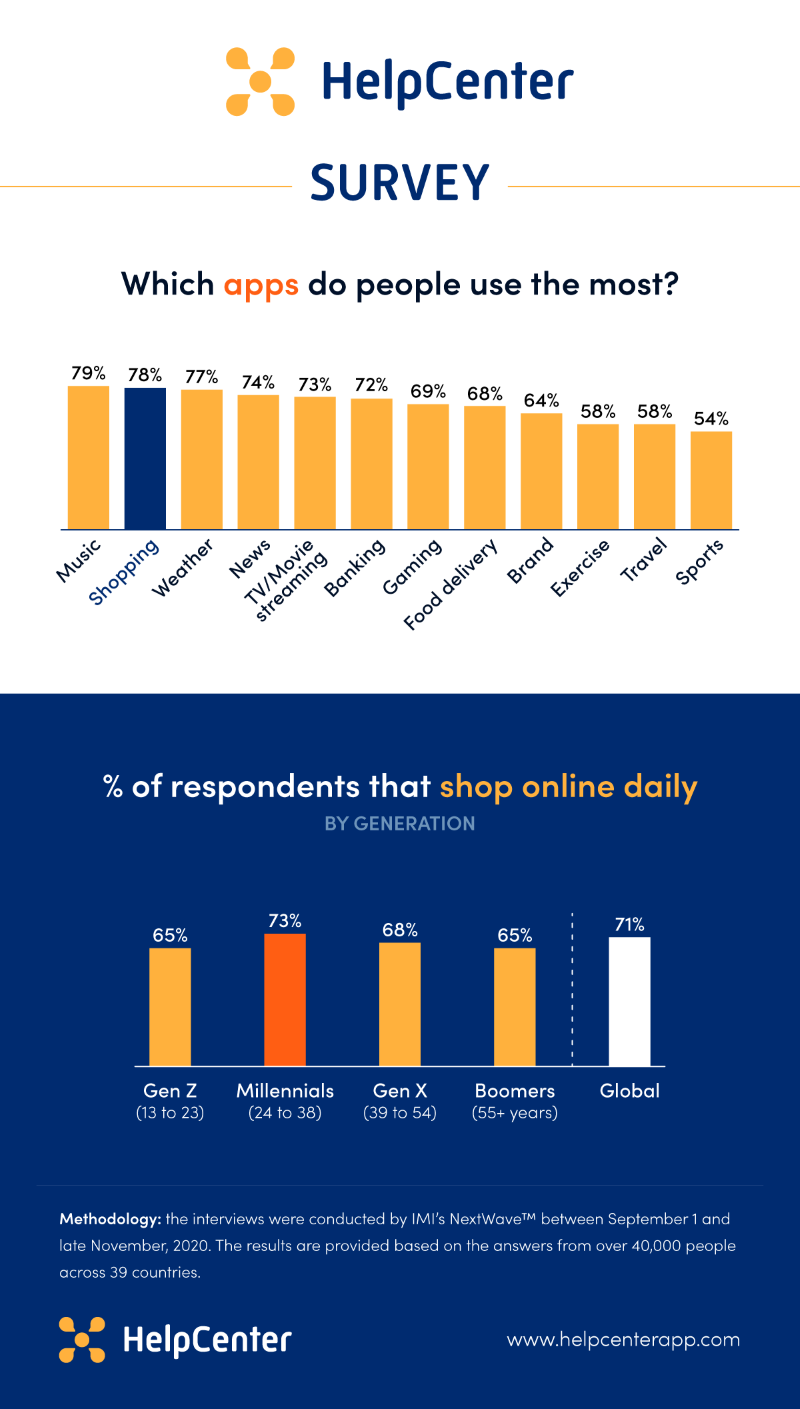 Further e-commerce growth is projected, mobile will take the lead
According to the IMI's report, people around the world now shop online daily as much as they play with their kids (71%) and even more often than they go outside for fun during summer (60%). 85% of respondents have bought something online at least once during the last 12 months, representing more than 3 in 4 consumers worldwide. 22% of them plan to increase their online shopping behaviors in 2021.
Although the e-commerce industry was gradually growing up until the coronavirus outbreak, these unusual circumstances have accelerated the shift to digital by roughly 5 years. As soon as most of the countries were put under national lockdowns, the U.S. Census Bureau reported retail e-commerce growth of 31.8% in Q2 2020, and 44.5% year-over-year.
At the same time, the number of retail app downloads in the EU jumped by 36% compared to Q1 2020, leading to the highest increase of +109% in April 2020. This might have been the reason why April was also the turning point for in-app transactions that resulted in +88% growth in monthly in-app orders.
Online purchases have been noticeably growing no matter the intention. In September 2020, 22% more people have been shopping online for "Whatever I need" compared to June 2020. The need for online grocery shopping grew by 14% while the intention to order food online has jumped from 6% to 21%.
As the public health restrictions in many countries still remain in place, further growth of e-commerce, especially via mobile devices, is expected. Customer behavior has already been highly influenced by social distancing and the attempt to stay safe during these uncertain times, and it's clearly here to stay.
According to the E-Commerce Times, mobile e-commerce sales are expected to account for 54% of all retail e-commerce sales in 2021, forcing businesses to continually look for ways to provide their customers with a unique shopping experience and build closer connections with a brand.
Brand experience remains at the forefront
IMI's survey suggests that the difference between researching products or services online and converting into purchases is minimal. Globally, out of 87% of respondents who have been browsing online for shopping purposes, 85% have made a purchase. These results make it clear that businesses that want to stay ahead of the competition should pay exceptional attention to their online shopping experience and everything that follows.
For this, companies must understand customers' needs, their constantly growing expectations, and meet them where they're at. Even though online shopping or mobile apps, in particular, cannot fully replace the physical experience that in-store shopping can offer, they still have plenty of opportunities to enhance it in their own way, through a digital format.
For instance, discounts and coupons, as much as they're effective, are no longer enough. 71% of people who participated in IMI's survey admit that the purchase they've made was the result of experiencing a brand or service, second only to online research. Discounts, on the other hand, came in 5th as 61% have purchased as a result of a lower price in 2020.
This also brings up the importance of customer service. Long waiting times should be left in the past where they belong – shoppers now demand fast and reliable responses, followed by the added value of personalization.
The survey conducted by the HelpCenter app team revealed that in spite of the future still being unclear, over 80% of surveyed Shopify merchants expect their sales to grow in 2021. To achieve this and lure customers away from competitors, there will be no other choice but to focus on providing seamless, easy to use, and convenient ways to buy online. Therefore, the overall customer experience will remain one of the key factors for driving business success.
Photo: Charles Deluvio, Unsplash