Travel
Taking a different route through Normandy
Taking a different route through Normandy
ABOVE: Narrow houses line the old harbour in pretty Honfleur. (Photo: OTC Honfleur)
---
By Vanessa Pinniger
When travelling Normandy's Remembrance Route leave time for a detour.
France is famous for its Remembrance Routes of the First and Second World Wars. The gratitude for the part Canada played in both wars is evident along the newly created official Canadian Remembrance Route, La Route du Souvenir Canadien, which winds its way through Northern France and Normandy, from the huge WWI monument at Vimy Ridge to the Memorial of the ill-fated 19 August 1942 Operation Jubilee raid at Dieppe, and along the coast to Juno beach, site of the D-Day landings in 1944.
But these are not the only routes found in this charming part of the country. Circuits Gourmands, such as the Route des Fromage showcasing the region's emblematic Camembert, Neufchâtel and Pont-L'Evêque cheeses, and the 44-km Route du Cidre, featuring apple-based drinks such as cider, pommeau and Calvados, follow another path of Normandy's rich heritage.
Winding along picturesque country roads, past castles, orchards and the half-timbered buildings typical of the region, this is the best way to get to know Normandy and its bounty. You don't need to follow a specified path. The entire coastline is a route in itself, with seafood aplenty in the ports along the Côte d'Albâtre (Alabaster Coast) and Côte Fleurie (Flowered Coast). Here's just a taste.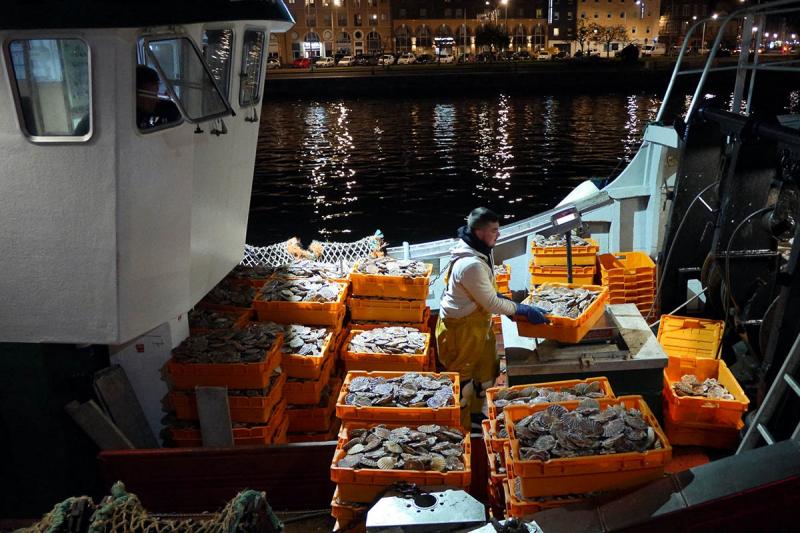 ABOVE: A scallop boat arrives in the early hours at Honfleur harbour. (Photo: Francois Louchet)
Savour scallops and oysters
The Channel waters offer a wealth of fish and shellfish, the flagship being scallops, especially the prized Coquille Saint-Jacques.
Normandy is France's leading scallop fishing region and Dieppe on the Côte d'Albâtre is its number one scallop fishing port. Scallop season here, and along the neighbouring Côte Fleurie, runs Oct. to May with scallop festivals, featuring events, demonstrations, scallop fairs, special restaurant menus and fish market tours, taking place along both coasts each autumn. The Calvados Fete La Coquille runs mid-October to mid-December Dieppe's annual Herring and Scallop Festival takes place November 19 to 20.
ABOVE: Catch of the day at Comptoir À Huîtres Restaurant in Dieppe. Cassolettes aux 2 poissons (fish stew) at Comptoir À Huîtres Restaurant in Dieppe. (Photos: Vanessa Pinniger)
The region is also renown for oysters which are farmed from the Côte de Nacre (Mother of Pearl) to Le Bessin. One of the best places to try them is at Comptoir à Huîtres Restaurant in Dieppe. Tucked beside the scallop shell recycling centres in an industrial area along the docks of Quai de Norvège, this unexpected little spot offers up some of the freshest fish and shellfish in town, plucked from nearby fishing boats as they return to port early each morning.
You can also savour freshly caught seafood sold straight from the fishing boats bobbing in the charming harbour of Honfleur. This pretty little city, full of rich maritime history, sits at the meeting of the Seine Estuary where the Côte Fleurie begins. Both a river port and a seaport, this important port of call for cruise ships and river cruises attracts five million visitors every year.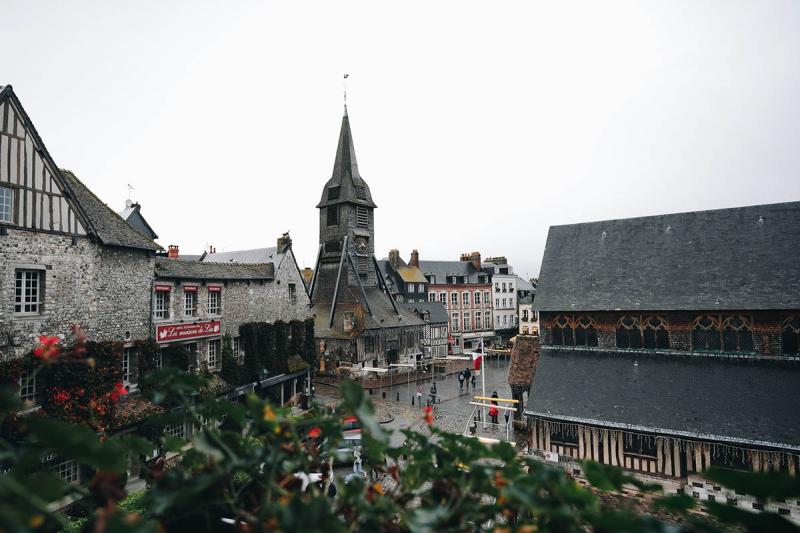 ABOVE: The church of St. Catherine in Honfleur is the largest wooden church in France. (Photo: Julien Charles)
One of the birthplaces of Impressionism, the colourful destination also boasts a rich artistic heritage, inspiring artist for centuries. Today it is home to some 80 art galleries dotted along the cobbled streets and narrow alleys in the heart of town. Stroll back in time past the church of St. Catherine, the largest wooden church in France, and the narrow houses to the former logettes (cubicles) now turned into galleries, tiny shops and fine grocery stores filled with regional goodies such as melt-in-your-mouth Sablé d'Asnelles butter biscuits and local creamy d'Isigny caramels.

ABOVE: The entrance to Manoir d'Apreval. The apple orchard at Manoir d'Apreval. Bottles of cider line the bar in the tasting room at Manoir d'Apreval. (Photos: Vanessa Pinniger)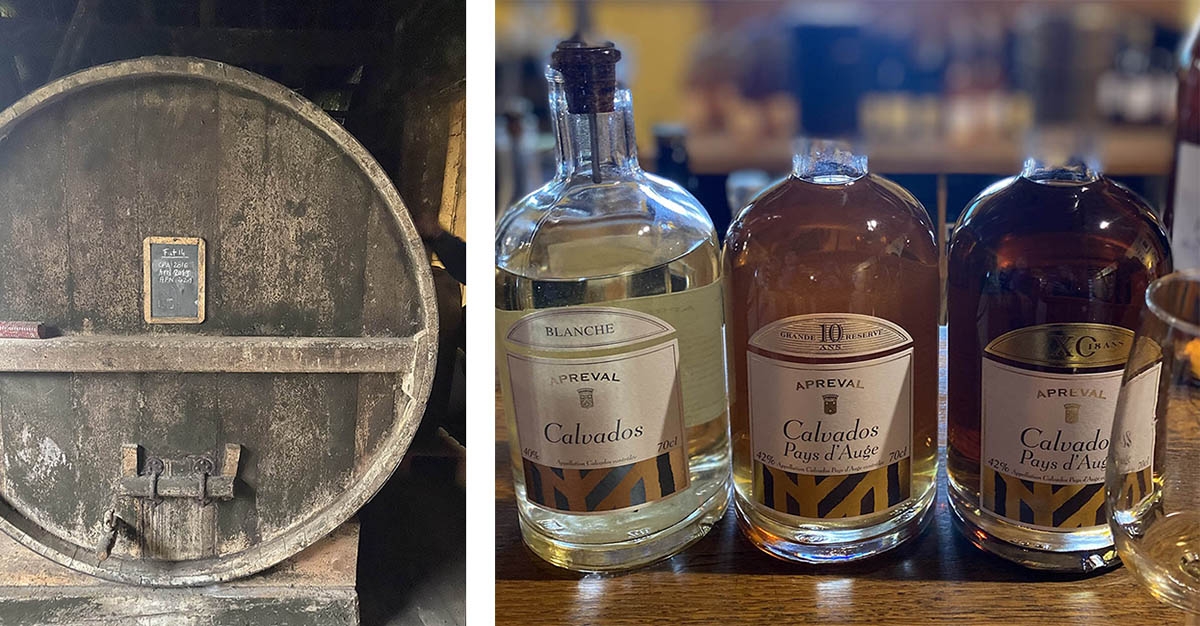 ABOVE: Hundred-year-old oak vats are used to age Calvados in the cellar at Manoir d'Apreval. (RIGHT) Bottles of Calvados in the tasting room at Manoir d'Apreval. (Photo: Vanessa Pinniger)
Sip cider and Calvados
This is apple country – and the land of cider and Calvados. At farm estates and distilleries here, apples, Normandy's flagship country fare, are transformed over several stages before becoming a spectrum of tart tasty drinks.
Along the coast, just 5 km outside Honfleur, the fourth-generation family run Manoir d'Apreval produces cider, Calvados, pommeau and pure fruit juices from 17 varieties of Pays d'Auge fruits.
"The more flower you have the more cider you get," explains owner Agathe Letellier.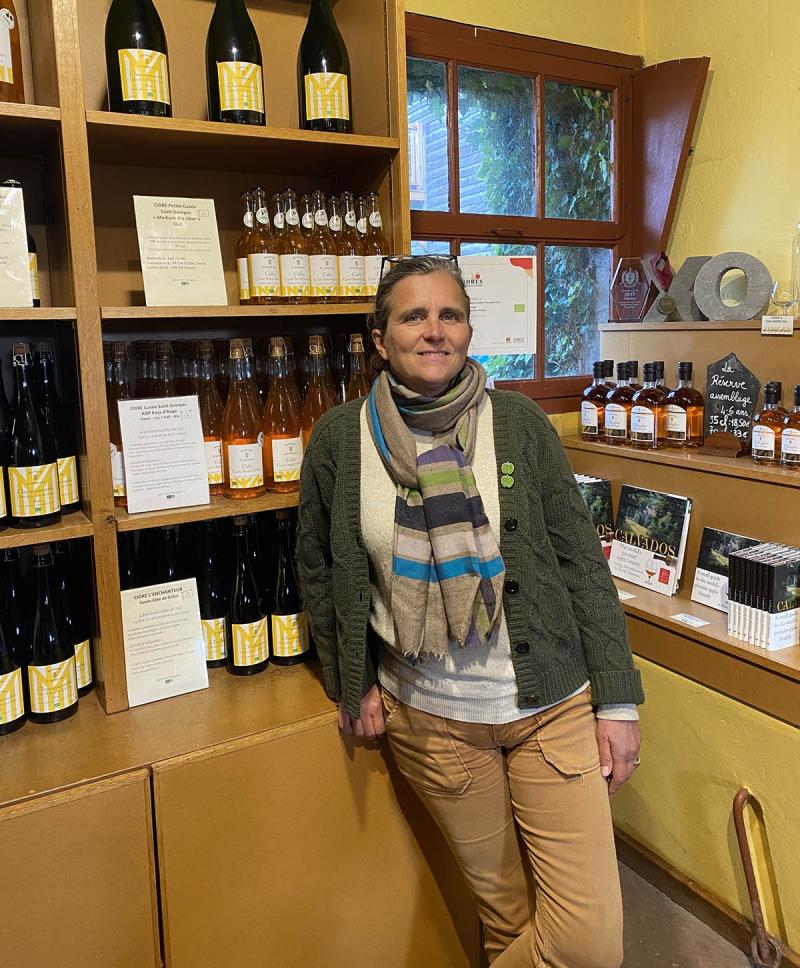 ABOVE: Owner Agathe Letellier in her shop at Manoir d'Apreval. (Photo: Vanessa Pinniger)
A guided tour takes you through the cidermaking process before stopping at the tasting room to fully appreciate the delicate aroma that apples lend to juices, cider and spirits.
The 20 hectare-property, home to some 2,000 apple trees, attracts 400,000 visitors a year.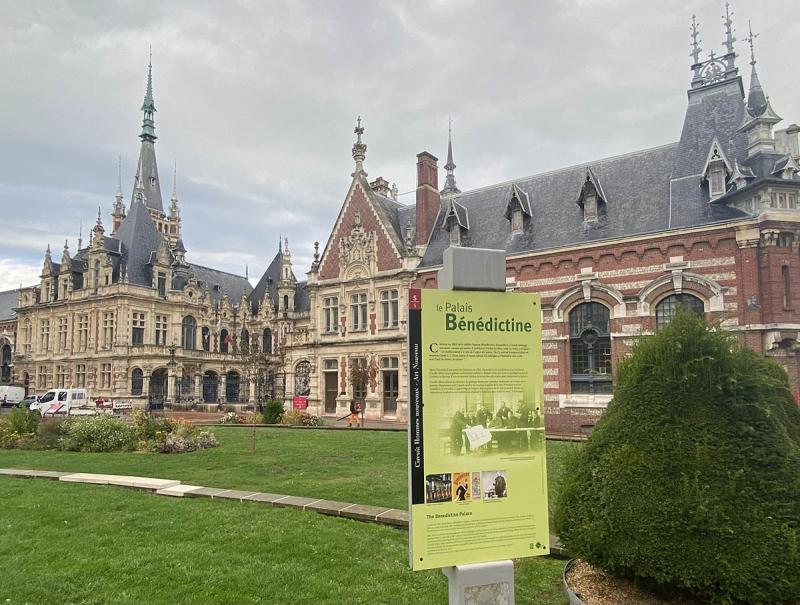 ABOVE: The opulent Palais Bénédictine in Fécamp. (Photo: Vanessa Pinniger)
Create a Cocktail
Try your hand at cocktail making at the Palais Bénédictine in Fécamp.
Home of the famous Bénédictine liqueur (and its slightly drier rendition B&B), the palace, a stunning mix of Renaissance and Gothic style, is sure to impress. This grand homage to France's unique liqueur was built at the end of the 19th century by Fécamp wine merchant Alexander Le Grand, who reputedly developed the recipe from a formula, discovered in a book on alchemy in his library, for an elixir created in 1510 by the Bénédictine monk Dom Bernardo Vincelli.
The opulent palace is home to Le Grand's personally curated museum, tasting rooms and the only Bénédictine distillery in the world. One million bottles of the liqueur are produced a year in the 19th century hammered copper stills and huge barrels from the 1880s. The process involves several distillations of the secret blend of 27 flowers, berries, herbs and spices and takes 18 months to complete.
ABOVE: The grand staircase of the Palais Bénédictine. 19th century hammered copper stills in the distillery at the Palais Bénédictine. The tasting room at the Palais Bénédictine. (Photos: Vanessa Pinniger)
After learning about the art of distillation and discovering the Bénédictine-making process, join a guided tasting followed by a mixology class to try your hand at mixing your own cocktail. Don't forget to grab a bottle of Bénédictine Single Cask to bring home – the unique black bottle is only available at the Palais store.
---
When you go
Air France operates daily non-stop flights between Toronto (YYZ) and Paris (CDG).
To avoid costly data roaming charges while in Europe, purchase Bouygues Telecom's electronic Travel SIM Vacation Prepaid Plan. The pre-activated plan provides a French mobile number, downloaded electronically, giving you a range of services while travelling. Purchase the SIM directly online at www.bouyguestelecom.fr/carte-prepayee/vacation-prepaid-plan
NOTE: The writer travelled as a guest of Atout France and Air France.
Recommended Articles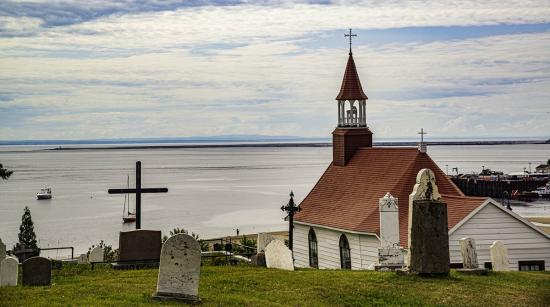 If you are guilty of spending too much time in the city, consider a trip to the Saguenay Fjord and the St. Lawrence Estuary — you won't believe you are in the same country!
Read full story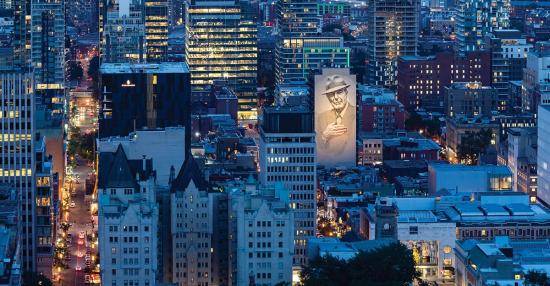 Montreal is a gem. It is historic, refined, beautiful, friendly, classy, vibrant, cosmopolitan, and cultured.
Read full story
Türkiye's Culture Route Festivals in Istanbul & Ankara are a treasure trove of arts and culture
Read full story
Comments (0)
*Please take note that upon submitting your comment the team at OLM will need to verify it before it shows up below.