Arts & Events
Thirteen Strings presents its annual Good Friday concert: "Seven Last Words"
Thirteen Strings presents its annual Good Friday concert: "Seven Last Words"
As we enter into the Easter season, Thirteen Strings returns with its annual Good Friday concert on April 19 at Dominion Chalmers Church at 7:30 pm.
Composers of the Baroque and Classical era always saved their greatest works for the Glory of God. Through the ages, "The Seven Last Words from the Cross" have profoundly inspired many composers. However, Joseph Haydn (1732 – 1809) wrote the most famous music of exquisite beauty in several versions. This has become one of Haydn's most profound and beloved work and is the perfect vehicle for the expressive string sound of the Thirteen Strings Chamber Orchestra.
Haydn's orchestra work is composed of seven movements corresponding to the Biblical seven last words spoken by Jesus on the cross. The "Words" are framed by a slow introduction and a fast conclusion depicting the earthquake said to have occurred the moment of Jesus' death.
Traditionally, Thirteen Strings has been presenting a Good Friday concert which allows people to reflect on the time of year, but which also gives the opportunity for spiritual or philosophical meditation. To this end, Ottawa-based poets have been invited to present poems of a reflective nature in both English and French which will be placed between the movements of the Haydn.
The poems presented in English are by poets Jenny Haysom, Brenda Leifso, Vanessa Rotondo, as well as a poem by the orchestra's Music Director, Kevin Mallon. French poets Chloé LaDuchesse, Fanny Lachambre, Julie Huard and Serge Dion will be featured alongside Ottawa's newly named Poet Laureates: Deanna Young and Margaret Michèle Cook.
Deanna Young is originally from southwestern Ontario and has now made Ottawa her home. She is the author of four books of poetry and she will be reading poems in English from her latest book: Reunion (2018).
"I began writing poetry in my late teens thanks to an inspirational English teacher, and felt immediately at home in it," says Young. "For me, poetry is a language that makes deep sense. It seeks meaning and helps clarify life."
Young says the poems in her book, "are distinctly spiritual, but in a secular way, lightly using Christian iconography to examine experiences from my own life. One poem, for example, is called Holy Ghost."
Her previous book, House Dreams (2014), was nominated for the Trillium Book Award for Poetry, the Ottawa Book Award, the Archibald Lampman Award and the ReLit Award.
As she took on the role of the city's English Poet Laureate, Young hopes to be, "an active ambassador for poetry in Ottawa".
Margaret Michèle Cook was born in Toronto and lived in New Haven, Aix-en-Provence and Paris before settling in Ottawa in 1987.
Cook has published five collections of poetry with Éditions du Nordir, and three collections at Éditions L'Interligne.
She won the 2009 Ottawa Book Prize for her work, Chronos à sa table de travail.
Margaret Michèle Cook will be reading three poems in French.
Through Haydn's work and the poems that will be read, this concert is the perfect setting to sit, listen, and reflect upon the solemnity of this time of year.
Concert tickets for "The Seven Last Words" are available at Leading Note, Books on Beechwood, Compact Music and at www.thirteenstrings.ca.
Recommended Articles
Director, choreographer and baroque dancer Marie-Nathalie Lacoursière will be performing various dance forms of 17th century France against the musical backdrop of Ottawa's premier professional chamber orchestra.
Read full story
In 1958, Peter and Theresia Zlepnig immigrated to Canada and built a simple seven unit motel next to...
Read full story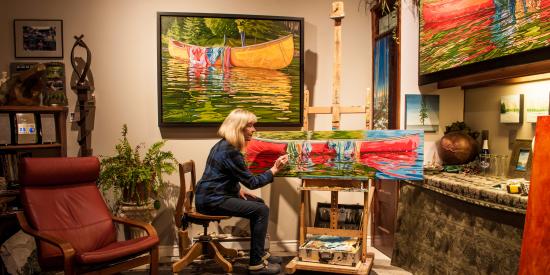 Janet K. MacKay's new series of paintings will warm your heart and enliven your soul while maintaining a PG rating.
Read full story
Comments (0)
*Please take note that upon submitting your comment the team at OLM will need to verify it before it shows up below.