Travel
Winston-Salem — A High Point in North Carolina for sure!
Winston-Salem — A High Point in North Carolina for sure!
ABOVE: Winston-Salem's first public art park is in the heart of the Downtown Arts District. (PHOTO: VISITNC.COM)
---
For those who love travel and who want to experience one of America's unique tourist areas, a visit to Old Salem, North Carolina, a historic town located in the Piedmont Triad, about 100 miles west of the state capital of Raleigh and about 80 miles northeast of the city of Charlotte is a must. The cities of Winston-Salem, Greensboro, and High Point are nearby. This region has a vibrant arts culture, rich history, and an innovative food culture focused on farm-to-table and healthy food choices prepared by locals.
We visited for a long weekend and checked in at The Hotel Indigo, Winston-Salem, an inviting boutique hotel located in the historic Pepper Building in the city's lively arts district that dates to 1928. This charming and comfortable spot features 75 guest rooms, two meeting rooms, and pre-function space for groups or events. The hotel wine loft and restaurant, Sir Winston, named after Sir Winston Churchill, brings a taste of North Carolina with a European twist to its menu. Breakfasts in the hotel lobby at Clementine's are superb.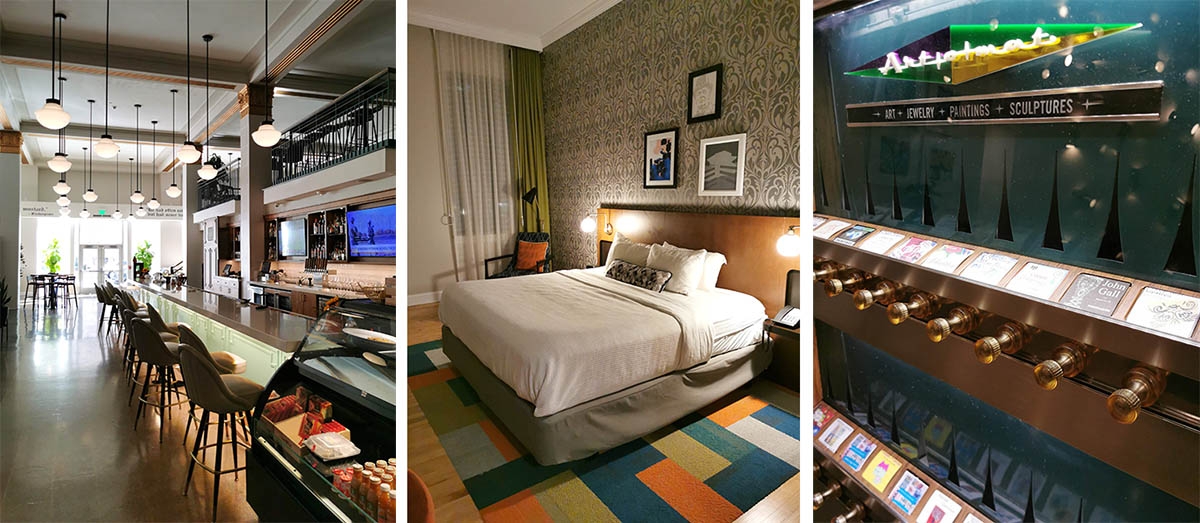 ABOVE: The design of Winston-Salem's Hotel Indigo, formerly a department store, ???celebrates the history and culture of both the building and the neighbourhood. (RIGHT) The one-time cigarette machine has been repurposed to dispense art.
(Clementine Churchill, the wife of Sir Winston Churchill's favourite meal, was breakfast, and he certainly would love the breakfast menu here). In an homage to another time when tobacco was king and to Churchill and tradition, the hotel sells locally made cigars.
The Indigo is close to numerous cafes, eclectic bars, restaurants, shops, and stores. Jeffrey Adams on Fourth is an urban and contemporary restaurant with a modern menu that features high-quality regionally sourced beef, poultry, and seasonal produce. They have table service and a patio, but the bar service for a meal is just as comfortable. Their menu includes a nice craft beer selection. The décor is relaxed, casual, and comfortable. Down the street, Chef Tim Grandinetti's Italian-inspired cuisine at Quanto Basta Italian Eatery & Wine Bar is delicious and authentic.
One of our favourite stops was at Mozelle's Fresh Southern Bistro, a popular, lively, and cozy local restaurant that serves up southern-inspired cuisine and prides itself on serving up some of the finest and freshest local ingredients. Their fried chicken and tomato pie are staples on the menu, and their lunch pasta specials are delicious. Try the deep-fried pickles (seriously, – a real treat).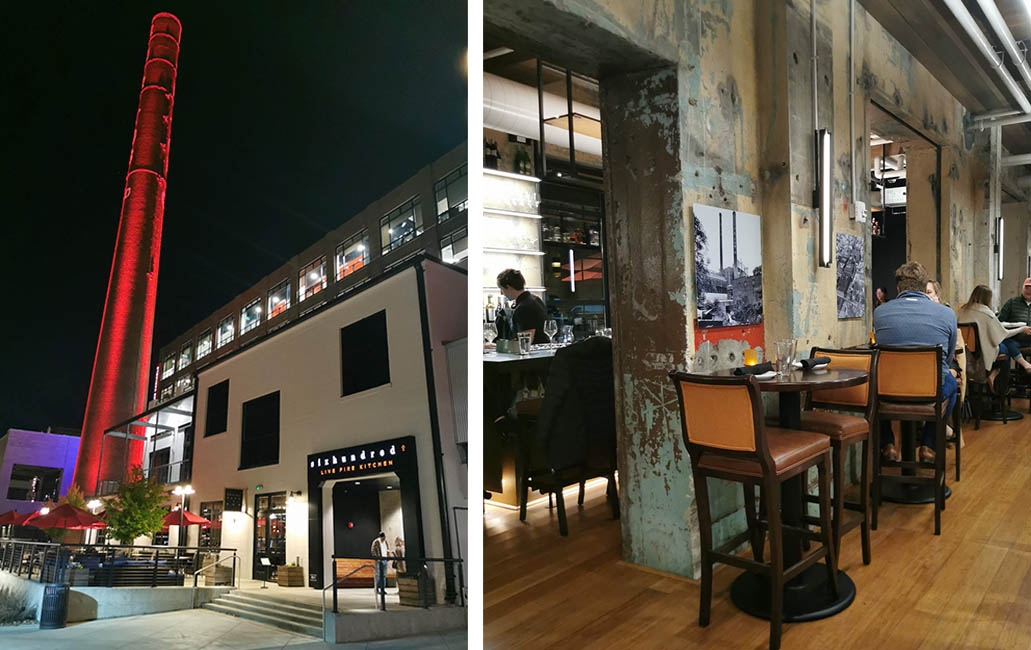 ABOVE: Right under the smoke stack of the old RJ Reynolds tobacco power plant, Six Hundred Degrees offers up great food in a cool industrial-chic environment.
Six Hundred Degrees is said to be 'the hottest place in Winston-Salem,' located in the downtown Innovation Quarter. Six hundred degrees celsius is the temperature at which gas evaporates from wood in a bonfire to produce embers. The restaurant chooses to cook over oak & hickory coals, paying homage to historic local food culture. Travis Myers, head chef, is dedicated to regional cooking and celebrating quality products made by hard-working local hands. Six Hundred Degrees is a restaurant rooted in southern soul and does not disappoint. For sure a trip highlight.
There are numerous local art schools and art-related attractions in Winston-Salem. Art for Art's Sake (AFAS) is a volunteer-based non-profit organization whose mission is to "build, educate and celebrate community through art." AFAS initiates and supports a wide variety of special events and programs — all free to the public — that are designed to further the creation and enjoyment of art at the local level. The AFAS Group's Red Dog Gallery showcases the work of a consortium of talented local artists and craftsmen. From rich paintings and raku pottery to handmade jewelry and whimsical sculpture, the items and styles on display at the gallery are constantly changing, and there always is something new to discover for every sensibility and budget. Performance arts venues in Winston-Salem include the Piedmont Opera Theater, the Stevens Center for the Performing Arts, the Winston-Salem Symphony, the Little Theatre of Winston-Salem, the RiverRun Film Festival, and the National Black Theatre Festival.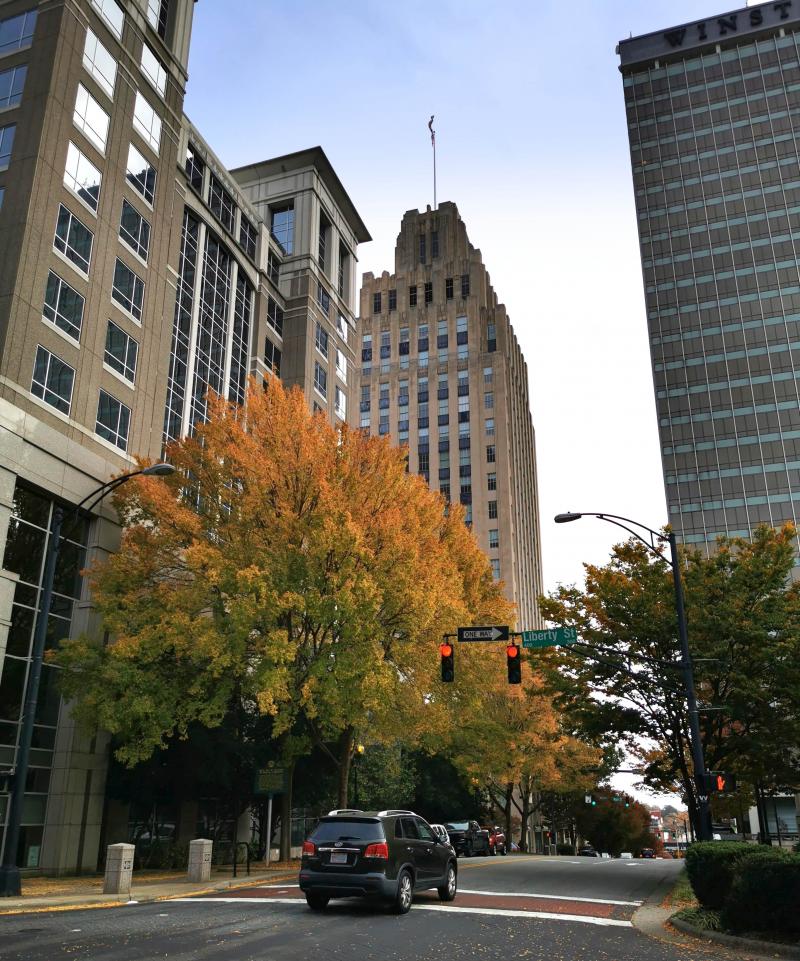 ABOVE: The 21-floor Art Deco skyscraper in downtown Winston-Salem was the headquarters of R.J. Reynolds Tobacco Company. The building now serves as a shared condo and a Kimpton Hotel.
Winston-Salem's first public art park is in the heart of the Downtown Arts District. It features bright red "smokestack" beams that are illuminated at night and dispense a mist that kids and families enjoy in the warmer months. The red steel beams are on the same axis as the historic Reynolds building, which is the architectural inspiration for the Empire State Building. The space also features a wall for local, commissioned artists to display their murals on a rotating basis.
If you like to shop, drop by Mast General Store. Noted for its old-fashioned country store nostalgia, the retail store opened its doors to its sixth North Carolina location in 2016. Mast General houses 15,000 square feet of retail space for products, including locally crafted rocking chairs, outdoor gear, and some food items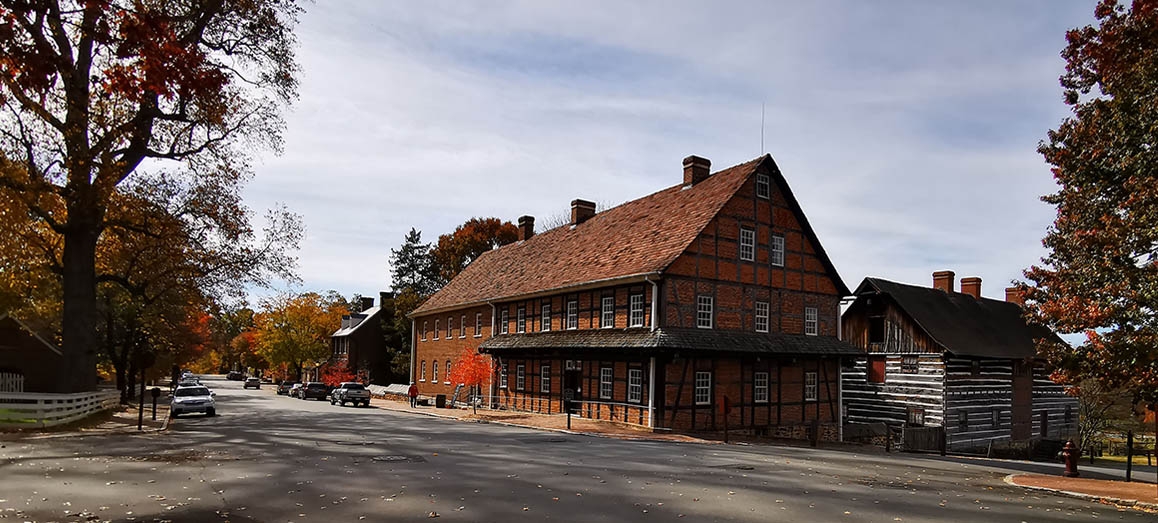 ABOVE: The Single Brothers House in Old Salem Museums & Gardens was home to the community's single men.
Plan to spend at least a day visiting the Old Salem Museums & Gardens (essentially the old town of Winston-Salem) built by Moravian settlers, a religious group from the region of Moravia in central Europe (the Czech Republic) who arrived and founded Salem in 1753. They were followers of the Christian faith and belonged to the Moravian Church, which emphasized personal piety, simplicity, and communal living. The Moravians established a community organized around a central church and communal buildings. They lived in a type of commune in which all property was held in common, and everyone worked together for the benefit of the group. They placed a strong emphasis on education and literacy and established a school for girls and a school for boys soon after their arrival.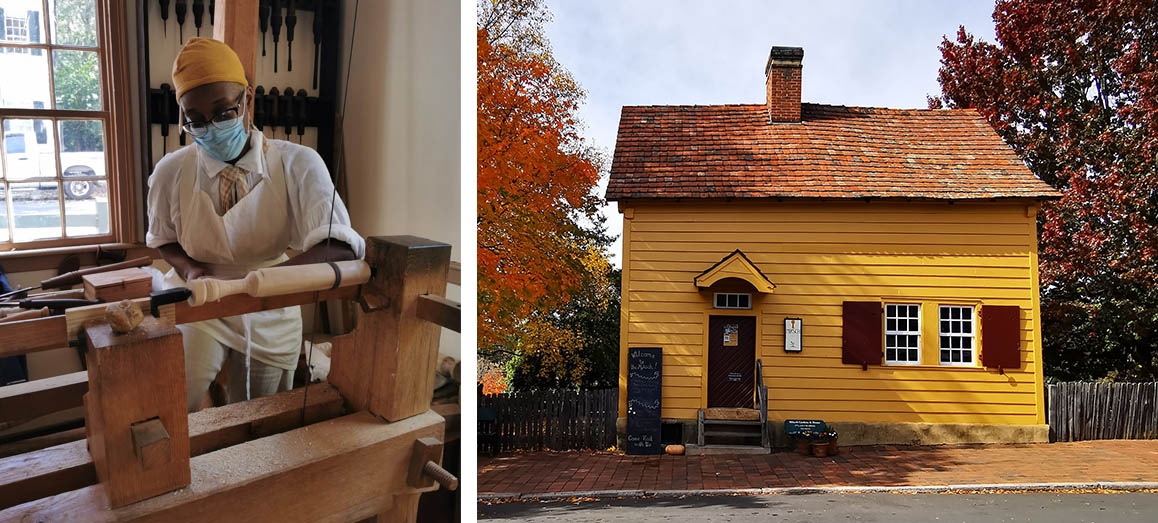 ABOVE: An apprentice at the Blum House Joinery makes spindles on a foot-peddle-driven lathe. (RIGHT) Miksch-house (1771) is the first single-family home built in Old Salem.
The Moravians of Winston-Salem were skilled farmers and craftsmen who sustained themselves by growing crops, raising animals, and producing goods for export, such as baskets, textiles, and pottery. They excelled in woodworking production, and many early Moravian settlers were skilled carpenters, cabinetmakers, and craftsmen who quickly established a reputation for producing high-quality furniture. They traded with nearby towns and cities, which helped them generate income and acquire goods they could not make themselves. This enabled the community to maintain its economic self-sufficiency and religious and cultural identity. They believed in the importance of work as a form of worship and strongly emphasized craftsmanship and attention to detail in everything they did. As a result, Salem became a centre for furniture making and other crafts, which continues to be the case today.
Winston-Salem remains the home to Piedmont Craftsmen, Inc., a guild founded by crafts artists and collectors in 1963 to honour the work of the hand. Today, Piedmont Craftsmen represent nearly 400 of the most talented artisans in the United States. The organization conducts workshops, curates exhibitions, operates a gallery and shop, presents the annual Craftsmen's Fair, and is a must-see destination in the heart of the Winston-Salem downtown Arts District.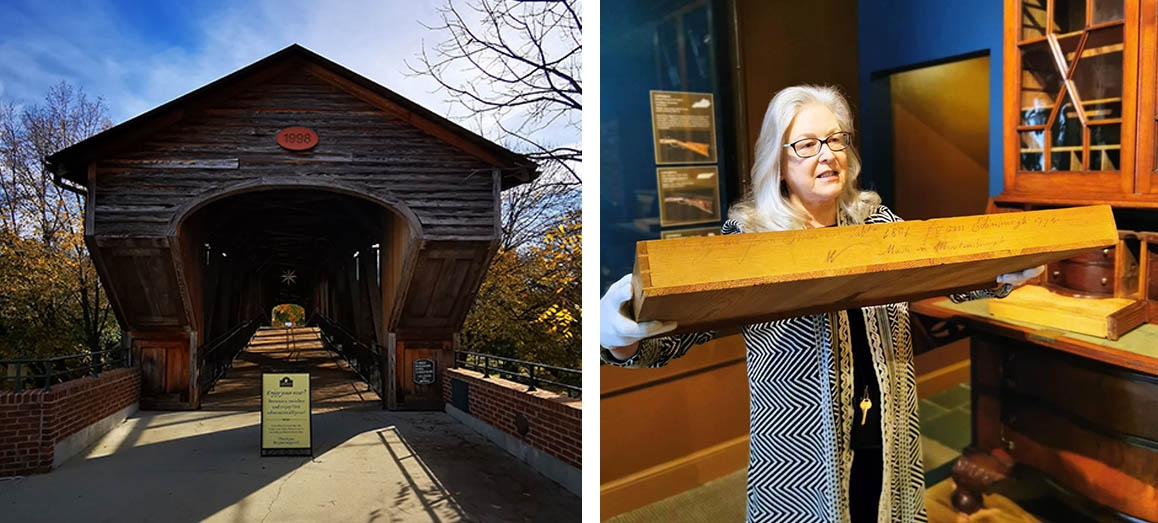 ABOVE: The covered bridge connecting the Old Salem Visitor Center to the Old Salem. (RIGHT) The Museum of Early Southern Decorative Arts has a fascinating collection of early American furniture. Make sure to take one of the tours to get the most from your visit.
Inside The Frank L. Horton Museum Center, the Museum of Early Southern Decorative Arts (MESDA) has one of the finest collections of Southern decorative arts to be found anywhere. It has historical maps, books, artifacts, and old lore from the region that is quite incredible. It is easy to spend several hours in this exceptional museum that takes you back to another time.
An exceptional new initiative at Old Salem is the Hidden Town Project, which researches and highlights the history of a community of enslaved and freed Africans and African Americans who once lived in 18th and 19th Century Winston-Salem. The project tracks the effects and legacy of enslaved people from the inception of Salem in 1766 through the Jim Crow Era and into the 21st Century. These histories involve the complicated use of slavery and enslaved people to build the town and their contribution to the mercantile prosperity of Winston-Salem. For all their piety, the Moravians did own slaves, although they would eventually decry the practice. The Hidden Town Project is a visionary, impressive, and blunt teaching and learning moment for younger generations that will help them fully understand the history of Salem and the region.
When visiting Old Salem, it is worthwhile to drop in at the Visitor Center, MESDA, Winkler Bakery, Moravian Book & Gift Store, Muddy Creek Cafe, The Boy's School, The Miksch House, The Seed Lab and the Pottery, Carpentry in the Miksch Yard, and drop by E.A. Vogler Coffee & Confections for a mid-tour break.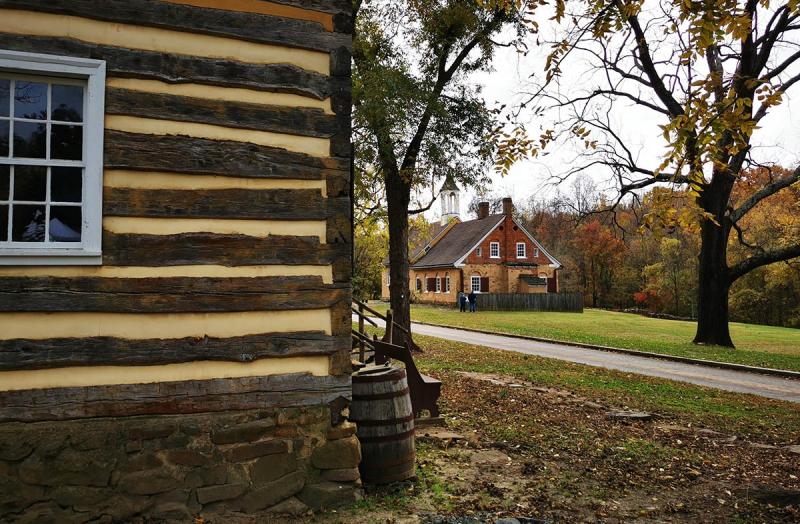 ABOVE: A view of the restored Gemeinhaus, or German colonial church that served as a place of daily worship for the Moravians, in addition to being the school, the town hall, and the minister's home.
A short drive from Old Salem, Historic Bethabara Park is the site of the first Moravian settlement in Winston-Salem that dates back to 1753. Bethabara is home to the first European Medicinal Garden ever planted in America for wellness/prevention and is the only known, well-documented colonial community garden in the United States.
Graylyn is another famous area landmark. This stately 46,000-square-foot castle-like home was built in the late 1920s by Bowman Gray, the president of R.J. Reynolds Tobacco Company, that was added to the National Register of Historic Places in 1983. Gray's father started the Wachovia National Bank. Working as a teller, Gray met R.J. Reynolds and, soon after, began working for the tobacco magnate. A century ago, tobacco was king in the economy of North Carolina. This grand estate home and grounds showcase the wealth, influence, and privilege of a bygone era. Take the Graylyn 'Butlers Tour' to learn about the Gray family and the stories behind the international décor throughout the house in rooms such as the "Persian Card Room" and "Atlantis Room." Nathalie Gray, the wife of Bowman, was instrumental in the interior design of the family estate. Graylyn is now a hotel and conference centre that also hosts events.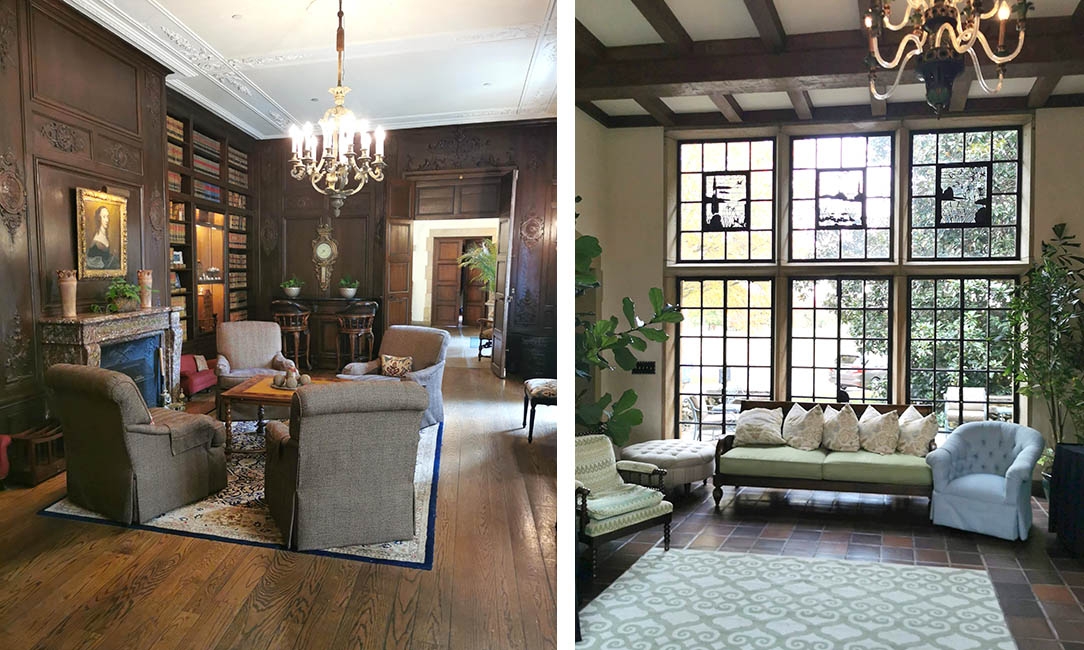 ABOVE: The Grays travelled the world, often accompanied by their interior designer, where they drew inspiration and purchased architectural elements, including hearths, panelling, and on one occasion, a complete room for their home.
Not far from Graylyn are Reynolda Gardens and Reynolda Village, whose buildings were modeled after an English Village and were built to support the 1,067-acre estate of the R.J. Reynolds family. The site includes dairy barns, cattle shed, a school, a post office, a smokehouse, a blacksmith shop, a carriage house, central power, and a heating plant, as well as cottages to house the family's chauffeur and stenographer, the village's schoolmaster and the farm's head dairyman and horticulturist. Today, the regentrified buildings house retail stores, restaurants, and galleries.
It is worth visiting the Reynolda House Museum of American Art with its renowned art collection that spans 250 years. It is a chronology of American art, with each artist represented by one work of major significance. Highlights include Albert Bierstadt, Mary Cassatt, William Merritt Chase, Frederic Edwin Church, Stuart Davis, Martin Johnson Heade, Alex Katz, Lee Krasner, Jacob Lawrence, Georgia O'Keeffe, John Singer Sargent, and Grant Wood. The collection was assembled by the unerring eye of Barbara Babcock Millhouse, granddaughter of R.J. and Katharine Reynolds.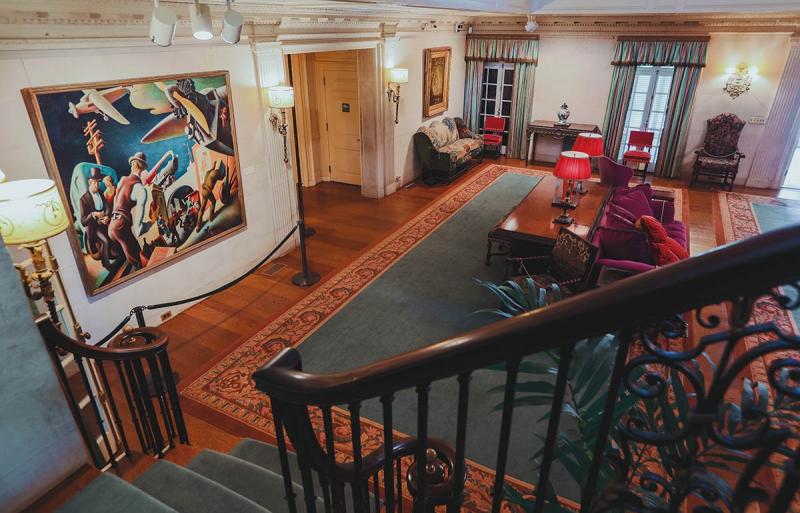 ABOVE: The Reynolda House Museum of American Art is one of the nation's premier American art museums displaying fine art collections spanning three centuries. (PHOTO: SAM DEAN, VISITNC.COM)
North Carolina's craft beer industry has grown rapidly in recent years, with the number of craft breweries increasing from around 50 in 2011 to over 300 in 2020. The state has a long history of brewing and distilling, dating back to early colonial times when farmers grew grains such as barley and corn, which were used to make beer and other alcoholic beverages. In the 19th century, the state's economy was largely based on agriculture, and many farmers continued to grow grains for use in brewing and distilling.
After prohibition was repealed in 1933, many large breweries were established in North Carolina, and the state became a major beer producer. However, in the later 20th century, many of these breweries closed or were bought by larger companies, leading to a decline in the industry. In recent years, the craft beer industry has experienced a resurgence as more and more small, independent breweries have. This led to the establishment of a more diverse sector, creating more jobs and giving more options to local consumers.
Today, the state is home to various breweries, from small, locally owned operations to larger, regional breweries, including North Carolina's first microbrewery distillery, Single Brother's House in Old Salem. You can indulge in craft brews from Foothills Brewing, Small Batch Beer Co., Wise Man Brewing, Fiddlin' Fish Brewing Company, and Incendiary Brewing. All serve up small batch, specialty brews, and seasonal varieties. Other regional craft beer purveyors include HOOTS Beer Co, Lesser-Known Beer Company, Radar Brewing, Joymongers, and Dogwood Hops and Crops. Visit the Craft Draft Crawl map to help plan your brewery hike.
ABOVE: Repurposed old buildings in downtown Winston-Salem give the city a hip vibe. (PHOTO: VISITNC.COM)
In addition to its brewery scene, North Carolina has a vibrant wine economy. The 1.4 million-acre Yadkin Valley, located just west of Winston-Salem, is home to numerous vineyards and wineries and was approved as the state's first American Viticultural Area (AVA).
If you are a sports aficionado, Winston-Salem has a minor league professional baseball team, The Winston-Salem Warthogs, who have been an affiliate of the Chicago White Sox since 1997. Wake Forest University is a member of the Atlantic Coast Conference (ACC), and the University's basketball teams, "Demon Deacons," are nationally ranked.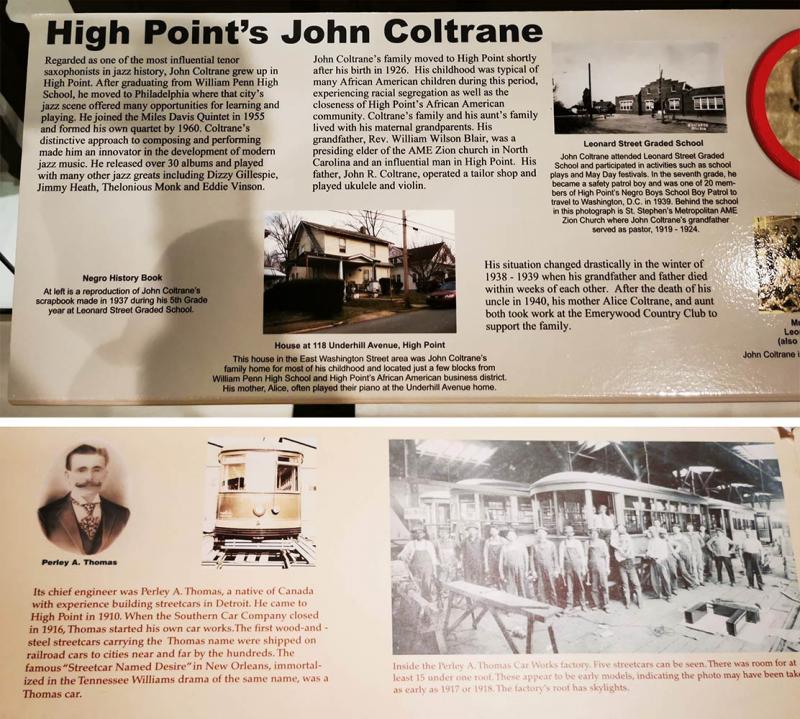 ABOVE: The High Point Museum is a must-visit to learn about the region's history.
After visiting Winston-Salem, you can take a leisurely 30-minute drive to High Point, North Carolina, known as the "Home Furnishings Capital of the World." The city is home to numerous furniture manufacturers and retailers, as well as the world's largest store — Furnitureland South, and the world's largest furniture trade show, the High Point Market. This is a one-stop destination for furniture shopping where you can find furniture pieces of all styles, sizes, and prices. When in town, tour the High Point Museum, Historical Park, and Little Red School House, where you'll learn all about Greater High Point's history. Featured in the High Point Museum is the story of the late great jazz musician John Coltrane who grew up in High Point.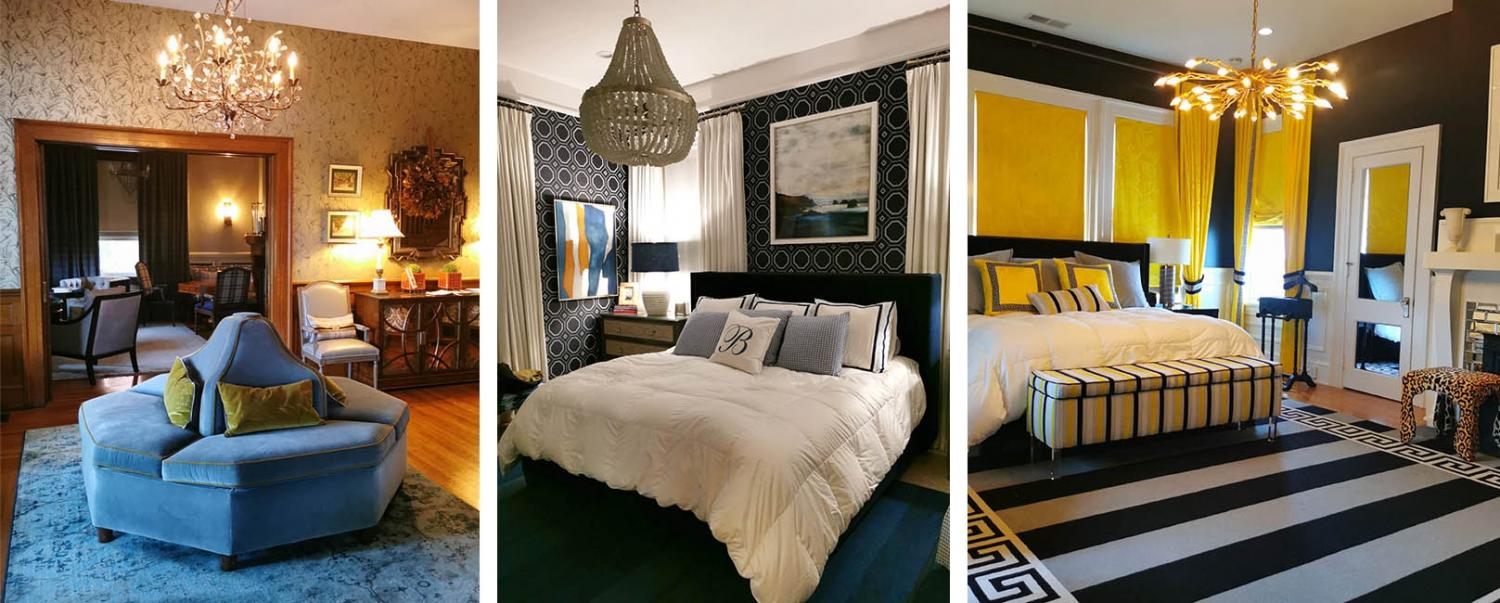 ABOVE: With a nod to the furniture capital of the world, each of the guest rooms at Pandora's Manor has been exquisitely designed by a famous American interior designer.
One of the great bed and breakfasts in the United States or anywhere can be found in High Point. Pandora's Manor Bed & Breakfast serves up the finest Southern hospitality in the classiest Inn anywhere. This carefully restored boutique inn has six unique signature guestrooms curated by high-profile interior designers from Barclay Butera, Madcap Cottage, Tobi Fairley, Thom Filicia, Alexa Hampton, and Celerie Kemble. It brings the term hospitality and service to a whole other level. And it is worth the trip to High Point just to enjoy the Manor's breakfast!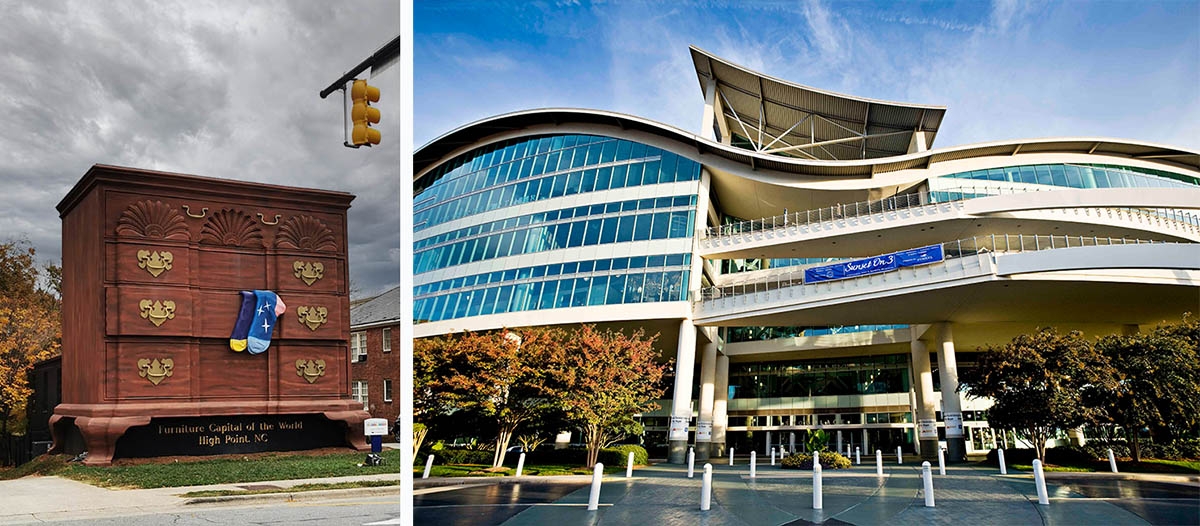 ABOVE: Shediak, NB, is known for its giant-sized lobster, Sudbury has a nine-metre high Nickle, and High Point, NC, has a giant-size chest of drawers. (RIGHT) The High Point Market is the world's largest furnishings industry trade show, bringing more than 85,000 people to High Point every six months.
When in High Point, you'll want to dine at the popular Magnolia Blue restaurant — in fact, you won't go wrong with any restaurant with the word blue in its name — their modern southern comfort foods combine innovative menu options with past classics combined with an homage to new flavors. These reimagined dishes include bourbon chicken, shrimp creole, the dirty bird sandwich (a Magnolia specialty), and the slow-roasted baby back ribs. Their cocktails are fabulous, and so is their wine list. Bravo!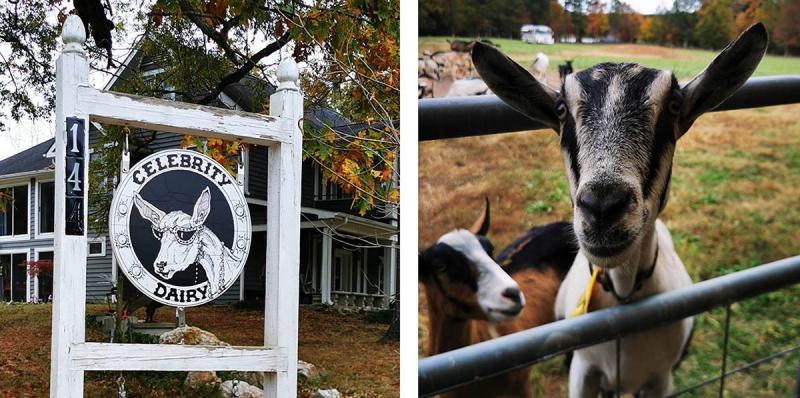 A different type of excursion
A short 30-minute county drive from High Point will take you to the Inn at Celebrity Dairy. Here you'll spend a few hours experiencing the life lived on a small family farm which doubles up as a rural bed and breakfast. Take a nice walk-through grassy field by a gentle knoll under 250-year-old oak trees. Originally settled in the 1800s, the farm's rich past includes a period where it was a smokehouse, and in the 1940's it was used for tobacco barns. Today it is a goat dairy farm producing award-winning goat cheese.

ABOVE: Husband and wife team Becky and Ben Starr run Starrlight Mead. The couple produces 15-20 flavours and says the rise in popularity is partly due to Game of Thrones & Harry Potter. (RIGHT) Starrlight Mead began after the amateur "meaders" won an unexpected Best in Show at the 2006 International Mead Festival in Boulder, Colorado.
The Plant is an eco-industrial park on the east side of Pittsboro, NC, that houses commercial businesses committed to sustainability and environmental stewardship. Spanning 17 acres, the former bio-diesel plant is home to a diverse range of businesses, including Starrlight Mead, Fair Game Beverage Company brewing, Chatham Cider Works, Copeland Springs Farm & Kitchenwork, and others who work together to create a closed-loop system of resource use and waste management. They use solar panels, rainwater harvesting systems, green roofs, waste recycling, and other innovations to operate truly green businesses. You'll love spending an afternoon here visiting the art gallery and trying the amazing spirits, ciders, meads, beers, and coffee. A highlight was the incredible food from Copeland Springs Farm & Kitchenwork – truly the best farm-to-fork kitchen experience.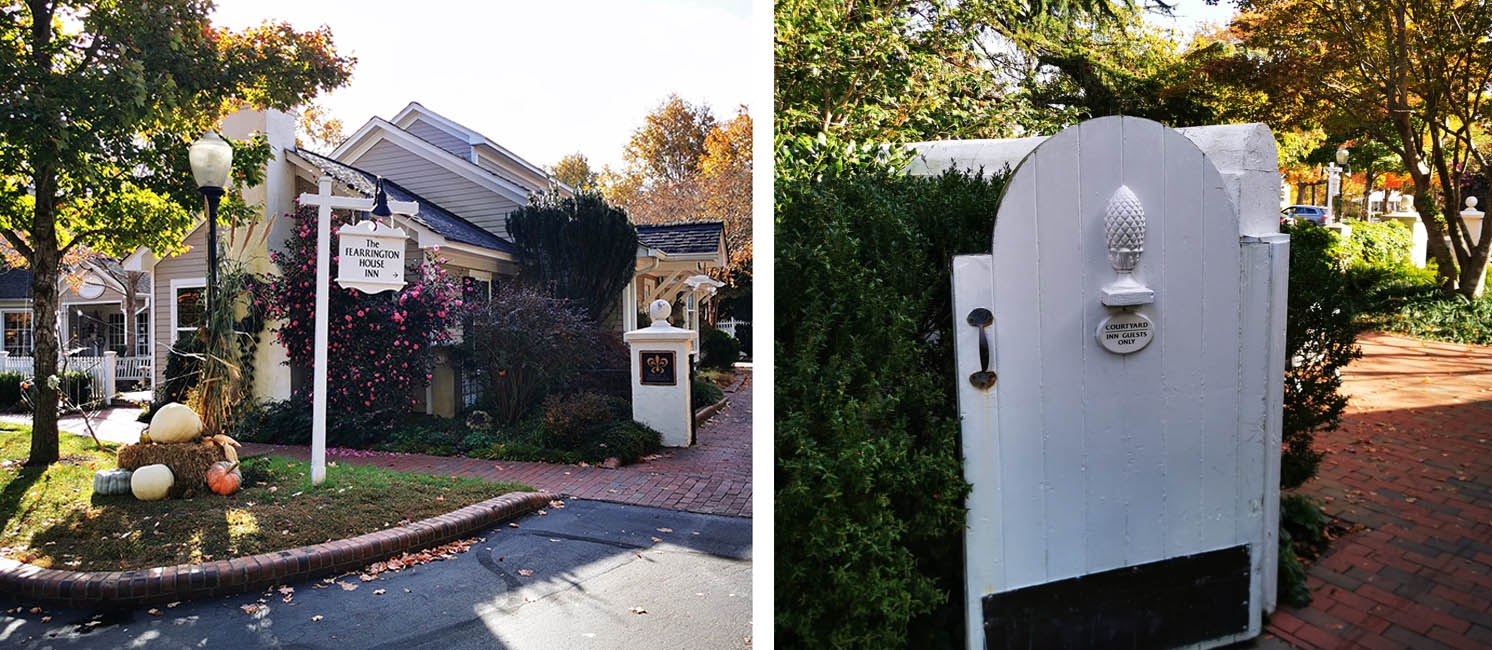 ABOVE: Fearrington House Inn is a Relais & Chateaux property that combines luxury with Southern charm.
A short drive from Pittsboro will find you in Fearrington Village, an English-inspired village nestled in the idyllic countryside of North Carolina. This storybook resort is surrounded by beautiful gardens and farm pastures grazed by Belted Galloway cows. The shops feature gourmet restaurants and boutiques offering an exceptional range of gifts, accessories, and items for the home and garden.
The Fearrington House Inn hosts families year-round and is especially popular for weddings and family events. It provides guests with 4-star amenities and top-shelf service. We tried dinner at the famous Fearrington House Restaurant with its alluring atmosphere, exceptional service, and a menu that did not disappoint. Executive Chef Paul Gagne's commitment to farm-to-fork cuisine proved a trip highlight. Gagne has formed partnerships with local farms and creates dishes to coincide with North Carolina's four distinct seasons. They have an extensive wine list, a full cocktail bar, and beers celebrating North Carolina's best breweries.
Before heading to the airport, we decided to drop into Al's Diner, an American diner in Pittsboro, for breakfast. Al's has daily specials, "how grandma would have made it." They have breakfasts at reasonable prices, and their lunch offerings are a hit with the locals.
The breakfast, like the trip, was hearty and enjoyable and makes you think, one day I've got to come back here.
Recommended Articles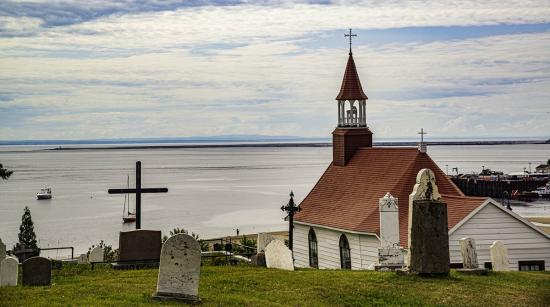 If you are guilty of spending too much time in the city, consider a trip to the Saguenay Fjord and the St. Lawrence Estuary — you won't believe you are in the same country!
Read full story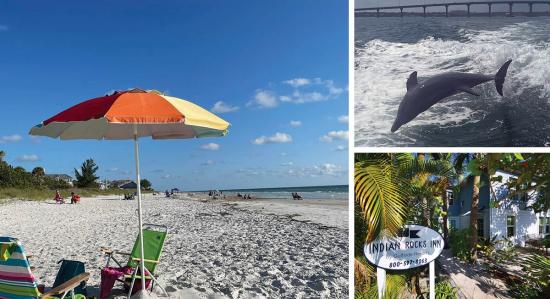 Seriously. After a few days, you just get into this Florida kind-of-groove where it's — dare I say it — always 5 o'clock somewhere.
Read full story
Visit the picturesque and historical places that played a key role in the formation of the United States of America.
Read full story
Comments (0)
*Please take note that upon submitting your comment the team at OLM will need to verify it before it shows up below.